Grateful Dead 50 Chicago

We're putting text updates in reverse chronological order here.  If you want to jump straight to the events grid, click HERE.
7/7/15 - Radio silence from this page while we participated in the weekend's fun, but back now.  There will be updates with additional coverage.
Let's start with our grand media post: Soundboards, Multiple Audience Recordings & Video from all three GD50 Chicago shows.
7/3/15 - Weekend kicked off proper last night.
Coverage / Setlists:  Greensky Bluegrass & Keller Williams' Grateful Grass, Geen Ween @ Concord Music Hall, Thievery Corporation @ Aragon, Busted On Bourbon Street NOLA Superjam @ Metro, more to come...
FYI. Local favorites Mr. Blotto have a long sold out, post-Dead at Reggie's in the South Loop.... a stone's throw from Soldier Field.  If you want nearby, and free, late night, Reggie's will be streaming Blotto's set to the small room and rooftop at Reggie's tonight.  Should be a good time.
6/30/15 pm - Our friend, and Illinois State Representative, Scott Drury introduced a resolution in front of the Illinois General Assembly to honor the Grateful Dead in advance of this weekend's shows.
Paul Abella breaks down the incredible lineup of musicians (he's one of them!) at Field Museum's Jazz & Colors event on July 4th.
Off site, but the Grateful Dead have released a pretty cool Chicago historical locations map.
6/30/15 - Fare Thee Well tour has officially kicked off.  Here's the soundcheck from Friday night, the setlist / stream (and a note about fake rainbows) from Saturday and the setlist / webcast video from Sunday.
Updated our Where to Group Watch post with a couple of new options (and removal of one other).  And our Sporting Life post with a cool Venues of The Dead bike route.
As of this morning, all our ticket giveaway contests are all still open, but will be drawing winner for the Wednesday shows this afternoon.  Good luck!
6/26/15 - Grids within grids.  The lineup grid for the 34th annual American Music Festival at FitzGeralds is out.  It is a great near-Suburban tradition with A+ Americana music, and some fine local Bob Dylan tributes.
For those heading to California this weekend, flight paths into SFO are named with Dead references.  Cool
6/23/15 - Plenty of musical treats in the grid below, but also some intriguing visual arts.  More info here on the Visual Arts of GD50 weekend.
6/20/15 - We're giving away FREE tickets to many of the events going on at a variety of venues, find out how to win.
6/19/15 - There's so much going on, that dry land can't contain it all.  Check out a few musical lake cruises - "Dead On The Water".  We also spoke with Old Shoe's Matt Robinson about the Terrapin 5K and his take on the weekend's madness.
New, for mobile users, we have broken down an easier-to-read day-by-day listing of the grid: WED - THU - FRI - SAT - SUN
6/18/15 - I guess it was only a matter of time.  There is now a VIP Lot Experience.
A few special guests have been added to the 7/4 show with Matisyahu at City Winery.
6/17/15 - The Acid Test story was at first kind of interesting, then funny... Now it's just sad.  Removed the Chicago event from the grid, but left their Yorkville camping thing on there, though I advise to "let the buyer beware" when planning for that mess.
6/12/15 - The second edition of our secondary market ticket analysis is now published.  Crazy story lines developed over the last few weeks, but you may be pretty smart of you're still holding out.
6/11/15 - Yes, there's plenty of music and indulgence over the weekend, but we're also tracking some more active pursuits as well.  Check out the Sporting Life Of GD50 Weekend.
In other news, Robert Randolph added to the Karl Denson 7/3 late night.  Todd Stoops joining Stu Allen during the day 7/3.
Believe it or not, added events at three new venues in the last day: Emporium Arcade Bar, Windy City Inn and Primary Nightclub.  More to come.
6/8/15 - The Pranksters are withdrawing participation from the Acoustic Acid Test.  Here's the latest from this crazy story -- no word yet on whether it is still going down.  We'll keep it on the grid just in case.
Also, I reviewed the Netflix Bob Weir doc on Twitter.  Check out my thoughts HERE.
6/5/15 - The free Millennium Park concert series has some awesome afrobeat shows bookending the weekend.  Check out Antibalas on 7/2 and King Sunny Ade on 7/6.  Complete listings and details here.
City Winery is #indiejam headquarters as members of Yo La Tengo & Sonic Youth and many more join Alex Bleeker post show on 7/3 for a Dead set.
6/4/14 - If none of the public or at home streaming options do it for you, satellite radio subscribers can listen to each show with a (LOL) 15 minute delay on Grateful Dead Channel from Sirius XM.
5/29/15 -  Still looking for a hotel room (or another option)?  We sized up the market for lodging over July 4 weekend.  Bonus: video recap of Grateful Dead tunes at Illinois' Summer Camp Music Festival.
5/21/15 - Another interested kickoff show.  "Busted On Bourbon Street" - New Orleans supergroup at The Metro on 7/2.  Details HERE.
5/18/15 - Still looking for a ticket for one (or more) of the Soldier Field shows?  I just posted Volume One of an analysis of the resale market -- it may give you some insight as to when to buy and how much to spend.
Also, news today that Martyrs' will be adding big screen stream of the FTW shows to their late night shows with Terrapin Flyer on July 3-5.
5/14/15 - Another high energy jamband grabs a Friday night late night spot:  Kung Fu.  Plus, I just published my review of Joe Russo's Almost Dead's Chicago show from April.
Tonight is also the Dear Jerry concert featuring Phil, Bobby, Mickey, Billy, Bruce and many other incredible artists live from Maryland.  Find out how to listen in real time HERE.  Just a reminder, if you're not headed to Chicago, today is the last day to purchase the five show discount webcast  bundle for the FTW shows at 79.99.
5/12/15 -  Well, the hits just keep on coming.  Just when I thought most of the big major announcements were over, The Music Never Stopped series adds to their lineup.  Maybe not a huge name, but Chicago has always had a soft spot for RAQ, who have avoided the city since their heyday.  They return on 7/4 with The Werks.  Check out details and the rest of the announcement here.
A few other updates made to the grid as well.
5/11/15 - More (but not all) details emerged about the Chicago Area Prankster event over the weekend, including the camping location and ticketing information.  Get them here.
5/8/15 - Leftover Salmon announced a unique streaming / performance event at the Park West.  We take a look at it, and other options to "Group Watch" the webcasts in Chicago if you're not a Soldier field.  We'll update that post with more information as we learn it.
Also made a few updates to the Acoustic Acid Test post and additions / clarifications to the Events Grid below (who knew the White Sox were in town, too?).  Oh boy.
5/6/15 - One of the more interesting events we've been tracking is the Acoustic Acid Test (or 50th Anniversary of the Acid Test or AT50). If it turns out to be even a fraction of everything it's promised as, it will be one hell of a gathering.
But as of right now, there's still no confirmed location and may of the event details, like ticketing, still haven't been offered to the public (we are speculating in our event grid). Check out everything we think we know about this event, but remember... never trust a prankster.
5/5/15 - Two months from today, Fare Thee Well will be wrapping up at Soldier Field, and today we launch our official preview coverage of what has become so much more than just a weekend's worth of concerts.
This event has not only mobilized the Grateful Dead (and greater jamband) community, it has captured the imagination of the mainstream media and launched a virtual cottage industry that fallen into its orbit. Didn't get tickets for the main event? Hang out around town and this could be the greatest musical weekend of your life anyway -- even if you don't choose to stream the shows or even hang out in the lot.
There are, and will be, plenty of stories to tell about this weekend.  We're excited because Chicago is a the heart of everything -- its size, location, and diversity all play a role in making this thing so massive.  There is no doubt the energy of the city -- from downtown to the neighborhoods -- will be off the hook.
Beyond the shows...your options have been, and continue to be, developing.  From so much more music to art to sports and recreation -- I'm looking at this as a mega-festival.  And, yes there are other "mini-festivals" within it.  For out of town visitors, throw in site-seeing, dining and general Chicago-ness that is available 365 days per year, and there's enough to for anybody's budget or stamina.
Our first offering to make sense of it all is the Official GD50 Chicago Events Grid & Map.  The Grid is arranged from South to North and locations are marked in the corresponding map (I've also included some events that are happening in the far burbs separately).  Since these events are literally happening around the clock, I've color coded for a bit more info (orange = daytime activity, tan = nighttime, blue = late night, green = all day)
There will be plenty more details about many of these events published right here (there is already more info linked from our Events Calendar for much of this), so bookmark this page and check back often.
One more note... We'll be doing our best to cover -- in preview or review -- as much as we can but we certainly can't do it all.  If you have an a tip, or an eye for reporting, and would like to contribute to the site, please drop us a line.
New, for mobile users, we have broken down an easier-to-read day-by-day listing of the grid: WED - THU - FRI - SAT - SUN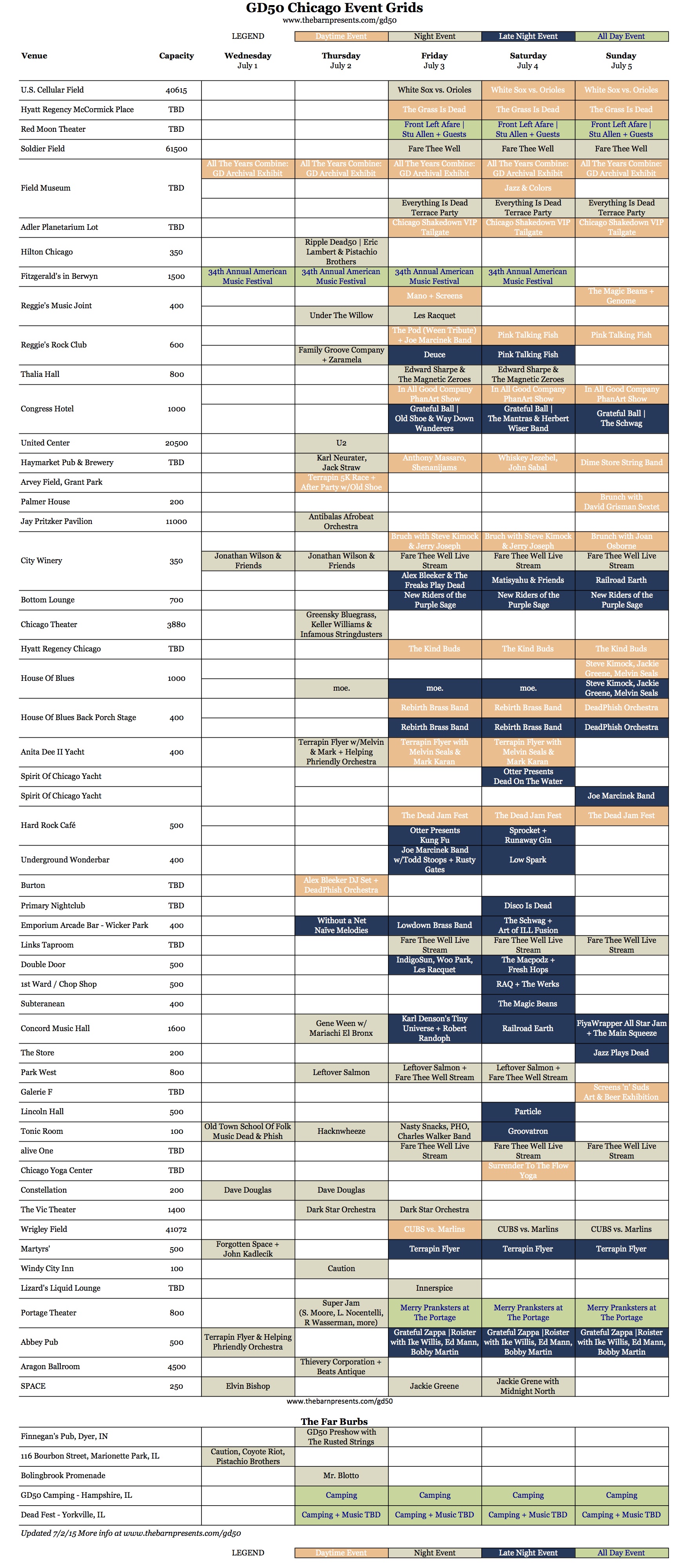 Click the icon in the upper left corner of the map for the complete venue list.