More Details Emerge, Tickets Available For Chicago Prankster Event (AT50)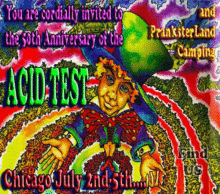 I have a feeling details are being finalized and then announced in real time regarding the Prankster event that I first reported on last week.
Today we have some more details, including -- if you're willing to roll the dice until things are firmed up -- information on how to purchase tickets for both the camping and non-camping portions of the offering.
First, what we do know:
1.  The Acid Test Party and PranksterLand Camping are two separate events.
2. This pre-sale is offered at a discount since there's still some secrecy about the full lineup and location.  $299 gets you the four day pass.  $500 gets the four day pass + reserved camping + access to another event dubbed the Prankster WonderLand concert.  Single day tickets for both the party and the camping are also available.
3. Organizers promise that the Campground (at Hideaway Lakes in Yorkville), the Acid Test Party and Soldier Field are all connected to each other by Metra, Chicagoland commuter rail line, and a shuttle bus route.   While this is technically true, it should be noted that Metra operates on a set schedule, with very sporadic weekend / holiday runs, and certainly does not provide 24 hour service.
Hideaway Lakes is venue that has hosted several smaller music festivals (recently Blottopia) over the last few years to glowing reviews.  It is features swimming and showers among its many amenities.
4.  The campgrounds intend to stream the FTW concerts in addition to have "national headliners" each night.
Here's what we still don't know:
1.  The location of the Acid Test Party.  Earlier plans for a walking distance to Soldier Field event appear to have been scrapped.  They are now claiming a move studio lot. Based on the information provided, my new best guess is the Cinespace Chicago Film Studios on W 15th Place.  Chicago Fire and Chicago PD are filmed here and will be on a summer hiatus.
2.  Exactly how shuttle service will work between the three primary locations. As you can see from the below map, there is some travel time between train stations and the Hideaway Lakes and Soldier Field. If indeed Cinespace is the location, it's in a fairly underdeveloped neighborhood but is only a short walk from the Western Avenue Metra stop.
3.  If there is a plan for additional camping or whether they are scaling back.  Hideaway Lakes is considerable smaller that the 40,000 that was initially offered as capacity.
4.  The full lineup, although several hints are provided below.  Funny that among the headliners are members of "The Warlocks" (hmmm... is this the Warlocks that I'm thinking of, 'cause I think they're busy those nights), and "Crosby, Stills, Nash and Young" (though probably not Crosby, Stills, Nash or Young).  The non-musical entertainment should be a treat as well, but for now, most is still kept under wraps.
5.  Still no formal website, FAQs or details.  "Trust Us".
And finally, here are the ticketing options as presently available.  They are copied here exactly as presented on the ticketing page.  As you can see, seems to have been thrown together and have some unfinished sentences, crazy grammar and punctuation.  Very prankster.
 

Acid Test - July 2
$50.00 ($52.74 w/service fee)
THE MERRY PRANKSTER 50TH ANNIVERSARY Chicago Acid Test -July 2 -OPENING NIGHT - Secret Location
pranksterLand - Event Ticket
$50.00 ($52.74 w/service fee)
(non Camping) Prankster Land Campground - 2 - STAGES (Event Ticket only
Single day camping&Event pass
$100.00 ($104.49 w/service fee)
Single 1 day camping - with event ticket @ $100 per night. at Prankster Land - http://www.hideawaylakes.com
RV camping @ per day
$200.00 ($207.99 w/service fee)
RV camping @ $200 per day .@ Prankster Land - with event ticket - http://www.hideawaylakes.com
Trust us Tickets!
$299.00 ($310.46 w/service fee)
(Never Trust a Prankster) Trust us Tickets! Chicago Test is coming! Pre-sale of tickets is upon us, and we aren't telling you exactly who we have playing an entertaining you visually at the event, but
4 days camp with event Ticket
$350.00 ($363.24 w/service fee)
all 4 days overnite camping with event ticket - Prankster Land
Totally Trust Us -Full Pass
$500.00 ($518.49 w/service fee)
Special Pranksters - Totally Trust Us -Full Acid TEST Pass for all 4 days W/ SPECIAL RESERVED 4 day camping at site #A @ (extra $200 for RV's) & plus 1 day ticket to pre show on wed July 1

 
I'll say this, the whole think does have a acid head vibe.  I'm sure that's what they were going for (or could help but arrive at), and for that reason, it is super-intriguing.
Lineup
Members of Warlocks, Grateful Dead, Furthur
Members of Crosby Stills Nash & Young & Jefferson Starship
Quicksilver Messenger Service
It's a Beautiful Day
Moby Grape (Jerry Miller)
The Linda Imperial Band
The Maykers
Drop Dead Center
LuvPlanet
The Wailers
MARLON "Ganja Farmer" Asher
Ricky or Leon Hendrixs
Jay's Happy Sunshine Band (Ratdog)
Sunshine Garcia Band (Furthur)
John K (band) (Furthur)
Normal Bean Band
Stella Blues
Flux Capacitor
Jojo Stella
Terrapin Flyer with Melvin Seals/Mark Karan (Tom Constanten)
Baby Gramps
Magnus Magic
DBB Funk
Golden Road Gallery
Man's Fire Performers
Joe Craven