Setlist / Video | Grateful Dead 50 @ Levi's Stadium, Santa Clara, CA 6/28/15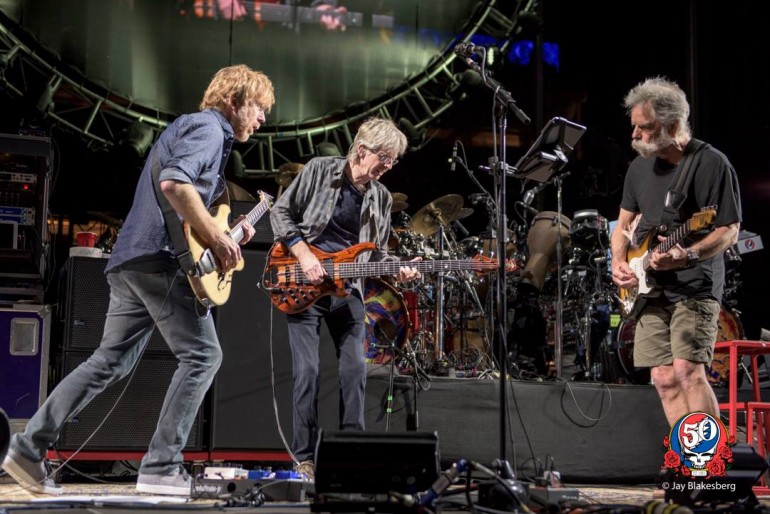 Still processing the weekend, but for those looking to relive (or experience for the first time) in advance of the Chicago shows, there is a webcast rip of the second set of Sunday's show below.  The beginning of this set is definitely where the meat is.  We posted an audio stream of Saturday's, too.
Here's the full setlist, sourced from phish.net.  Cool feature: clicking on individual songs takes you to pages that list when members of Phish have played those songs before.
Set 1: Feel Like A Stranger, New Minglewood Blues > Brown-Eyed Women, Loose Lucy, Loser, Row Jimmy, Alabama Getaway, Black Peter, Hell In A Bucket

Set 2: Mississippi Half-Step Uptown Toodleloo > Wharf Rat > Eyes of the World -> He's Gone ->Drums[1] > I Need A Miracle > Death Don't Have No Mercy > Sugar Magnolia

Encore: Brokedown Palace

[1] Sikiru Adepoju on talking drum.
Also, I updated our Furthur Rotation chart based on the songs played in Santa Clara.  Of course, this is not Furthur, but looking at it may give you a feel for what is likely to be on tap over the weekend in Chicago.
Photo via Jay Blakesberg Photography