Setlist / Review / Stream / Download: Widespread Panic @ UIC Pavilion, Chicago 4/12/13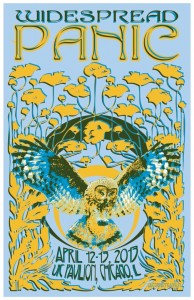 Widespread Panic
Friday, April 12, 2013
UIC Pavilion - Chicago, IL
One: From The Cradle, Imitation Leather Shoes, Bowlegged Woman, C Brown, Carmelita (W. Zevon), Papa Johnny Road, Second Skin, Going Out West, Proving Ground
Two: Pigeons, Can't Get High, Pleas > Ride Me High > Driving Song > St. Louis > Climb To Safety > Driving Song > Protein Drink > Sewing Machine
Encore: Me & The Devil, Conrad
The Stream
[box type="download"]Download Entire Show (mp3 .zip)[/box]
Some thoughts...
The best Widespread Panic sets are constructed out of sequences like the thrill ride between "Pleas" and the end of "Driving Song" at Friday's show. The band was relentless -- sculpting a suite of psychedelic tinged deep funk in which songs effortlessly melted into each other, anthemic choruses raised the collective consciousness and the improvisational spirit was continuously invoked.
When entire sets follow this pattern, it becomes legendary. Last night's second set was bookended by a "Pigeon"s that never really left the box and a second song "breather" of "Can't Get High" and the ultra hard rock "Protein Drink/Sewing" machine, which makes eardrums bleed but just doesn't give the band any room to explore. Contrast that to "St. Louis" (played in Chicago immediately following a 2-nighter in St. Louis, ha!) which went through its pretty instrumental paces before blossoming into trademark Panic give-and-take -- it fit right in with the expressive passages of jamming that sent "Pleas" and "Ride Me High" into the stratosphere and the chunky Dave Schools led foray which wrapped up the "Driving" Suite.
The first set found the band dropping some A+ covers ("Bowlegged", "Going Out West") amidst a couple of George era tunes ("Papa Johnny Road", "Second Skin") that actually paired up nicely and found some life under Herring's expert leads, and in the case of "Skin", sense of mood and drama. Warren Zevon's" Carmelita" is a fine tune by an under appreciated artist but, having only previously been performed by Panic on the Wood Tour, appeared to leave the majority of the crowd baffled. I think Panic fans will eventually come to embrace it.
But they saved the best first set fireworks for "Proving Ground", which built up into a Bliss Jam that peaked for a good minute with the band's array of LED lights blaring in our faces for a hypnotic and otherworldly effect before resolving into the song's powerful coda and the end of the set.
Summary: Welcome back to Panic Tour! Band sounds fantastic and playing is fierce and fearless.  A couple of more adventurous setlist choices and this could have been one for the ages.
Highlights: Pick just about anything from the heart of the second set, but "Ride Me High" definitely stands out as having all the elements -- it just didn't seem like they wanted to stop playing it and that's a great sign.  And if you can't get behind that peak in "Proving", stay home.