Stream / Download / Video | Widespread Panic @ Chicago Theatre, May 6 & 7, 2016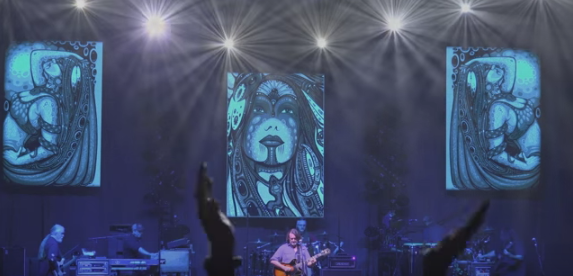 It's been a week, and I'm still going to try to put some thoughts together on the Widespread Panic Chicago Theatre run.  But until then, how about a little media to keep you going.
We posted audio from Thursday's show already, and here's two more great pulls via Z-Man: FRIDAY and SATURDAY.
There's also a good chunk of Friday's first set, video style, courtesy of madpicken below.
Friday Stream
[mp3-jplayer tracks="Crowd - 2016-05-06 Chicago Theatre - Chicago IL - Widespread Panic@http://tomorrowsverse.com/content/music/wsp/20160506/t1.mp3,Wonderin' > - 2016-05-06 Chicago Theatre - Chicago IL - Widespread Panic@http://tomorrowsverse.com/content/music/wsp/20160506/t2.mp3,Blackout Blues > - 2016-05-06 Chicago Theatre - Chicago IL - Widespread Panic@http://tomorrowsverse.com/content/music/wsp/20160506/t3.mp3,Pigeons - 2016-05-06 Chicago Theatre - Chicago IL - Widespread Panic@http://tomorrowsverse.com/content/music/wsp/20160506/t4.mp3,Her Dance Needs No Body - 2016-05-06 Chicago Theatre - Chicago IL - Widespread Panic@http://tomorrowsverse.com/content/music/wsp/20160506/t5.mp3,One-Arm Steve > - 2016-05-06 Chicago Theatre - Chicago IL - Widespread Panic@http://tomorrowsverse.com/content/music/wsp/20160506/t6.mp3,Use Me - 2016-05-06 Chicago Theatre - Chicago IL - Widespread Panic@http://tomorrowsverse.com/content/music/wsp/20160506/t7.mp3,Steven's Cat - 2016-05-06 Chicago Theatre - Chicago IL - Widespread Panic@http://tomorrowsverse.com/content/music/wsp/20160506/t8.mp3,Expiration Day - 2016-05-06 Chicago Theatre - Chicago IL - Widespread Panic@http://tomorrowsverse.com/content/music/wsp/20160506/t9.mp3,Holden Oversoul > - 2016-05-06 Chicago Theatre - Chicago IL - Widespread Panic@http://tomorrowsverse.com/content/music/wsp/20160506/t10.mp3,Love Tractor - 2016-05-06 Chicago Theatre - Chicago IL - Widespread Panic@http://tomorrowsverse.com/content/music/wsp/20160506/t11.mp3, - 2016-05-06 Chicago Theatre - Chicago IL - Widespread Panic@http://tomorrowsverse.com/content/music/wsp/20160506/t12.mp3,
Taildragger - 2016-05-06 Chicago Theatre - Chicago IL - Widespread Panic@http://tomorrowsverse.com/content/music/wsp/20160506/t13.mp3,Don't Be Denied - 2016-05-06 Chicago Theatre - Chicago IL - Widespread Panic@http://tomorrowsverse.com/content/music/wsp/20160506/t14.mp3,Tickle The Truth - 2016-05-06 Chicago Theatre - Chicago IL - Widespread Panic@http://tomorrowsverse.com/content/music/wsp/20160506/t15.mp3,Bow Legged Woman > - 2016-05-06 Chicago Theatre - Chicago IL - Widespread Panic@http://tomorrowsverse.com/content/music/wsp/20160506/t16.mp3,You Got Yours - 2016-05-06 Chicago Theatre - Chicago IL - Widespread Panic@http://tomorrowsverse.com/content/music/wsp/20160506/t17.mp3,*Barstools And Dreamers > - 2016-05-06 Chicago Theatre - Chicago IL - Widespread Panic@http://tomorrowsverse.com/content/music/wsp/20160506/t18.mp3,Thank You For Lettin' Me Be Mice Elf > - 2016-05-06 Chicago Theatre - Chicago IL - Widespread Panic@http://tomorrowsverse.com/content/music/wsp/20160506/t19.mp3,Barstools And Dreamers > - 2016-05-06 Chicago Theatre - Chicago IL - Widespread Panic@http://tomorrowsverse.com/content/music/wsp/20160506/t20.mp3,Goin' Out West > - 2016-05-06 Chicago Theatre - Chicago IL - Widespread Panic@http://tomorrowsverse.com/content/music/wsp/20160506/t21.mp3,Drums And Bass > - 2016-05-06 Chicago Theatre - Chicago IL - Widespread Panic@http://tomorrowsverse.com/content/music/wsp/20160506/t22.mp3,Drum Solo > - 2016-05-06 Chicago Theatre - Chicago IL - Widespread Panic@http://tomorrowsverse.com/content/music/wsp/20160506/t23.mp3,Drums And Bass > - 2016-05-06 Chicago Theatre - Chicago IL - Widespread Panic@http://tomorrowsverse.com/content/music/wsp/20160506/t24.mp3,Shut Up And Drive > - 2016-05-06 Chicago Theatre - Chicago IL - Widespread Panic@http://tomorrowsverse.com/content/music/wsp/20160506/t25.mp3,Bear's Gone Fishin' > - 2016-05-06 Chicago Theatre - Chicago IL - Widespread Panic@http://tomorrowsverse.com/content/music/wsp/20160506/t26.mp3,Bust It Big > - 2016-05-06 Chicago Theatre - Chicago IL - Widespread Panic@http://tomorrowsverse.com/content/music/wsp/20160506/t27.mp3,Sell Sell Sell - 2016-05-06 Chicago Theatre - Chicago IL - Widespread Panic@http://tomorrowsverse.com/content/music/wsp/20160506/t28.mp3,Nobody's Loss - 2016-05-06 Chicago Theatre - Chicago IL - Widespread Panic@http://tomorrowsverse.com/content/music/wsp/20160506/t29.mp3,Mr. Soul - 2016-05-06 Chicago Theatre - Chicago IL - Widespread Panic@http://tomorrowsverse.com/content/music/wsp/20160506/t30.mp3"]
Download Entire Friday Show (mp3 .zip)
Saturday Stream