Could Phish Play At Chicago's Charter One Pavilion During Summer of 2013?
Update 3/12: Yes they wil! Check out our post and full summer tour dates here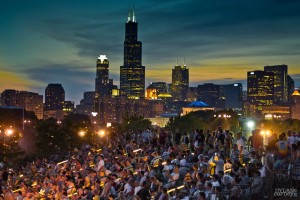 Picture via Furthur facebook
Yay! Fake tour date season is in full swing.  It can be maddening but, face it, the rumored dates that pop up in these tense days prior to an announcement do often bear a resemblance to how itineraries actually shape up.  When I start to see the same dates / venues start to pop up on several lists of rumors  it becomes an early warning... what if there's something to this?
In 2013, the rumor that's caused the most buzz around these parts is a run of shows at Chicago's Charter One Pavilion at Northerly Island the weekend of July 19th - 21st.  My first reaction: bullshit.  But, several sources started corroborating a late July run at the venue and with each report confidence started to rise.
Phish's greatest gift to the City of Chicago since their 2009 reunion has been August 2011 UIC run. At 10,000 capacity, they were the smallest shows the band had played anywhere close the city since their last three-nighter at the venue in 1998.  Still, before the shows, many wondered if packing into the early-80's era sweatbox college arena during the dog days of summer was the best move, especially when an outdoor gem of a venue sits just a few miles away on the lakefront.
Of course, a run at the Charter One Pavilion would mean an even smaller show... a capacity of about 7500.  So in the end, dollars won out over comfort and scenery.  I haven't heard many complaints about the performances, but let's be honest: an outdoor Phish show within the heart of the city is something that has NEVER occured, and it would be oh-so-sweet.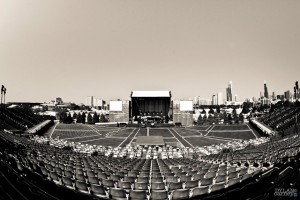 Photo via Furthur facebook
Now, I'm a homer so excuse me if I'm overselling, but I believe this venue is a destination on par with the best in the nation.  What Red Rocks and  The Gorge offer in terms of natural splendor, Northerly Island offers as a testament to impeccable city planning and jaw-dropping architecture.  The full spectrum of Chicago's world-class beauty is on display throughout your experience.  You are only a stone's throw away from the city's greatest landmarks, many of which are visible from your seat during the concert.  (For more pontificating, check out my preview of last summer's Furthur show at the venue).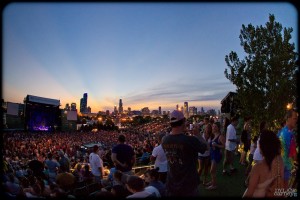 Picture via Furthur facebook
Plus, it's kind a genuine mid-sized venue.  It doesn't have the maddening characteristics of your typical "shed".  It's weird and makeshift and as charming as a place with $12 Bud Light Tallboys can be.  I'd certainly love for Phish to play there, but why would they downsize?  Especially since these rumors seem to place them in town in a mid-summer's weekend as opposed to the Monday - Wednesday nights of the 2011 run.
But there are some reasons why the rumor may indeed have legs.
1. It's a LiveNation venue and Phish has shown a propensity for booking entire tours exclusively through the promotion behemoth
2. LiveNation needs to put acts in there and booking Chicago summers is increasingly difficult due to Lollapalooza and its radius clause.  Spring and Fall are always awesome around here, but the most summer shows sidestep the city in favor of the "soft ticket".  A venue like this needs to be opportunistic / aggressive about putting high demand acts in there.  It's only February, but there's only one show on the books there so far and it doesn't conflict with the rumored dates.
3. The band is not quite drawing at their typical summer Midwest stops like Alpine Valley and Deer Creek; in fact they were some of the emptiest shows on the 2012 summer tour.  Maybe a change of scenery is just what they need.  Moving towards smaller / high demand shows seems to fall in line with booking strategy ever since the reunion.
4.  Probably not a true factor, but this year does mark the band's 30th anniversary.  It's possible that they are trying to step outside the typical "grind" and do something special to commemorate the occasion.
5.  This is probably the most compelling argument of all: maybe they're not leaving money on the table after all.  The seating chart for past shows at the venue, looks like this: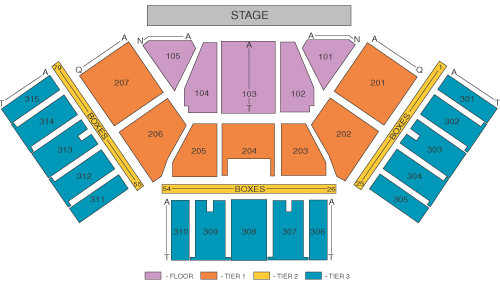 Charter One pre-2013 Seating Chart
A seated (sometimes GA) floor with three sets of grandstands / "temporary" bleachers in the back.  This puts the capacity at the previously stated 7,500.  Now check this.  The published seating chart for the announced Dispatch show at the venue looks like this: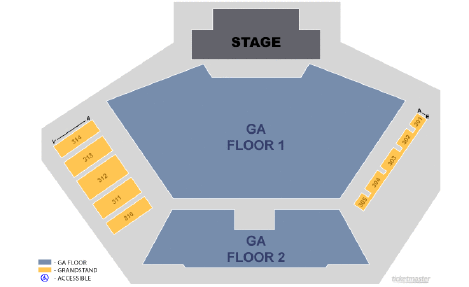 2013 Charter One Seating Chart
Notice there's only one set of grandstands?  One appears to have been removed in place of another GA "floor" section.  Another looks like it may be boxes only, freeing up even more space.  Could this mean increased capacity, yet a still a pretty cozy environment relative to sheds like Alpine Valley and Deer Creek?
I think it could happen.  Would I be surprised by another UIC run or even a return to Toyota Park in Bridgeview?  No.  But I've got fingers crossed. In the meantime, check out the tour announcement infographic for clues as to when to expect some word.