Considering The Delay: What Are Alternatives For Charter One Pavilion?
Of course, this post is just for fun.  I have complete faith that the expansion of the site at Northerly Island will be ready in time for the bulk of the summer concert season -- including the three shows I'm most looking forward to.
Or will it?
Yes, we reported on the progress at the site just a few weeks ago, but last week, when the news was abruptly broken that the new venue's season opening show, Dispatch and Guster (which was scheduled for June 1st), would be moved to the UIC Pavilion, it was a bit of a gut punch.  With fine reporting on the situation by DNAInfo, and some great recent site photos from Hidden Track, we have more information than ever, but to me, it just doesn't look that close to be finished. This was a project that wasn't even "approved" until after Phish announced their shows there, so nothing should be taken for granted in Chicago.
While the UIC Pavilion was a convenient, though not ideal, destination for the relocation of a "small configuration" shows like Dispatch, for the two big shows that hope to take advantage of the newly installed lawn -- Phish and Jimmy Buffett -- what alternatives are there?
For the Phish weekend, two Chicago locations that could potentially accommodate the crowd will be off limits, with Wrigley Field hosting Pearl Jam and Jason Aldean that weekend and Union Park playing home for Pitchfork fest.  Though rarely used as a concert venue, the White Sox are also in town that weekend, eliminating US Cellular Field from contention.  A fourth potential alternative, First Midwest Bank Ampitheater in South Suburban Tinley Park, has three storied Phish appearances to its credit (back when it was known as 'The World'), but will have the Vans Warped Tour and Train gracing its stage the third weekend in July.
So that leaves...
United Center.  It would be a first for Phish in Chicago, but despite the indoorsiness and massive size, the plushness and modernity of NBA/NHL arena are not without their charms.  The smaller, dumpier Allstate Arena (the former Rosemont Horizon) can't host its first Phish show since Winter 2003 since the New Kids On The Block and an WNBA game will take precedence.
Toyota Park.  A pair of shows at this MLS Stadium in Bridgeview back in 2009-10 have shown that it can handle the crowd, but the weekend would definitely lose some of the luster that lakefront outdoor shows could provide. [Update: there's a Fire game on 7/20 H/T @phishcrit]
Grant Park / Pritzker Pavilion.  Not sure how ticket sales have been, but too many may effectively kibosh consideration for the elegant and state-of-the-art Pritkzer Pavilion which would max out at far less than Charter One's expanded capacity of 30,000+.  Alternatively, Radiohead used the city's great lakefront park for a headlining show a few years ago with makeshift stage and amenties and Lollapalooza has become a fixture here.  Either way, Dispatch couldn't secure the necessary permits to switch their shows to either of these locations... but given enough time?
Soldier Field.  Actually seems kind of realistic... moving the show not more than about 1/4 mile west of the scheduled location.  It's facilities were intended to be used for this show anyway. Justin Timberlake and Jay-Z are scheduled to perform there the following Monday.  Sure it's an NFL stadium, previously uncharted ground for Phish, but many of us have wonderful memories of the Dead's annual visit to this location in the early nineties.  Could it be the most likely alternative?
That said, there are 25 days until OAR and Jimmy Buffett are scheduled to break in the new venue and another 20 days after that before Phish.  Seems like more than enough time to not have to consider an alternative.  But if it came to that, what do you think?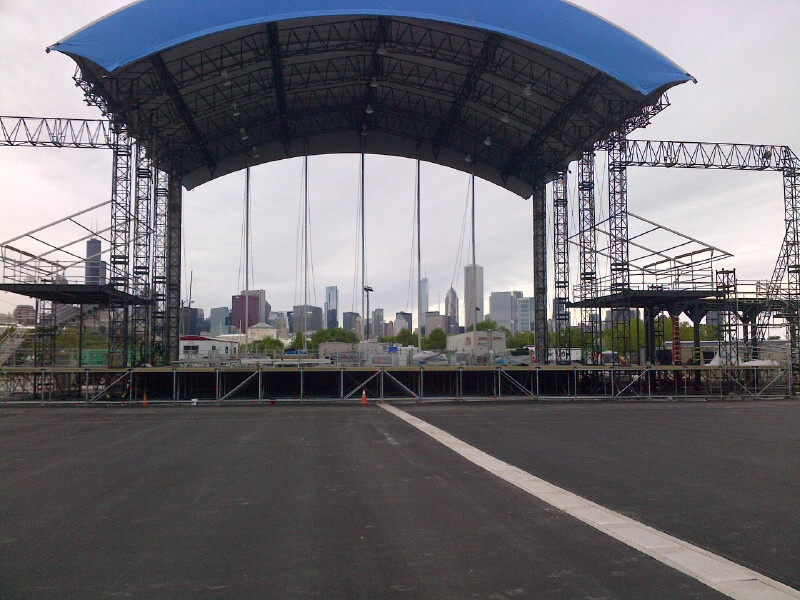 Blacktop Down, Stage Up. Photo taken 1 week ago