Video Recap: The Grateful Dead Tunes of Summer Camp Music Festival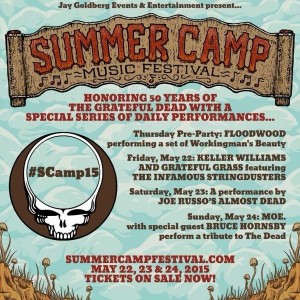 To honor the 50th anniversary of Grateful Dead, Summer Camp promised a series of four scheduled sets (one for each day of the festival) which honored the legacy of the band.  Of course, you can't keep a good concept down, and attendees actually got a few more.
We've assembled a post spotlighting video and audio coverage of both the four planned sets, as well as a few Dead covers tossed in by some our favorite other festival artists.
Stay tuned for our full coverage of final day of the festival soon.
1. This post has to start with a little Joe Russo's Almost Dead.  After their Chicago show in April, I was ready to proclaim that JRAD may have actually produced the best Grateful Dead music to be performed in the city all year.  Their SCMF set definitely followed suit, with the reprise of "Dancin'" popping up in the middle of "Viola Lee" taking the cake.  Here's video of the full set.
Dancin' In The Streets > The Eleven > Help On The Way > Slipknot! > Viola Lee Blues > Dancin' In The Streets > Viola Lee Blues > Throwin' Stones, Bertha

E: Uncle John's Band
You can also stream or download the entire show from archive.org
2.  Those attending "High Steppin' Into Town" on the eve of the GD50 Chicago run, got a preview with Keller Wiliams and the Infamous Stringdusters edition of Grateful Grass when they played their set on Friday -- though it did include a Stringusters and KW tune for good measure.  Here's "Cold Rain & Snow".
Again, a full recording is available to stream or download via archive.org which also features "He's Gone", "Feel Like A Stranger", "Shakedown Street" and "Scarlet Begonias".
3.  JRAD's Tom Hamilton also appeared with his "solo" band American Babies.  They delivered an awesome eleven minute rendition of "New Speedway Boogie", with a shout out to a fan drinking a bag of wine.  It starts about seven minutes in to this video.
4. Here's the full set from Yonder Mountain String Band, which they kick off with "I Know You Rider".
5.  moe. welcomed sometime Dead member, and Fare Thee Well participant Bruce Hornsby for a min set of Dead tunes including "Help on the Way" > "Slipknot!" > "Franklin's Tower".  Here's video of "Sugaree"
6. Meanwhile, members of moe. with their acoustic / Americana band Floodwood helped kick off the first day of the festival with a Dead set.  Here's "Ripple".
7.  On a local note, our friends in Old Shoe also got in on the action.  Here's their debut of "The Music Never Stopped".
Check out their full set from archive as well.
8. Finally, festival mainstays Family Groove Ccompany welcomed a horn section to help them out.  Sounds mighty good on "They Love Each Other", but you can also check out the brass backing them up on Michael Jackson's "Thriller".