These Are Your Jams, Volume Four
This is the fourth edition of the The Barn's These Are Your Jams series -- a compilation of the best music that I've been turned on to via the This Is My Jam social music sharing network.  To see what this is all about, check out Volume One,  Volume Two,  or Volume Three... and for more jams check out our entire My Jams series.
1. This kid can sing. There is something refreshingly old school about Michael Kiwanuka, who lays down both  "I'll Get Along" and "I Need Your Company" in this short video.  Seems like a few female British soul singers have broken through to super stardom latel.  I say that Kwanuka's  looks, chops and material suggest that he can be a bust out star as well. HT mellowpuff
2. The jazz flute!  This Herbie Mann track was shared on TIJM a few months before the release of Anchorman 2.  But, I'd like to see Ron Burgundy keep up with the crazy changes and frenetic pace of this 10 minute track. HT WeirScrewed
3. TIJM is definitely one of my primary outlets to get exposed to some new fuzzed out psychedelic music.  White Fence fills that role quite nicely in this edition.  Plus, it's just fun to say the song's title:  "Destroy Everything". HT DogGonePresents
4. That drum crack that kicks of New Electric Ride's "In Chains" says more than any words that I can write here.  Heavy stuff here from across the pond -- they promise one of the most anticipated LPs of 2014.  HT marcnorman
5. One of the most delightful finds ever on TIMJ.  Velcro Lewis Group is all kinds of weird in all the right ways.  Self described as "Funk rock occultists," they claim "The Velcro Lewis Group, bring the harmonies of Motown, the groove of Stax, the drugs of Hawkwind, and the drive of Bohannon to their own LSD-laced barbecue of sound."
Yup, "Inside My Cloud" sounds like all of that .  And they are from right here in Chicago.  HT marcnorman

6. Pretty cool to see an act built upon innovation and boundary breaking get some big time exposure.  The video that was shared for The Dodos' "Confidence" have them playing a pretty in front of a very enthusiastic David Letterman.  Nice work.  They'll rally that success into a series of dates supporting Neko Case this spring. HT WeirScrewed

7. This column typically muddles amongst the obscure -- it is my intention to use it as a showcase for jams I've been introduced to or that are new to the site.  But I've got to give props to the This Is My Jam user who reminded me of an old habit that seems to have died hard.  A young man's band that somewhere along the line I "outgrew", sometimes I forget how goddamn great Guns N Roses could be.  Even the Use Your Illusion material contains a track like "Bad Obsession", a true rocker that 1000 bar bands wish they can sniff the greatness off.  HT MariaElena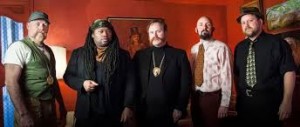 The Velcro Lewis Group