These Are My Jams, Volume Eleven
Welcome to the eleventh edition of the The Barn's These Are My Jams series.  To see what this is all about, check out Volume One and for more jams, our landing page for the entire series.
1. It was immediately after my first exposure to Cabinet that I added this as my jam.  Since then, I can say that they've become one of my favorite new acts, even earning a featured spot in my jambands of the future post.  This video of "Caroline" > "Dirt" pretty much sums up why: ambitious playing, solid songwriting, and a unique sound even amongst the sometimes saturated jamgrass subgenre.
2. We are currently experiencing "The Spring of Nels".  With two absolutely mind-blowing albums, the MMW collaboration Woodstock Sessions Volume 2 and a far-ranging Nels Cline Singers release Macroscope, there's no shortage of guitar mastery and exploratory playing.  He'll even play a duo show at City Winery Chicago with Julian Lage at the end of June.  Here he is with the Nels Cline Singers on "Square King", a balls-to-the-wall jazz-rock gem.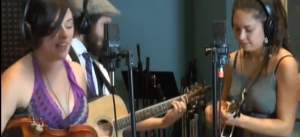 3. If you want to hear music that is positive and inspiring without being cloying or saccharine, look no further than emergent Chicago based band
Under
The Willow
. Oh….those vocals on
"We Are Cold"
!  They could give a guy chills, especially served up amongst compelling acoustic sounds.
It became my jam in the home stretch of the brutal Chicago winter and I swear it helped melt some of the snow.
4. More exciting female lead vocals are part of Sister Sparrow & The Dirty Birds, who have the talent and personality to drive this crazy-fun animation heavy video  Its stylized, modern, and distinctive feel is perfect for the infectious "Another Ride".  A tune like this has the potential to crossover -- which explains the high production value on the video.  I'd like to see them get a chance.
5. Yes, the one man band concept can be gimmicky, but Kishi Bashi, his violin and his effects do it beautifully, movingly, touchingly.  This is "Manchester".
6. What a delightful, breezy set of hooks that Les Racquet offers to complement the odd chords and thoughtful lyrics of "Palm Tree Night", the lead track on Whale Hail.  The rest of the album contains more of the same confident, expressive, tunefully jazzy, genre-mashing that makes this tune such a winner.  Proves that there's always something new under the sun.