Stream / Download / Video | Tedeschi Trucks Band Performs Joe Cocker @ Lockn 9/11/15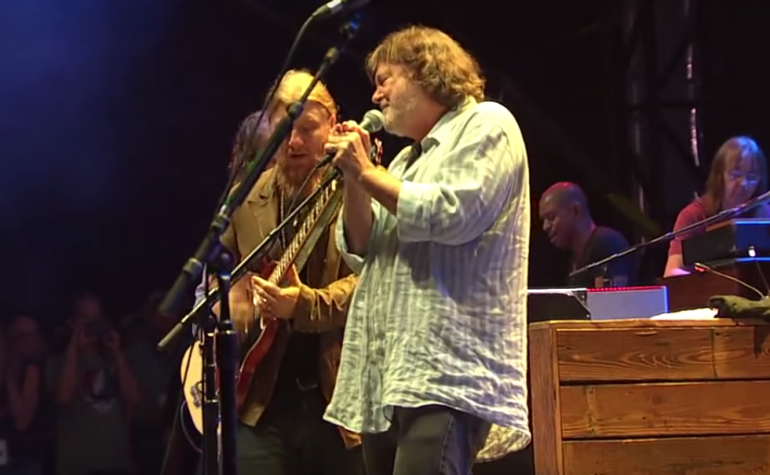 Pound for pound, this is probably the best thing to happen at Lockn' 15 and we are lucky there there is so much media that has been shared for those of us who couldn't be there in person.
My (and my family's) love affair with Tedeschi Trucks band is well documented.  This set just launches that feeling into the stratosphere.
It is such a great complement to their already incredible repertoire.  The Mad Dogs & Englishmen tunes fit so well with the overall band vibe, and they certainly don't shy away from inviting their friends to the party.
My favorite is Widespread Panic's John Bell on "Delta Lady", but am quite pleased with seeing Anders Osborne get in there with Derek and Susan on guitar as well.  Full setlist / guest list as well as webcast rip upped via BurningShoreProphet3 is below.  Also, we've got you covered if that disappears due to the dreaded YouTube "copyright claim", if you just want audio, or want to get this magnificent show into iTunes.
The Letter, Darling Be Home Soon, Cry Me a River (1), Girl From The North Country (2), Dixie Lullaby (3), Bird On The Wire (4), The Weight (5), Superstar (6), Delta Lady (7), Let's Go Get Stoned, Something (8), She Came In Through The Bathroom Window (9), Feelin' Alright (10), Sticks & Stones (11), Space Captain (12)
E: The Ballad of the Mad Dogs & Englishmen (13), With A Little Help From My Friends (14)

Notes:

01. Claudia Lennear on vocals |02. Leon Russell and Claudia Lennear on vocals |03. Leon Russell on vocals
04. Rita Coolidge on vocals | 05. Leon Russell, Claudia Lennear, Rita Coolidge, Pamela Polland and Susan Tedeschi
06. Rita Coolidge on vocals | 07. John Bell on vocals |08. Doyle Bramhall II on vocals and guitar
09. Warren Haynes on vocals and gutar; Anders Osborne on guitar
10. Dave Mason on vocals; Anders Osborne on guitar | 11. Chris Robinson on vocals
12. Susan Tedeschi and Chris Robinson on vocals |13. Leon Russell solo | 14. Susan Tedeschi and Chris Robinson on vocals
The Stream
Download Entire Set (mp3.zip) - audio via vwmule