Retro Jamming: Trey Anastasio @ The Riviera May 1999, Stream and Download
Big Red returns to Chicago on Sunday with the Trey Anastasio Band.  Although he brought this very same band to the Riv last year, the last time he played here in the acoustic / electric format that he's touring with this winter was actually the first time he branched out from Phish and did a full-fledged solo tour, in the Spring of 1999.
In the late nineties, we really started to see the evolution of Trey from composer to songwriter; his desire to craft a "hit" was extremely transparent.  Here it manifests itself in some fairly standard run-throughs of Phish tunes, peppered with some newer songs he probably thought might push him into pop stardom.   It can be a bit jarring to hear such an accomplished electric guitar player, versed in the rhythmic and harmonic acrobatics of Phish, try to feel is way through some of these stripped down arrangements and let the songs speak for themselves, but he finally hits the exact right tone the on the set closing "Punch You In The Eye" in to "Runaway Jim", where his chording and guitar phrasing are most reminiscent of his electric style.
Then comes the electric set.  In only the third show of this tour, here the goal was to be decidedly different than Phish and to offer an experience that stands on its own.  This show features the embryonic version of his current lineup, just Tony Markellis, Russ Lawton and Trey as a trio.  The template is simple:  let the rhythm section hold down the fiercest, steadiest possible groove and give Trey bed on which to emote with his axe. We are offered a handful of songs that made the transition to Phish ("First Tube", "Gotta Jibboo", "Sand") and are still staples of the TAB repertoire, some classic soul covers ("Will It Go Round In Circles", "Ooh Child" and an ensuing 13 minute jam) that are just plain fun, and a number of tunes that never made it much further than the trio format in the TAB life-cycle ("Tops Off", Marc Ribot's  "Aqui Como Alla") but are beloved nonetheless.
Have a listen and take a trip down memory lane.
The stream (click to activate):
Setlist
Trey Anastasio Band
5/6/99 Riviera Theater, Chicago, IL
Set One (Acoustic): Get Back On The Train, Farmhouse, The Inlaw Josie Wales, Sample In A Jar, When The Circus Comes To Town, Snowflakes In The Sand, Brian And Robert, Mountains In The Mist, Punch You In The Eye > Runaway Jim
Set Two (Electric): First Tube, Will It Go Round In Circles, Gotta Jibboo, Heavy Things, Tops Off, I Can See Clearly Now, Sand, Aqui Como Alla, Ooh Child > Jam, Somantin, Windora Bug, Come On (Part 1)
E: Silicon Fairy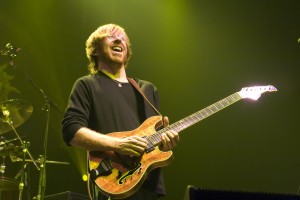 Update 3/1/11:  You may also be interested in some TAB of a more recent vintage.