Notes From The Jazz Underground Works Overtime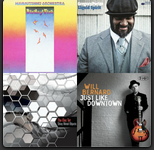 For the week of September 13th, the broadcast of Notes From The Jazz Underground burst from its normal 2 hour confines and turned into  a 3 hour affair.  Highlights from this overstuffed show included:
An interview with Chicagoan Ben Scholz about his band's (the Elec Tet) new disc, Shiny Metal Objects,  Three tracks from the album, which also features the amazing guitarist Oz Noy, are included in this playlist.  This is some good stuff so we won't be offended if you decide to dig into the whole thing.
Other Chicago stuff includes pianist Ryan Cohan, the very hip Ian Torres big band, the jazz-rock band Hood Smoke and the very weird (and percussion heavy) Joliet based band Callaloo, who did a caribbean take on Free Bird
Paul busted out some Masada (aka the most Jewish band in the history of jazz) in honor of Yom Kippur, unfortunately they're not Spotify friendly, so to get a feel for what John Zorn and company do, feel free to check out the YouTube embeded below
And of course the NFTJU bread-and-butter: fusion.
Old fusion from Billy Cobham, Gary Bartz, Miles Davis and Matt Haimowitz (with special guest John McLaughlin on an old Mahavishnu Orchestra tune)
New fusion from Donny McCaslin and Jeremy Pelt
Acoustic fusion from Oregon, who played that route before Paul and his band tried their hand at it 30 years later.
You'll also find brand new music from Dave Holland's new disc, Prism and Gregory Porter (who killed it at Jazz Fest a couple of weeks back).  Also, check out the Oregon track.
Notes From The Jazz Underground runs Friday nights on WDCB 90.9 FM.
Complete Playlist:
| | | |
| --- | --- | --- |
| Song | Artist | Album |
| Open Country Joy | Matt Haimovitz & UCCello | Meeting of the Spirits |
| Liquid Spirit | Gregory Porter | Liquid Spirit |
| Kedusha | Masada | Live in Middelheim 1999 |
| Yo 11 | Ian Torres Big Band | January |
| Dancing Days | Will Bernard | Just Like Downtown |
| King Joshua | The Elec Tet | Shiny Metal Objects |
| Flow | The Elec Tet | Shiny Metal Objects |
| Fly | The Elec Tet | Shiny Metal Objects |
| Shima | Bukuru Celestin & Snarky Puppy | Amkeni |
| Last Night At The Mannenberg | Ryan Cohan | The River |
| Pounce | Oregon | Live at Yoshi's |
| Milk & Mascara | Hood Smoke | Laid Up In Ordinary |
| Moon Germs | Billy Cobham | Total Eclipse |
| Stadium Jazz | Donny McCaslin | Casting For Gravity |
| Lucretia the Cat | Ray Barretto | The Other Road |
| Violet Revolutionary | Throttle Elevator Music | Throttle Elevator Music |
| Nasty Little Hairs | Dave Robbins Electric Band | Zap! |
| Scorpio | Jeremy Pelt | Shock Value |
| Hat and Beard | Eric Dolphy | Out to Lunch |
| Free Bird | Callaloo | Global Impressions |
| It's About That Time | Miles Davis | In A Silent Way |
| Brown Sneakers | George Duke | Dreamweaver |
| Choir | Dave Holland | Prism |
| Carnival D'espirit | Gary Bartz | Music Is My Sanctuary |