Notes From The Jazz Underground Scrolls Down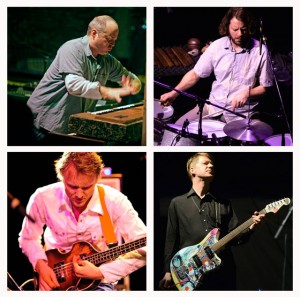 This edition of  
Notes From The Jazz Underground
was culled from the April 15th broadcast.  The program airs on 90.9 FM WDCB Fridays from 10 to midnight.
Paul tells us, "every once in a while, I put together a show by scrolling on my library fox 'x' number of seconds and wherever I land is where I have to start, and then I start to piece together a show from there."
Since his library is exhaustive and of high quality, we all win.  He also offered some previews of upcoming shows.  Bad Plus Joshua Redman had upcoming (now past) gig at Old Town School.  Ben Allison visited the Green Mill.
A bit of Julian Lage early in the set inspired the MMW -> MMW + Nels Cline -> Nels Cline Singers sequence.
Finally, we go pre-JRAD to a Bustle In Your Hedgerow cut.  With JRAD in the picture, have we seen the last of then?  The track is not available on Spotfiy, so like a couple other tracks from the complete radio playlist, it is streamed below.
Resisting the Beast
You Should Know - Hailey Niswanger
Scroll to 29:28 for the track "Kick It, Man" featured on NFTJU.
Ramble On from Bustle In Your Hedgerow.  Download whole show via archive.org
[mp3j track="Ramble On@https://archive.org/download/duo2006-08-06.mtx.flac16/bustle2006-08-06d1t03.mp3"]
Complete Playlist
| | | |
| --- | --- | --- |
| Track | Artist | Album |
| Outro Lado | Zuco 103 | The Other Side of Outro Lado |
| Resisting the Beast | Zach Brock and the Coffee Achievers | Live at the Jazz Factory |
| Let's Get Smashed | Zony Mash | Cold Spell |
| Everyday is Everyday | Courtney Pine | Devotion |
| Black Harvest | Marquis Hill | Modern Flows, Volume 1 |
| Spanish Castle Magic | Mark Turner | Fly |
| Idioteque | Cory Wong | Even, Uneven |
| Stop Go Start | Julian Lage | Arclight |
| You Should Know | Hailey Niswanger | PDX Soul |
| Make Room for Another | Medeski, Martin & Wood | 20 |
| Arm & Leg | Medeski, Martin & Wood + Nels Cline | Woodstock Sessions, Vol. 2 |
| Lowered Boom | Nels Cline Singers | Instrumentals |
| Faith Through Error | The Bad Plus & Joshua Redman | The Bad Plus Joshua Redman |
| County Seat | The Bad Plus & Joshua Redman | The Bad Plus Joshua Redman |
| Kick It Man | Ben Allison | The Stars Look Very Different Today |
| Van Gogh By Numbers | Joe Locke-Geoffrey Keezer Group | Live in Seattle |
| Don't You Know | Snarky Puppy | Family Dinner Volume 2 |
| Dreading Science | Bryan Doherty | Rigamarole |
| Ramble On | Bustle In Your Hedgerow | Live at the Abbey |