LISTEN: The Replacements' 22 Year Gap Between Shows, Chicago 1991 to Toronto 2013
I know you can't keep score when it comes to live music, but I've always kind of considered one of my early concerts a badge of honor.  On July 4th, 1991, as a recent high school grad, I managed to trek downtown to catch what turned out to be the "final" concert by The Replacements at Taste Of Chicago in Grant Park.
What can I say?  It was historic, moving, important.  The music was beautiful and ragged, and really a poignant end to such a storied band.  They even let their roadies finish their gig for them.  It was something that I appreciated instinctively but wouldn't be able to grasp intellectually until years of musical maturation later.  The folks at Aquarium Drunkard have really summed up what made the gig so special quite nicely in this piece.
Of course I had to put "final" in quotes above since The Mats decided to have ago again this year, reuniting for three gigs including this weekend's Riot Fest in Chicago.  This affords us the opportunity to listen to the (kind of) same band play two consecutive gigs 22 years apart.  What a trip.
Setlist and song links:
The Replacements
Petrillo Music Shell - Taste Of Chicago
July 4th, 1991
00:00 I Will Dare 4:12 Bent out of Shape 7:17 Achin' To Be 11:10Merry Go Round 15:07 Happy Town 18:10 Swingin' Party 22:05 One Wink 25:20 Waitress in the Sky 27:32 When It Began 30:52 Someone Take the Wheel 34:40 Talent Show 39:54Nobody 43:19 Another Girl, Another Planet 45:48 Hey, Good Lookin' 49:03 I'll Be You 52:40 I Don't Know 55:00 Within Your Reach 58:50 Can't Hardly Wait 1:02:00 Hootenanny
[box type="download"]Download Entire Show (mp3 .zip)[/box]
Toronto Riot Fest
August 24th, 2013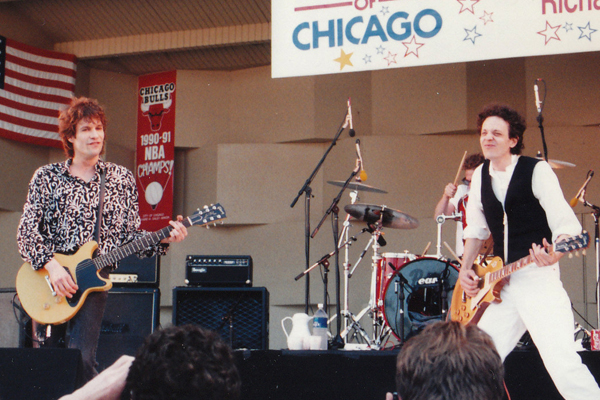 PHOTOGRAPH: COURTESY DANIEL RANGEL, FLICKR