John Scofield Lives In The Jazz Underground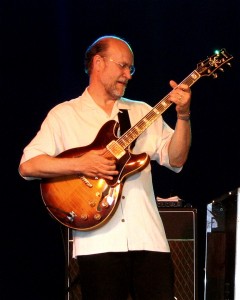 This installment of Notes From The Jazz Underground features the playlist based on the December 27th show.
Another week, another birthday tribute.  This time to guitarist John Scofield for his birthday.  Luckily, there'a a lot to draw from as Sco has collaborated with some of the very best.
In this playlist, you'll find music from his landmark sessions with Medeski Martin & Wood, his seminal work with Miles, a cut with legends George Duke & Billy Cobham, and, of course, on his own.
And because host Paul Abella, never really does just straight shows featuring a single artist, he also featured a bunch of other great guitarists who are cut from a similar cloth: Grant Green, John McLaughlin, Fareed Haque (who has another new one out on Delmark), Pat Metheny, and Larry Coryell.
Notes From The Jazz Underground runs Friday nights on WDCB 90.9 FM.
Complete Playlist
| | | | |
| --- | --- | --- | --- |
| Out Like A Light | John Scofield | Out Like A Light | Enja |
| One/Take Five | Rodrigo Y Gabriela | Live In Manchester and Dublin | Ruby Works |
| Animal Farm | John Scofield | Uberjam | Verve |
| The Great Divide | Thomas Marriott | Crazy: The Music of Willie Nelson | Origin |
| Kool | John Scofield | Groove Elation | Blue Note |
| Jan Jan | Grant Green | Live at Club Mozambique | Blue Note |
| Speak | Miles Davis | Star People | Columbia |
| Miles Behind | Medeski Scofield Martin and Wood | Out Louder | EmArcy |
| Space | Pixel | We Are All Small Pixels | Cuneiform |
| Scenes From a Marriage | John Scofield | Grace Under Pressure | Blue Note |
| Mastema | Pat Metheny/TAP | John Zorn's Book of Angels Volume 20 | Nonesuch |
| Do Like Eddie | John Scofield | Hand Jive | Blue Note |
| In the BollyHood | Fareed Haque | Trance Hypothesis | Delmark |
| Ivory Tattoo | Billy Cobham/George Duke Band | Live on Tour in Europe | Atlantic |
| The Jam With Albert | Larry Coryell | The Essential Larry Coryell | Vanguard |
| Riff Raff | John McLaughlin & the 4th Dimension | Now Hear This | Abstract Logix |
| Jeep on 35 | John Scofield | A Go Go | Verve |