Friday Afternoon In The Universe Not On Spotify? Jazz Underground From 11/22/13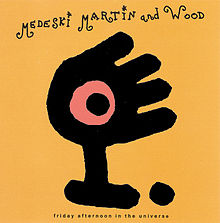 This installment of
Notes From The Jazz Underground
features the playlist based on the November 22nd show.
Host Paul Abella is actually pretty great about carving out themes for these playlists.  But for this week's show there was nothing tying these together other than the central Jazz Underground premise: simply being a not-at-all-typical jazz show.
Good stuff throughout: Get your share of ripping fusion from Brecker Bros, Billy Cobham, and in a slightly different way, Algernon.Snarky Puppy featuring Lalah Hathaway anchor the show with "Something", from their Family Dinner LP, a tune that's become quite an Internet sensation.  The incomparable Les McCann & Eddie Harris version of "Compared To What" (jam fans may recall the fine Aquarium Rescue Unit cover).  Marbin recently appeared on Paul's list of ten Chicago jazz acts to see in 2014.
But, I also uncovered the travesty of all travesties.  Medeski Martin & Wood's Friday Afternoon In The Univesrse is not available on Spotify?  Rectified that with a YouTube clip, but still.
Notes From The Jazz Underground runs Friday nights on WDCB 90.9 FM.
Complete Playlist
| | | |
| --- | --- | --- |
| Track | Artist | Album |
| Turnstyle | Wide Hive Players | Turnstyle |
| Bunk Bread | Aaron Germaine | Chance |
| Tabula Rasa | Brecker Brothers | Don't Stop the Music |
| Roswell (for Roswell Rudd) | Karl E.H. Seigfried | Portrait of Jack Johnson |
| Ghost Riders in the Sky | Roswell Rudd | Trombone For Lovers |
| The Briefing | Algernon | Ghost Surveillance |
| Painted Birds | Blue Cranes | Swim |
| A Taste of Honey | Jackie Allen | Love is Blue |
| Zuruba | Sergio Galvao | Phantom Fish |
| Something | Snarky Puppy | Family Dinner |
| Valdez In the Country | George Benson | In Flight |
| Neo Terra | Freddie Hubbard | The Windjammer |
| Compared to What | Les McCann & Eddie Harris | Swiss Movement |
| Inside Straight | Cannonball Adderley | Inside Straight |
| Blue Fingers | Marbin | Last Chance of Dreaming |
| Next Best Western | Chris Potter | Underground |
| The Pleasant Pheasant | Billy Cobham | Crosswinds |
| The Lover | Medeski Martin and Wood | Friday Afternoon in the Universe |