Beyondify: More Great Under The Radar Tracks
Earlier this month, I had so much fun summarizing new tracks that hadn't yet made it to Spotify, I've decided to make it a regular feature.  I've even named it.  I'm calling it Beyondify, and hope to publish every few weeks to let you know about under-the-radar tracks that you've got to dig a little to discover.  Here's what in the cooker this week.
1.  "Dhoodan" from Cannots by Ryley Walker & Charles Rumback.  This one will be out on Record Store Day (April 16th, 2016).  All I can say is that Walker has been in heavy rotation around here and this collaboration is proof of why.
2. Causa Sui was featured in the first edition, and we're so excited about this week's release of Return To Sky, we're gonna keep sharing.  Here's "Dawn Passage".  Looks like they just released three older, previously non-Spotify EPs on the service (Summer Sessions Vol 1-3), too.  Get on that!
3. Former Darkside guitarist Dave Harrington offers the mysterious, expansive instrumental "White Heat" as the first track from the forthcoming album Become Alive.  The cinematic clip below was directed by Brooklyn based auteur Artem Aisagaliev.
4. Producer Dave Cobb has plenty of reasons to smile.  He's had work with the best songwriters and performers that Nashville has to offer.  But, in some ways he's the star.  He's got fine ideas and knows how to get the best out of his collaborators.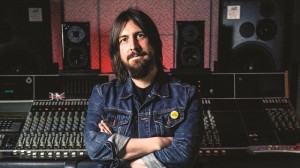 Some of the tracks from the forthcoming Southern Family compilation have indeed made it to Spotfiy, but the full album is streaming via NPR and features tracks by John Paul White, Jason Isbell, Brent Cobb, Miranda Lambert, Morgane & Chris Stapleton, Zac Brown, Jamey Johnson, Anderson East, Holly Williams, Brandy Clark, Shooter Jennings and Rich Robinson.
---
These tracks were premiered off of Spotify but have since made it to the service.  Going to share anyway.
5. Sturgill Simpson seems to have morphed into something beyond his psychedelic country persona that he rose to prominence with.  Oh, boy... this is going to be good.  "Brace For Impact" via Apple Music.
6.  Our friends in Fruition debuted "Labor Of Love" at Paste Magazine. It was written out of the sympathy and camaraderies experienced while on tour with Greensky Bluegrass, after GSBG's bus broke down.  I love these guys more each day.