Ten Chicago Jazz Artists To See in 2014
Guest Post by Paul Abella.  Paul is a musician, radio host, pundit and early supporter of The Barn Presents.  As a jazz guy who actively embraces and celebrates jambands like Grateful Dead and Phish, and even champions jammers on our local scene, his sensibilities are a natural fit for the site.  He offered to provide this list of local jazz groups that jam fans need to check out in 2014.
Any conversation about the Chicago music scene is bound to touch on its healthy indie rock scene, a jam scene that can boast some of the best bands in the country, and of course: the blues.  But just underneath the surface lies a world class jazz environment.  It's big enough to keep world class talent in town, yet small enough that the scene actually stays fairly tightly knit.  Chicago boasts some fantastic jazz clubs (the world renowned Jazz Showcase and Green Mill, as well as smaller bars, restaurants and nightclubs in the city and suburbs that focus primarily on jazz), America's premier jazz magazine (Down Beat), a few college radio stations that play a little bit of jazz (WNUR, WHPK, WZRD) and one that dedicates the vast majority of their weekly schedule to the stuff (WDCB).  So, if you're a jazz fan, you can do okay in Chicago.  And if you're looking to broaden your horizons... well, you could do a lot worse.
But jazz is a vast, sprawling art form: from Louis Armstrong's Hot Fives to the avant-garde squeaks and skronks of the south side.  Where does one start?  Right here in Chicago, of course.  Check out some of these groups for a funky, sometimes jammy primer to Chicago Jazz…
1) Sabertooth Jazz Quartet - Every Saturday night at the Green Mill, these guys hold court, and exactly what they'll play is anybody's guess.  Sometimes they'll swing, sometimes they'll get funky, sometimes they'll play old, ancient folk tunes, and sometimes, they'll play a Dead tune or two.  It's always a good time, and since the Green Mill serves tip 4 a.m. and is strategically located within 200 feet of a red line stop AND the venue's own parking lot, you can have a good time and be able to get home in one piece.
2) Spare Parts -  A band that much like OM Trio, the Benevento/Russo Duo or Medeski Martin and Wood, is equal parts jazz and jam.  They look like a jazz band, sound like a jazz band and go off like a jam band.  One of my favorite groups in town.
3) Chris Greene Quartet - Take four of Chicago's best young(ish) jazz musicians, have them write killer material with odd time signatures, great melodies and funky grooves, and then let them tear up those jams with some awesome soloing.  That's the Chris Greene Quartet.
4) Ian Torres Big Band - They don't play very often, but when they do?  That's some killer stuff right there.  Re-imagined Zeppelin grooves in 7/8.  Funky, modern jazz freakouts played by a crack band of some of Chicago's best up and coming players.  If you can't get to a show to see them live, take a listen to them on Spotify.  You'll dig what you hear.
5) Chicago Afro-Latin Jazz Ensemble (CALJE) -  This band is in semi-retirement while their piano player is in school in New York, but if you can catch them when they do play the occasional gig together, your life will be changed.  They play with an energy that would shame plenty of metal bands on material that can alternate between danceable and so hot that all you can do is sit there slack-jawed.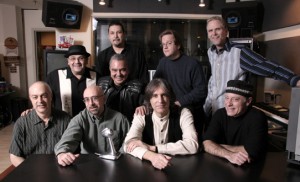 Chevere de Chicago
6) Chevere -  A latin jazz-rock hybrid (think Santana at their peak - you're not far off) made up of an A-list team of Chicago Jazz and Latin all-stars.  I've seen these guys rattle two different jazz festivals to their cores.  Funk, Fusion, Brazilian...musically speaking, there's basically nothing these guys can't do.  Features former Flecktone Howard Levy on keys and harmonica.
7) Marbin - It's nearly impossible to talk about these guys without gushing.  They're intense, they're loud, they're amazingly talented and they're raging soloists.  They tour a lot, so they're very rarely in Chicago, but when they are, GO!
8) William Kurk Enterprise - Take jazz, R&B, funk and a healthy dose of the 80's, throw them all in a blender and the end result is the WKE.  Quirky tunes (like an ode to Ms. Pac Man) and an ability to get as funky as the day is long make these guys an absolute must see when they play.
9) LePercolateur - They call themselves "Hipster Gypsy Jazz," but a more apropos way to describe them might be to call them a direct cross between Django Reinhardt and Mumford and Sons.  All acoustic, and probably the most retro band on this list, this is more suited to a night sipping martinis than getting down on the dance floor.  That said, their latest disc, Pop Manouche, is a great listen, and it doesn't sound exactly like anything else in your collection.
10) KLANG - One of my favorite groups in Chicago, these guys fuse a lot of what makes Chicago's jazz scene so great into one band -- killer chops, the indie jazz vibe that runs through what's happening at Jerry's, Skylark or Constellation, fantastic writing and a cohesive band sound.  Their first disc was kind of a tribute to Benny Goodman, and in doing so, they put out the hippest Benny Goodman tribute that has ever seen the light of day.  Their latest, Brooklyn Lines...Chicago Spaces ups the ante even further.  Definitely sit down and geek out music as opposed to get up and dance music, nonetheless, given open ears and an open mind, these guys will thrill you in their own special way.
Of course, there are a million honorable mentions I could throw in here -- Bonzo Terks, Brian O'Hern's Model Citizens, The Great Postmodern Nightmare, The Shawn Maxwell Quartet, Deep Blue Organ Trio and plenty - and I do mean PLENTY - of others.  But this should make a nice cross section of jazz groups that will undoubtedly wet your whistle for more jazz to come in 2014.  Happy listening!