Stream or Download: Vandermark 5 @ Empty Bottle 3/7/06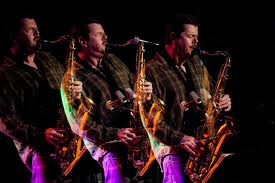 In the 90s heyday of post-bop bands, Ken Vandermark and The Vandermark 5 were amongst the best. They're a Chicago band that sounds like Chicago, with music that stays busy and energetic, blending an array of eclectic jazz styles into one.
At the time of this performance, Vandermark had been playing Tuesday nights at The Empty Bottle for ten years. This show draws heavily from his highly regarded record A Discontinuous Line, recorded shortly before but not yet released.
Their sound is marked by saxophones, with tenors, altos, baritones and sopranos all seeing use. From traditional jazz riffs to squealing and squeaking free-jazz solos, the full range of the reed instruments are utilized.
"Some Not All," one of many highlights from the show, exemplifies the band's eclectic tendencies, a quiet drum solo giving way to an even quieter sax solo, as though the performer were putting as little air through the horn as possible, only to become an explosion of free-jazz craziness, each band member coming in with force.
"Aperture" finds the band performing in a more standard swing style, but still wanders off into strange territories. Cello and bass hold down the lower register and their presence is especially felt when the band drops to soft dynamics or transitions to new ideas. Drummer Tim Daisey constantly finds unique rhythms and grooves that push the band to new levels.
This is a terrific set from a Chicago band you all should know. Check it out!
- Alex Wood
 The Stream
[box type="download"]Download Entire Show[/box]