Stream or Download: Drive-by Truckers @ The Vic 10/24/14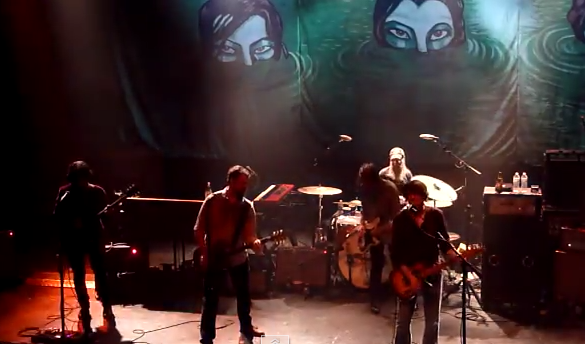 Drive-By Truckers haven't stopped touring since the release of English Oceans, the band's tenth full-length studio album. The ceaseless tour included plenty of big dates and festival outings, but also found the band playing a fairly intimate show at The Vic in October.
Anyone who doubts DBT's ability to rock like they used to needs to look no further than opener "Lookout Mountain." Soaring guitars clash atop one another with perfection, with vocals sounding hoarse and tough. It's as though everyone in the band is playing as loud as possible, nobody willing to back off in the slightest.
Yet it isn't just the occasional song that contains a shining moment of electric guitar soloing. Every single track breaks into a momentous instrumental jam at least once. And without studio production playing into the music, every song sounds equally dirty and real, resulting in new songs sounding just as fresh as old.
"Pauline Hawkins" goes above and beyond the version on English Oceans, organs and guitar supplying limitless energy and, of course, a dirty, southern guitar solo sneaking in at multiple points. The song softens to a whisper before another guitar jam kicks in, hard as ever.
A set like this is the very definition of rock 'n roll.
"Southern Thing" is as gritty as southern rock can be. "Sounds Better In Song" offers release, with an organ solo replacing the usual guitar, the drummer keeping ferocious time without the forte dynamics.
"February 14" is beyond climactic, never losing momentum, and "Hell No I Ain't Happy" uses the dual guitar solo to create one of the best instrumental jams of the show.
The encore is, perhaps predictably, the climax of the set, its songs maintaining a massive level of energy. From the charging "Shit Shots Count" to the bouncy classic "Sink Hole" to the country shuffle of "Get Downtown," the band simply won't stand down. "Ronnie And Neil" is paired with "Zip City," offering a short but excellent collection of Southern Rock Opera tracks, before "Grand Canyon" closes the show with an epic, eight-minute instrumental jam.
If nothing else, the recording offers a chance for fans to hear eight songs from English Oceans, the band obviously proud of the new material, which shines in the live setting.
- Alex Wood | Video / Audio: Adam Huston
[box type="download"]Download Entire Show (mp3 .zip) via archive.org[/box]