So What's Your Poison?
Is it 80's glam rockers Poison?  Maybe you're more of a country fan and want to try your hand at a Rascal Flatts tune.  Something obscure?  Something popular?  Slow?  Fast?  Unintelligible?  Lucky for you, we've got them all...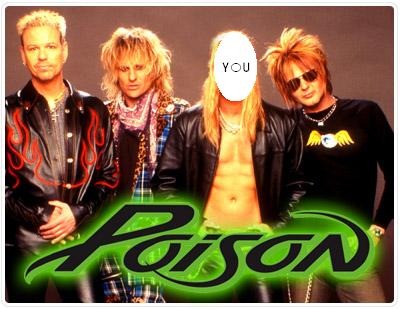 The Barn is proud to announce that The Hootenanners will be performing the role of musical jukebox for Live Band Karaoke on Saturday, March 13 at The Mambo Room.  With that announcement, we are pleased to a present a complete songlist that will be available -- the backing track to your vocal adventure.  This list is long and varied, so we're also presenting a little user's guide that'll help make sense of it all.
The Classics - The local radio stations have worn deep grooves into these tunes.  You know you've got the words memorized so you can't go wrong.  The Hootenanners feature songs from all your Classic Rock heroes, including The Beatles (9 tunes), Rolling Stones (7 songs),  Credence Clearwater Revival,  Led Zeppelin, The Who, U2 (4 songs apiece), Tom Petty, The Doors, The Kinks (3 tunes a piece), The Boss , The Police, Bob Seger (2 tunes a piece) and more
A Little Metal - It's been a long work week.  Are you ready to blow off some steam and shout Ozzy Osburne's "Crazy Train" at your friends?  LBK is ready to provide an outlet for your aggression, with tunes from the pop side of the spectrum (KISS - "Rock and Roll All Night", Motley Crue - "Home Sweet Home") to some heavier duty material from Iron Maiden ("Run To The Hills") and Metallica ("Whiplash")
Group Sing-a-longs - Nervous about your vocal performance?  Looking for some support from the audience?  You know the crowd will be happy to sing-a-long with Garth Brooks' "Friends In Low Places", Neil Diamond's "Sweet Caroline", Van Morrison's "Brown Eyed Girl", or Kenny Rogers' "The Gambler"
I Love The 80's - If you still can't get out of this decade, LBK is happy to oblige.  The repertoire includes  Nena's "99 Red Balloons", Rick Springfield's "Jessie's Girl", The Human League's "Don't You Want Me" among other 80's blockbusters.  Warning:  you may sing Night Ranger's "Sister Christian", but please try not to replicate the coked out tweaking from the film Boogie Nights.
Less than 20 Words - Who needs a bunch of lyrics to feel like a real performer?  Just select James Brown's "I Feel Good" or The Troggs' "Wild Thing" to get a feel for the stage without actually singing much.
Hip Hop - Want to try out your MC skills for your suburban friends?  Coolio's "Gangsta's Paradise", Outkast's "Hey Ya", Sir Mix-a-lot's "Baby Got Back" (please oh please somebody pick this tune!), or my personal favorite Young MC's  "Bust A Move" (tip of the hat to Oscar nominated film "Up In The Air")
WTF -  We love these tunes, but they are just not screaming karaoke to us.  Nonetheless, they're on the songlist and you're welcome to try your hand at any of them.  Flaming Lips - "She Don't Use Jelly", Fugazi - "Waiting Room", Misfits - "Last Carress", X Ray Spex - "Oh Bondage, Up Yours",  Smiths - "Bigmouth Strikes Again"
If You Can Pull It Off... - It takes some pretty big stones to duplicate what the original artists have done with these songs.  Hats off to you if you can make them your own:  Janis Joplin "Piece of My Heart", Queen - "Bohemian Rhapsody", REM - "It's The End Of The World As We Know It", Rush - "Tom Sawyer", Jackson 5 - "I Want You Back"
Karaoke Staples -Last but not least, those same songs that bring down the house at "regular" karaoke are available here:  Journey - "Don't Stop Believing", Lynryd Skynyrd -  "Sweet Home Alabama", Ben E. King - "Stand By Me",  Frank Sinatra - "My Way"

Have fun selecting.  Let us know what you're going to choose!
Complete Song List
3 DOORS DOWN - Kryptonite
.38 SPECIAL - Hold On Loosely
4 Non Blondes - What's Up (What's Going On?)
ABBA - Dancing Queen
AC/DC - Big Balls
AC/DC - Dirty Deeds Done Dirt Cheap
AC/DC - Highway To Hell
AC/DC - TNT
AC/DC - You Shook Me All Night Long
BRYAN ADAMS - Summer of '69
AEROSMITH - Dream On
ALICE IN CHAINS - Man In The Box
B52's - Love Shack
BANGLES - Walk Like an Egyptian
SARAH BAREILLES - Love Song
TONI BASIL - Mickey (You're So Fine)
BAD COMPANY - Feel Like Makin' Love
BAD COMPANY - Rock N Roll Fantasy
BEASTIE BOYS - Fight For Your Right
BEATLES - A Hard Day's Night
BEATLES - Birthday
BEATLES - Come Together
BEATLES - Drive My Car
BEATLES - Helter Skelter
BEATLES - I Saw Her Standing There
BEATLES - Nowhere Man
BEATLES - Ob-La-Di, Ob-La-Da
BEATLES - Oh, Darling!
BECK - LOSER
PAT BENATAR - Heartbreaker
PAT BENATAR - Hit Me With Your Best Shot
PAT BENATAR - Love Is A Battlefield
BLACK CROWES - Remedy
BLACK CROWES - She Talks to Angels
BLACK FLAG - Six Pack
BLACK SABBATH - Fairies Wear Boots
BLACK SABBATH - Paranoid
BLACK SABBATH - War Pigs
BLONDIE - Dreaming
BLONDIE - One Way or Another
BLUES BROTHERS - Everybody Needs Somebody
BLUES BROTHERS - Soul Man
BON JOVI - Living On A Prayer
BON JOVI - Wanted Dead Or Alive
BOSTON - More Than A Feeling
BOW WOW WOW - I Want Candy
DAVID BOWIE - Suffragette City
DAVID BOWIE - Rebel Rebel
DAVID BOWIE - Ziggy Stardust
BREEDERS - Cannonball
GARTH BROOKS - Friends In Low Places
JAMES BROWN - I Got You (I Feel Good)
JIMMY BUFFET - Margaritaville
BUZZCOCKS - What Do I Get?
CARS - Just What I Needed
JOHNNY CASH - Folsom Prison Blues
JOHNNY CASH - Ring Of Fire
TRACY CHAPMAN - Give Me One Reason
CHEAP TRICK - He's A Whore
CHEAP TRICK - I Want You To Want Me
CHEAP TRICK - Surrender
CHER - If I Could Turn Back Time
CHESNEY, KENNY - She Thinks My Tractor's Sexy
KELLY CLARKSON - Since U Been Gone
THE CLASH - London Calling
THE CLASH - Should I Stay Or Should I Go
THE CLASH - Train in Vain
PATSY CLINE - Crazy
PATSY CLINE - Walking After Midnight
THE COMMODORES - Brick House
COOLIO - Gangsta In Paradise
ALICE COOPER - No More Mr. Nice Guy
ELVIS COSTELLO - Peace, Love, & Understanding
ELVIS COSTELLO - Radio Radio
CRACKER - Low
THE CRANBERRIES - Zombie
CREEDENCE CLEARWATER REVIVAL - Fortunate Son
CREEDENCE CLEARWATER REVIVAL - Have You Ever Seen The Rain?
CREEDENCE CLEARWATER REVIVAL - Lodi
CREEDENCE CLEARWATER REVIVAL - Proud Mary
THE CURE - Boys Don't Cry
THE CURE - Just Like Heaven
DANZIG - Mother
THE DARKNESS - I Believe In A Thing Called Love
DEAD BOYS - Sonic Reducer
DEAD KENNEDYS - California Uber Alles
DEAD MILKMEN - Punk Rock Girl
DEAD OR ALIVE - You Spin Me Round
DEF LEPPARD - Pour Some Sugar On Me
DEPECHE MODE - Personal Jesus
DEVO - Whip It
DEXIE'S MIDNIGHT RUNNERS - Come On Eileen
NEIL DIAMOND - Sweet Caroline
DION - Runaround Sue
DOORS - Break On Through
DOORS - Roadhouse Blues
DOORS - Love Me Two Times
DURAN DURAN - Rio
MELISSA ETHERIDGE - Come To My Window
MELISSA ETHERIDGE - I'm The Only One
FLAMING LIPS - She Don't Use Jelly
FLEETWOOD MAC - Dreams
FOO FIGHTERS - Big Me
FOO FIGHTERS - Everlong
FOO FIGHTERS - My Hero
FOO FIGHTERS - This Is A Call
LITA FORD - Kiss Me Deadly
THE FOUNDATIONS - Build Me Up Buttercup
ARETAH FRANKLIN - Chain Of Fools
ARETHA FRANKLIN - Respect
FUGAZI - Waiting Room
MARVIN GAYE - Let's Get It On
MARVIN GAYE - Sexual Healing
GLORIA GAYNOR - I Will Survive
GNARLES BARKLEY - Crazy
THE GO GO'S - Our Lips Are Sealed
THE GO GO'S - We Got the Beat
GREASE - Hopelessly Devoted To You
GREEN DAY - Boulevard Of Broken Dreams
GREEN DAY - She
GREEN DAY - Welcome to Paradise
GUIDED BY VOICES - Tractor Rape Chain
GUNS N ROSES - Welcome to the Jungle
HALL & OATES - Maneater
HEART - Alone
THE HIVES - Hate to Say I Told You So
JIMI HENDRIX - Fire
THE HUMAN LEAGUE - Don't You Want Me?
BILLY IDOL - Eyes Without A Face
BILLY IDOL - Rebel Yell
BILLY IDOL - White Wedding
INCUBUS - Wish You Were Here
INDIGO GIRLS - Closer To Fine
INXS - Never Tear Us Apart
IRON MAIDEN - Run To The Hills
IRON MAIDEN - The Trooper
JACKSON 5 - I Want You Back
JOE JACKSON - Is She Really Going Out With Him?
JOE JACKSON - Steppin' Out
MICHAEL JACKSON - Billie Jean
MICHAEL JACKSON - Rock With You
THE JAM - In The City
JAMES - Laid
ETTA JAMES - At Last
RICK JAMES - Superfreak
TOMMY JAMES - I Think We're Alone Now
JANE'S ADDICTION - Jane Says
JANE'S ADDICTION - Stop
JEFFERSON AIRPLANE - White Rabbit
JESUS & MARY CHAIN - Head On
JET - Are You Gonna Be My Girl
JOAN JETT/RUNAWAYS - Do You Wanna Touch Me
JOAN JETT - I Hate Myself For Loving You
JOAN JETT - I Love Rock and Roll
TOM JONES - It's Not Unusual
JANIS JOPLIN - Me and Bobby McGee
JANIS JOPLIN - Piece Of My Heart
JOURNEY - Don't Stop Believin'
JOURNEY - Lovin' Touchin' Squeezin'
JOURNEY - Separate Ways
JUDAS PRIEST - Breaking the Law
JUDAS PRIEST - Hell Bent For Leather
JUDAS PRIEST - Living After Midnight
ALICIA KEYS - If I Ain't Got You
KID ROCK & SHERYL CROW - Picture
BEN E. KING - Stand By Me
THE KINKS - All Day and All of the Night
THE KINKS - Lola
THE KINKS - You Really Got Me
KISS - Detroit Rock City
KISS - Rock and Roll All Night
CYNDI LAUPER - Girls Just Wanna Have Fun
LED ZEPPELIN - Communication Breakdown
LED ZEPPELIN - Good Times, Bad Times
LED ZEPPELIN - Immigrant Song
LED ZEPPELIN - The Ocean
LYNYRD SKYNYRD - Sweet Home Alabama
LOVERBOY - Working For the Weekend
MADONNA - Borderline
MADONNA - Like A Virgin
MADONNA - Material Girl
MATERIAL ISSUE - Valerie Loves Me
JOHN MELLENCAMP - Hurts So Good
JOHN MELLENCAMP - Jack and Diane
JOHN MELLENCAMP - Pink Houses
MEN AT WORK - Land Down Under
METALLICA - Whiplash
GEORGE MICHAEL - Faith
STEVE MILLER BAND - The Joker
MISFITS - Last Caress
MODERN ENGLISH - I Melt With You
THE MONKEES - Last Train to Clarksville
ALANIS MORISSETE - You Oughta Know
VAN MORRISON - Brown Eyed Girl
VAN MORRISON - Moondance
MOTLEY CRUE - Home Sweet Home
MOTLEY CRUE - Shout At the Devil
MOTORHEAD - Ace of Spades
NENA - 99 Red Balloons
NEW ORDER - Love Vigilantes
NIGHT RANGER - Sister Christian
NINE INCH NAILS - Head Like A Hole
NIRVANA - Breed
NIRVANA - Smells Like Teen Spirit
NO DOUBT - Just A Girl
OFFSPRING - Self-Esteem
OZZY OSBOURNE - Crazy Train
THE OUTFIELD - I Don't Wanna Lose Your Love
OUTKAST - Hey Ya!
DOLLY PARTON - 9 to 5
DOLLY PARTON - Harper Valley P.T.A.
PEARL JAM - Alive
PEARL JAM - Better Man
STEVE PERRY - Oh, Sherrie
TOM PETTY - American Girl
TOM PETTY - Breakdown
TOM PETTY - I Need To Know
WILSON PICKETT - Mustang Sally
PIXIES - Debaser
PIXIES - Gigantic
PIXIES - Where Is My Mind?
POISON - Every Rose Has A Thorn
POISON - Talk Dirty To Me
POLICE - Can't Stand Losing
POLICE - Every Little Thing She Does Is Magic
POLICE - Roxanne
ELVIS PRESLEY - Burning Love
ELVIS PRESLEY - Jailhouse Rock
ELVIS PRESLEY - Suspicious Minds
THE PRETENDERS - Back on the Chain Gang
THE PRETENDERS - Brass in Pocket (So Special)
PRINCE - 1999
PRINCE - Kiss
PRINCE - Purple Rain
PSYCHEDELIC FURS - Love My Way
QUEEN - Bohemian Rhapsody
QUEEN - Crazy Little Thing Called Love
QUEEN - Fat Bottomed Girls
QUEEN - We Will Rock You/We Are The Champions
RADIOHEAD - Creep
RADIOHEAD - High And Dry
RAGE AGAINST THE MACHINE - Killing In The Name
BONNIE RAITT - Somethin' To Talk About
RAMONES - Beat On the Brat
RAMONES - Cretin Hop
RAMONES - I Want To Be Sedated
RASCAL FLATTS - Life Is A Highway
RED HOT CHILI PEPPERS - Give It Away
RED HOT CHILI PEPPERS - Under The Bridge
LOU REED - Walk on the Wild Side
R.E.M. - Driver 8
R.E.M. - It's The End of the World As We Know It
R.E.M. - Losing My Religion
REO SPEEDWAGON - Take it on the Run
REO SPEEDWAGON - Time For Me To Fly
REPLACEMENTS - Can't Hardly Wait
REPLACEMENTS - Left of the Dial
LIONEL RITCHIE - All Night Long
KENNY ROGERS - The Gambler
ROLLING STONES - Dead Flowers
ROLLING STONES - Honky Tonk Woman
ROLLING STONES - (I Can't Get No) Satisfaction
ROLLING STONES - Paint It Black
ROLLING STONES - Ruby Tuesday
ROLLING STONES - Sympathy for the Devil
ROLLING STONES - Waiting On A Friend
ROMANTICS - What I Like About You
RUSH - Tom Sawyer
SALT N' PEPA - Shoop
SCANDAL - Goodbye To You
SCANDAL - The Warrior
SCORPIONS - Rock You Like A Hurricane
BOB SEGER - Night Moves
BOB SEGER - Old Time Rock N' Roll
SEX PISTOLS - Anarchy in the U.K.
SEX PISTOLS - God Save the Queen
DEL SHANNON - Runaway
SHOCKING BLUE - Venus
CARLY SIMON - You're So Vain
SIMPLE MINDS - Don't You Forget About Me
FRANK SINATRA - Fly Me To The Moon
FRANK SINATRA - My Way
NANCY SINATRA - These Boots Were Made For Walking
SIR MIX-A-LOT - Baby Got Back
SMITHS - Ask
SMITHS - Bigmouth Strikes Again
PATTI SMITH - Because The Night
SOCIAL DISTORTION - Ball And Chain
SOCIAL DISTORTION - Ring of Fire
SOCIAL DISTORTION - Reach For The Sky
SOFTCELL - Tainted Love
SONIC YOUTH - Kool Thing
SONNY & CHER - I Got You Babe
DUSTY SPRINGFIELD - Son of a Preacher Man
RICK SPRINGFIELD - Jesse's Girl
BRUCE SPRINGSTEEN - Born To Run
BRUCE SPRINGSTEEN - Dancin' In The Dark
SQUEEZE - Tempted
STEALERS WHEEL - Stuck In The Middle
STEPPENWOLF - Born To Be Wild
STONE TEMPLE PILOTS - Interstate Love Song
STOOGES - Search and Destroy
STYX - Come Sail Away
STYX - Lady
STYX - Too Much Time On My Hands
SUBLIME - Santeria
SUBLIME - What I Got
SWEET - Ballroom Blitz
TALKING HEADS - Psycho Killer
TEMPLE OF THE DOG - Hunger Strike
THE TEMPTATIONS - Ain't Too Proud To Beg
THE TEMPTATIONS - My Girl
THIN LIZZY - Cowboy Song
THIN LIZZY - Jailbreak
THE TROGGS - Wild Thing
TINA TURNER - Proud Mary
TWISTED SISTER - We're Not Gonna Take It
U2 - Desire
U2 - I Still Haven't Found What I'm Looking For
U2 - I Will Follow
U2 - With Or Without You
CARRIE UNDERWOOD - Before He Cheats
RITCHIE VALENS - La Bamba
VAN HALEN - Ain't Talkin' 'Bout Love
VAN HALEN - Dance the Night Away
VAN HALEN - Jump
VAN HALEN - Running With the Devil
VAN HALEN - Unchained
VIOLENT FEMMES - Add It Up
VIOLENT FEMMES - Blister In the Sun
WEEZER - Hash Pipe
WEEZER - Island In The Sun
WHAM! - Careless Whisper
WHITESNAKE - Here I Go Again
WHITE STRIPES - Fell in Love With a Girl
THE WHO - Baba O'Riley
THE WHO - I Can't Explain
THE WHO - The Kids Are Alright
THE WHO - Won't Get Fooled Again
GRETCHEN WILSON - Redneck Woman
BILL WITHERS - Ain't No Sunshine
STEVIE WONDER - Signed, Sealed, Delivered
X-RAY SPEX - Oh Bondage, Up Yours
YOUNG MC - Bust A Move
NEIL YOUNG - Cinnamon Girl
NEIL YOUNG - Rockin' In The Free World