Setlist / Video | Tame Impala @ The Riv 5/15/15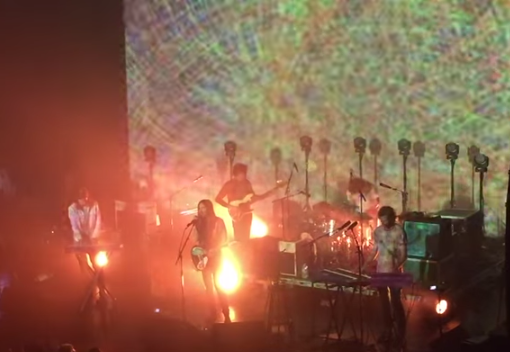 Tame Impala's Friday night set at The Riv sold out almost immediately after it went on sale, demonstrating that the Australian psychedelic band has not missed a step with fans while not touring the states.  They are out now in support of their forthcoming album Currents, and dropped a number of the songs from the release on the Chicago crowd.
Chicago Tribute reviewer Greg Kot was there and filed a review. Among the highlights:
The simmering "Cause I'm a Man" tucked a slow-jam bedroom invitation inside an apology, and "Eventually" unfolded over double guitars and shimmering synth.

[The] band melded old-school rock muscle with electronic orchestration, and videos and music were synchronized like a small-scale Pink Floyd concert.
Thanks to the Kneeborn family (?), sarah kneebone & Adam Kneebone, we've got a few videos to see for ourselves.  The album, and show, opener "Let It Happen" comes out of the gates screaming over several sections and tempo changes.  The older songs seem to have gotten a refresher, too, with "Elephant" finding new spaces not previous uncovered in TI's live gigs -- stretching nearly 7 minutes -- and ending in a spacey section before a reprise of its trademark riff.  The lights and visuals do not disappoint either -- even on YouTube.
Full setlist follows the videos
Let It Happen
Eventually
Elephant
Apocalypse Dreams
Alter Ego
1. Intro
2. Let It Happen
3. Mind Mischief
4. It Is Not Meant to Be
5. Why Won't They Talk to Me?
6. Elephant
7. Be Above It
8. 'Cause I'm a Man
9. Alter Ego
10. Eventually
11. Why Won't You Make Up Your Mind?
12. Apocalypse Dreams
Encore:
13. Oscilly
14. Feels Like We Only Go Backwards
15. Nothing That Has Happened So Far Has Been Anything We Could Control
- Setlist via Chicago Tribune