Review: Hebert Wiser, Robert's Plant, Old Shoe @ Cubby Bear 7/18/13
Words / Photos: Dave Weckstein
Eddie Vedder and Pearl Jam could be heard soundchecking Pink Floyd covers for their upcoming weekend concert
, there was an palpable musical energy throughout the neighborhood that matched the humidity outside. I half thought the PJ frontman would make a cameo, as Cubby Bear has been known to host him from time to time. He did not but a good time was had by all thanks to three tasty local acts.
Herbert Wiser is a progressive funk driven act that started the evening out clad in their famous 80's style tracksuits. Although I only caught the last part of their early set, when they played their last song I was instantly brought back to the first Shoe Fest in 2010, where they jammed hard in the barn late night. Music is a powerful nostalgic catalyst. I was sad to miss the bulk of their set but it may be enough o justify a trip up North -- they play Jammin on the Wolf Festival this weekend.
Robert's Plant is a Led Zeppelin cover band composed of Herbert Wiser's Josh Crowley, Matt Bradford, and Ryan Chamlin, Old Shoe's Greg Fundis, and featuring the lead vocals of Jaik Willis. This was the bands second gig at The Cubby Bear. This time, it was in the shadow of Robert Plant's recent Taste of Chicago gig, and Willis seemed to to use this example to up his game. He jumped, spun, climbed light girders, and acted like the typical rockstar badass -- an act fit for paying tribute to a legend. Anyone who has heard Jaik knows his range is crazy ridiculous and with every motion, you could tell the band was responding and having fun up there. They also had many a passerby stopping to listen in at the doorway on Addison and Clark. When the brahs, trixies, and street bums alike dig your sound, you know you are doing something right.
Robert's Plant Setlist: Whole Lotta Love, Black Dog, Over The Hills & Far Away, Immigrant's Song, Celebration Day, Ocean, No Quarter, Trampled Under Foot, Kashmir.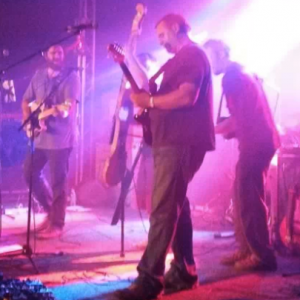 In years past, Old Shoe might have played Phish covers, given the enormity of the impending weekend.  But the band is more about collective progression nowadays. With a steady following of their "Shoe Family" in attendance (and actually dancing shoeless), the only acknowledgement was a "Divided Sky" tease during the second half of their 90 minute set. Probably the right call, it's best not to be bombarded with covers of a band you're seeing the next night. Although apparently this was not the case down the street, as the band Wishlist played a set of Pearl Jam tunes. To each genre their own I suppose.
Old Shoe is releasing their third studio album later this year and stayed true to their nature playing mostly original work while sprinkling in a few nicely placed covers of more obscure bands. It's remarkable what the Chicago based  group has accomplished in just a few short years. The sound has become so much richer, the harmonies in the vocal section on songs like "Fox On The Run" and "Loco Motive" so much sweeter, and the rhythm section of Greg Fundis and Dan Huber playing more cohesively.  The whole enterprise is starting to raise eyebrows.
What was special about this evening for me was that it felt more like a performance than a mish-mash of songs thrown together in haste over a hour and a half. The band seemed to want to show off their hard work, often not stopping as they seamlessly segued from reggae into spacey jam funk into bluegrass with minimal breaks (apart from changing instrumentation during the acoustic portion of the show). Embracing the closeness and comfort that needed onstage to pull the listener in, all members of the group lost themselves as the crescendo built. Towards the end of the evening Joe Day and Matt Robinson actually did a solid guitar side bump in good form. Robinson, not known for his movements and gestures while playing, was so enthralled by his drummer Greg Fundis he even started to headbang -- stepping out of bounds and acting out what this inside was experiencing -- just like us. This seemed to be a musical exorcism of sorts.

The Stream
Old Shoe Setlist: Punky Reggae Party > Let Yourself In, Got Me Down, Rhett, On Your Way Down, Welcome Home, How Mountain Girls Can Love, Loco Motive, Fox On The Run, Jam>Mouth Of The Lion, Mystery Train, Beer, Woodstock, Kush, Family, Day Rains Night, Dust Bowl
[box type="download"]Download Entire Show (archive.org)[/box]
Old Shoe travels to the Northwoods of Wisconsin in early August (8/3) to play Minocqua Brewing Company on the shores of Lake Minocqua. In late August (8/24) they even have a supporting gig for two time Grammy Award winning artist Bruce Hornsby and the Noisemakers and Barn favorites Greensky Bluegrass at RiversEdge Park in Aurora for Two Brothers Concert Series. And of course, their annual festival in early September -- known as Shoe Fest -- is an end-of-summer opportunity for those who don't want to let go of the camping and a small festival feel. Cornmeal, The Drew Emmitt Band, Floodwood, Allie Kral along with a host of other talented bands will topline the 2013 gathering at Camp Shaw in Manteno on September 6-8.