By The Way, Which One's Herb? Talking Style and Substance With Herbert Wiser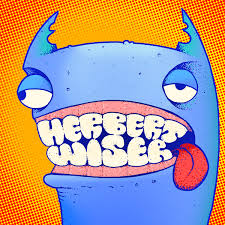 Steely Dan. Pink Floyd. "Leonard Skinnard".  If you've never entered a record store or flipped on a radio, you could probably be forgiven for thinking these were names and not bands. Each one, of course, is legendary.  Can the band name confusion strike again? The guys in Herbert Wiser sure hope so, and are putting the effort in to make sure folks in Chicago can tell the difference.
I was first turned on to Herbert Wiser when I stumbled across their cover of "Big Business" for a Jambands Play Talking Heads Mixtape I put together in 2010.   I was remarked with the cover choice and more importantly, the execution -- it was a sound and ambition that stood toe to toe with some of the outright legends also featured on that playlist.
It was recently that I was exposed to their original compositions via their debut self titled CD release.  It is a proggy jammy sound that just screams for interpretation on the stage. The crazy blue monster on the cover, tongue perched suggestively in the corner of his mouth, was another thing that drew comparisons to some of the aforementioned legends -- Hebert Wiser has taken the time to create a visual style that is evocative of their music and  complementary of it as well.
We got a chance to catch up with the band to talk about lessons they've learned, not only from the greats, but also their peers in the Midwest music scene.
Looks like you guys identify yourselves as a Chicago band, but have roots downstate as well. What are advantages to having a foot in both areas?
This has been a huge help to us. We almost feel like we have two bases of operations. Getting a start in the Bloomington Normal area allowed us to hone our craft while building a loyal fan base that still comes out in force to this day. That prepared us to make the move out of the fishbowl of Bloomington into the shark tank of Chicago. A lot of Chicago only bands have a hard time breaking into the downstate market and vice versa. We also became close friends and worked with some folks who got their foothold down state like Chicago Farmer and Jaik Willis. These guys have since become fixtures in Chicago.
With the release of your CD, it seems like focus is on hitting the road and spreading the word. Is there a regional band (or bands) that you'd like to use as a model for how they've grown?
Our main focus is getting our music in front of people. Once people hear the product they are often hooked. This is a model that bands like our friends the Steepwater Band have followed. Those guys are fantastic musicians with great songs that have grinded away for the past 15 years to get were they are now. The quality of their musical product coupled with their persistence has really paid off in garnering some national attention. We take the same approach- if the music is good enough you will gain a few loyal fans every show you play.
Have you worked on new material since the release of the CD? Is there a band philosophy about bringing new originals or covers into the repertoire?
We are constantly writing new material and adding carefully picked covers that fit with our repertoire. It is very easy to fall into a groove of playing the same setlist. As a band that tours regionally, we want to make sure that the people who saw the last show get a fresh look the next time around. Writing new material helps expand our sound and ability as musicians while helping to rise above the crowd of bands that are not song-focused. There are way too many bands these days that build their show around one or two formatted songs and fill the rest of the time with nebulous jams.
Earlier this year, a few HWB members channelled Zeppelin as a part of Robert's Plant. Can you describe that experience? Any chance of seeing more RP shows in the future?
We had a great time doing the Robert's Plant shows. In addition to learning a ton of new material, we got to work with Jaik Willis (vocals) and Greg Fundis (drums), two guys that do a hell of a job with the Zeppelin catalog (and anything else they do). We definitely plan on doing some more one-off Robert's Plant shows in the future. It's a lot of fun for both us and the fans. Everyone involved has fairly busy touring schedules, so the right date doesn't come along too often.
You're hitting the festival circuit pretty hard this summer... What festival lineups would you really want to be a part of? Either festivals that you are actively trying to get booked at or a "dream" festival (real or otherwise)?
We are really looking to break out into new scenes when it comes to the festival world. We have regularly played a number of the great midwestern Jam type festivals (Summer Camp, Shoe Fest, Whippersnap Fest) but are consciously trying to play more eclectic gatherings. Often times you can walk from one stage to the next and think you are still listening to the same band. We love to jam, but jams can get stale very easily. There is a reason the Beatles were so successful with songs under three minutes long.
Our sound definitely meshes with the jam world given our improvisation, but we have been focusing on writing songs with a broader appeal. This summer we will be playing at fests like Farm Fest 450 and Bigfoot Band Camp where the lineups have a little bit of everything. If we had to make a fest wishlist, it would probably include Lollapalooza, North Coast, Jazz Fest, and Bonnaroo.
Video shot and edited by Jay Miller / Reverb Soul
Between your album artwork and graphics on your website, seems like you're aware of cultivating a cool visual style in addition to your the musical side. What are your thoughts about that? Do you think it comes through in performance as well? Any particular bands / artists serve as inspiration for that side of HWB?
A big part of the Herbert Wiser experience is our light show. We want our shows to be an event that takes over the fans' attention spans and gets close to sensory overload. Over the past couple of years we have been working hard on integrating the visual and audio sides of the performance. We utilize a light rig that includes a lot of pre-programmed effects for certain situations, but also flexible enough to improvise on the fly with the music. If you watch a Herbert Wiser show sometimes you will see a light change leading musical changes, sometimes the music leads the lights. Phish and Umphrey's have both been big inspirations for the visual side of the show.