Preview: String Cheese Incident @ Aragon Ballroom - January 2015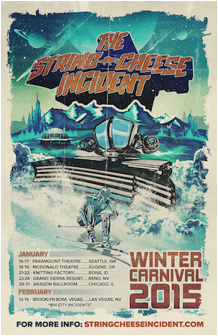 Let's talk about String Cheese Incident and the Midwest.
During their hard touring days, you could count on several swings through the area per year.  A Chicago Cheese fan could easily catch a multiple night run (or two) right in their home town, plus be on the lookout for a few driving stops around the region... St. Louis, Ohio, Wisconsin, Michigan.
But those days are only a memory with the new "post hiatus" touring template.  Since 2009, SCI has made Rothbury Michigan their Midwestern stronghold, and set up shop at the Rothbury / Electric Forest mega-festivals each year.  Yes, there was a stop at Phases Of The Moon (but we can't look forward to that next year), and the three nighter at the Aragon in 2011... but that's some slim pickins.
Chicago fans not up for the festival experience have been hungry for some Cheese for over three years, and Thursday marks their first time to grab a bite.  People I know have been excited since we reported on rumors way back in September.
Once again, they make an appearance as a part of the multi-venue Chicago Bluegrass and Blues Festival, which has been earning raves since the 2015 edition began earlier this month.  But String Cheese is the clear centerpiece of this event -- three two-setters in the biggest venue of the entire series.
The band has been on the road since mid-January, putting on some solid gigs at venues out West, and has a few weeks off before the re-emerge in Vegas, so expect them to give all they've got for these special shows.  Their summer already appears light, so get while the getting is good.
Saturday is already sold out, but tickets remain for Thursday and Friday.
Check out video of their last stop in Illinois HERE.