Notes From The Jazz Underground Celebrates Jerry
Volume Two of The Barn's Notes From The Jazz Underground feature showcases the show broadcast on August 9th -- the 18th anniversary of Jerry Garcia's passing and the ceremonial close of Jerry Week festivities.  Host Paul Abella wears his Deadhead credentials on his sleeve and this show was his tribute to Jerry's legacy as a jazz guitarist.  There's certainly a lot of Jer in this playlist, but also a few other jazzy treats that compliment his playing as well.
Paul explains, "he did an awful lot of jazz related stuff throughout the course of his career, whether it was the original jazz meets rock album Hooteroll with Howard Wales, his work with Merl Saunders, the jazz album he did toward the end of his life with David Grisman or the album that he did with free jazz pioneer Ornette Coleman."
The program also includes some cuts from jazz artists that were invited to play with the Dead, like David Murray (the radio broadcast included his version of Shakedown Street... since it is unavailable on Spotfiy, we've chosen to include "Estimated Prophet" in an accompanying YouTube video) or Branford Marsalis (Without A Net's version of "Eyes Of The World" makes the cut).
Rounding out the show are a few jazz versions of Dead tunes throughout the years - Chicagoans Pat Mallinger and Bobby Lewis take on a couple of Dead classics (Lewis also gets the YouTube treatment),  and of course Jazz is Dead.  Only Steve Bernstein's version of "Ripple" (described by Paul as avant garde Squirrel Nut Zippers) was a no-go for online streaming.
Notes From The Jazz Underground runs Friday nights on WDCB 90.9 FM.  Going forward, we'll try to have these playlists up the Monday after it airs.
Complete Playlist:
| | | |
| --- | --- | --- |
| TITLE | ARTIST | ALBUM |
| Shakedown Street | David Murray | Dark Star |
| So What | George Benson | Beyond the Blue Horizon |
| Eyes of the World | Grateful Dead | Without A Net |
| Minor Swing | Django Reinhardt | The Best of Django Reinhardt |
| Keepers | Jerry Garcia | Live at the Keystone Volume 1 |
| Cassidy | Pat Mallinger | Monday Prayer to Tunkishila |
| Desert Players | Ornette Coleman | Virgin Beauty |
| South Side Strut | Jerry Garcia & Howard Wales | Hooteroll? |
| Blues For Allah Medley | Jazz Is Dead | Blue Light Rain |
| 16/16 | Jerry Garcia & David Grisman | So What |
| Russian Lullaby | John Coltrane | Soul Trane |
| Ripple | Steven Bernstein | MTO Volume 1 |
| China Doll | Bobby Lewis | Warm Cool |
| King Solomon's Marbles | Grateful Dead | Blues For Allah |
| Sweet Sixteen | Mickey Hart | Diga Rhythm Band |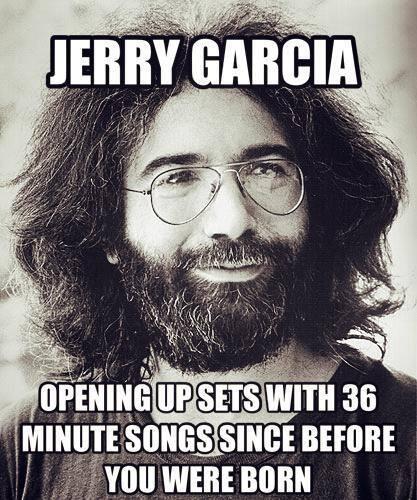 Jerry Garcia - Opening Sets With 36 Minute Songs Since Before You Were Born