An Embarrassment Of Riches: Thanksgiving Weekend In Chicago
Months ago, I was pumped about the announcement of two night Umphrey's McGee run in Chicago over Thanksgiving weekend.  Little did I know at the time, but by the time this extended weekend would arrive, that party would start in Chicago well before UM takes the stage, and continue all the way through to Thanksgiving Sunday.
The musical lineup, before, after, and competing with those shows just kept getting better and better as more great bands continued to announce "Black" gigs for Wednesday and Friday.  There is a ton of locally grown and cultivated talent giving fans lots to be thankful for -- it truly is an embarrassment of riches.
Here's a summary of what's going down:
Wednesday 11/23
Our friends in Paradise Waits play some good ol' Grateful Dead at the recently remodeled Abbey with special guest Bobby Georges.
This Must be the Band, Chicago's (and truly one of the nation's) premier Talking Heads Tribute acts hosts the first of two "Black" gigs Wednesday at Martyr's.  The local funk outfit Zmick supports.
The popular jamband Family Groove Company plays the comfy Mayne Stage in Rogers Park.  Get there early as The Electric Boogaloo will support; I've really enjoyed what I've heard from them.  Downstate jammers Sneaky Gene offer a set to kick off the night.
Old Shoe continues their ACE Bar residency on Wednesday night, with special guests from Sexfist slated to appear, as well as Shoe Fest veterans Flatland Ramble.
And for those who like things a little more hardcore...  The 80's punk band Naked Raygun reunites at Metro Chicago.
Our friends in Mr. Blotto play a special gig at Reggie's Music Joint with former B3 man Dave Allen sitting in.  Velvet Jimi's, an Oak Park party band that we've been keeping a close eye on will support.
On the folky side, The Shams Band is playing up their event out in Forest Park (Molly Malone's) as "Blackout Wednesday" and is absolutely free.
And finally, the brilliant Van Ghost headlines a fine roster of bands at Schuba's under the moniker "The Black Wednesday Affair".  Fans are encouraged to dress in Black & White, whatever form that may take.  This truly should be a night to remember, with a photo booth set up to capture the festive attire and Allie Kral of Cornmeal lending her fiddle to the VG set.  Giddyup!
Enjoy a day off on Thursday, because there's way  more...
Friday 11/25
Umphrey's McGee headlines the first of two consecutive nights at the Aragon.  This show features Beats Antique.
The young jamband Spread will play late into the night at Goose Island Wrigleyville for some post-Umphrey's action, which can be a fine accompaniment to a delectable selection of beers.  Free admission with UM ticket stub.
For out-of-towners whom are visiting for Umphrey's gigs that may want a blast of Chicago blues, one of my favorites, Joanna Connor will play the legendary Kingston Mines.  Eddie Shaw is also on the bill.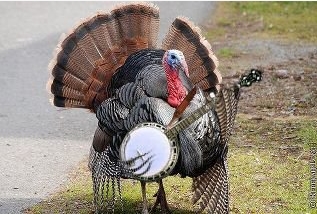 Mayne Stage will be hopping again on Friday night as Chicago bluegrass superstars and Barn favorites Henhouse Prowlers play benefit for the Chicago Food Depository, called the Bluegrass Pitch-in. Their early show on the main stage is all ages, but they also plan on playing a set in the adjacent bar after the main stage is over.  Folk singer Chicago Farmer also will play a set.
This Must be the Band returns for their second gig at Martyr's.  This time, festival favorites Lake Shore Vibe open the festivities.
Chicago Afrobeat Project will bring their danceable world-beat blend to Reggie's Rock Club.
Saturday 11/26/11
In what could be considered the main event from the weekend, Umphrey's McGee welcomes special guests Chicago Mass Choir for a reprise of their guest slot from New Year's Eve 2008.  Rounding out the bill is Cornmeal to open the night (and maybe even a guest appearance or two).  This should be an fine showcase of some of the best talent across multiple genres that Chicago has to offer.
To keep the party going, head over to The Abbey post-Umphrey's.  Your ticket stub will gain you free entry to see Mr. Blotto rage it late night style.
Sunday 11/27/11
Hold tickets for the Saturday Umphrey's show?  Then you're welcome to cap off the holiday weekend with Cornmeal at Martyr's.  Tickets are only available to those doing the two-nighter.  But, if you can make it, it'll be tough to pass up such an inimate show with talent like this at such a venerable Chicago venue.