A Musician's Musician | The Scott Metzger Interview
A Musician's Musician: The Scott Metzger Interview
by @312mrg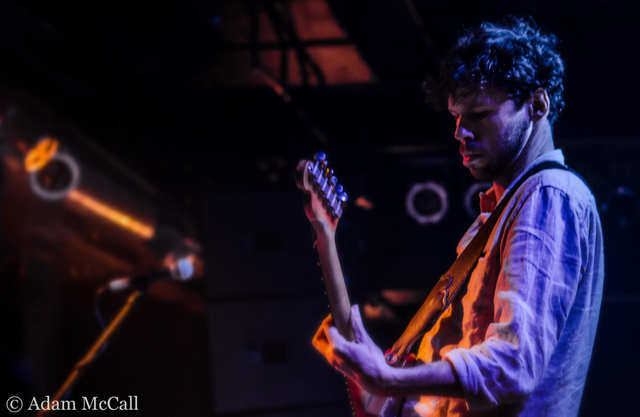 Trying to follow all of Scott Metzger's musical output is like drinking from a firehose. You're just as likely to see him as one of Phil's friends, a member of Anders Osborne's touring band or popping up in a one-off all-star super jam.
Friday night at the Concord Music Hall in Chicago, you can see him -- and five of his closest musical compatriots  -- as they assemble for Joe Russo's Almost Dead exploring the Dead's music with an authentic yet completely different take than so many other Dead recreators do.
While each member of the band has their own outlets and projects, lately I've been drawn to WOLF!, Metzger's instrumental band, a project that he's been cultivating from infancy over the last four years..
What started in 2010 as an impromptu contingency act, has grown and matured immensely with time and some unique methods of developement.  But that methodology has paid off -- WOLF! has been a Brooklyn Bowlive participant and sports a current residency at the Brooklyn Hometown BBQ.
In 2011, they demo'd a series of "sketches" that have blossomed into an expansive sound palette -- the result is one of the freshest sounding pocket groove bands I've ever heard. In 2014 they recorded a self-titled album -- extensions of some of those very same "sketches" -- that was released in April of this year on the Royal Potato Family label.
If you haven't come across an opportunity to expose your taste buds to the robustness of WOLF!, do check out the new album and the live show embedded at the end of this post.  But while you do, read a little more about one of my favorite guitarists and what is quickly becoming one of my favorite bands.
The Barn: Many people know you from your involvement in many different bands (RANA, Particle, Bustle in Your Hedgerow, The Last Waltz, Trixie Whitley, JRAD and countless sit-ins), but it's cool to see something of your own vision mature over a period of years. Can you explain that evolution to date and talk a little about the formation of Wolf!?
Metzger: Yeah you know, it's funny, we never meant for it to be a trio. The first gig, the first WOLF! gig happened, as me Jon (Shaw) and Taylor (Floreth) were supposed to be backing a singer at a small bar here in New York.  When the three of us got to the gig, and we were waiting for the singer...and we were waiting a little longer...and we were waiting a little longer, and it became clear after a while the singer wasn't going to show up, after about 45 minutes of being late.
Aw man.
Yeah, right? And the club owner said you guys gotta go on...we want music...NOW. You guys are here. We said, "the singer's not here." And the club owner said, well you three are, so...PLAY. (Laughs)
So the first WOLF! set was about 45 minutes to an hour of us just making music up on the spot, instrumental guitar music.  I would be shouting the chords, we would pick keys, and I would shout some chord changes to Jon our bass player, and Taylor our drummer would pick a feel, like a shuffle, and we'd play a tune.  That's the whole foundation of the band.
And this is prior to you releasing these "sketches"? So that would have been like 2010? And can you say who that singer was supposed to be?
Yeah, this is like the very first gig...and NOT A CHANCE!
I had to ask. From a theme standpoint, was it anything similar or consistent to what you would have done had that singer been present?
No, totally different.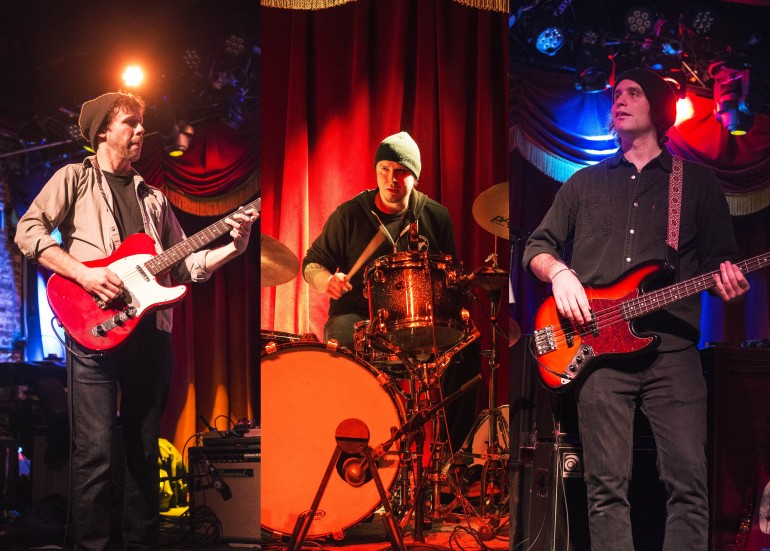 So you guys click, and the thought of this being a one off, maybe short lived thing, grows into a "holy shit, this is awesome", we gotta do this again?
People kept asking for us back.  People in the club, when we just started doing our thing, and making up our thing, they went totally nuts. The people loved it.
And you know, it could have gone either way -- they were there to see the band with the singer. But the people went nuts, the club asked us back the following week and before we knew it, we were like the house band.
As far as taking a chance and putting it out there, you can't get any more risk reward than that...and to get that response had to be amazing.  You're doing more routine gigs weekly now.  Is this the vision you saw right away or did this just become a momentum based thing almost taking you over like a wave?
That's a good question, I think the reason why WOLF! works so well and why it's such a good time is because none of the three of us necessarily set out with a strict plan. We never sat down and said, in two years we want to be here, and want management, and blah blah blah. We never aspired to the things that bands starting out aspire to have.
We never thought about the management or the label, this that or the other thing. Our whole thing, our entire aspiration, has been that we want our music in a Quentin Tarantino film...THAT'S IT. That's the whole basis of the whole thing. We like playing in small places to crowds that listen. And those opportunities to keep playing in those venues and scenarios have been totally momentum based.
That's amazing. And being a huge Tarantino fan myself, I hear a lot of Dick Dale, Link Wray, Django Rheinhardt, Marc Ribot and this scruffy surf rockabilly honky tonk blues rock that sounds like nothing else... but like it could be on a Tarantino soundtrack or coming from a jukebox in a scene. I even hear the band playing with Marvin Berry at the Enchantment Under the Sea dance in the case of Fatso's Last Stand.
You know that new sound you were looking for?
Considering the name WOLF! came from the Pulp Fiction character, have you considered adding "Miserlou" (Pulp Fiction opening credits) to your sets?
It's been discussed...in the past. But I think if you are going to cover a song that legendary and that specific, it's a fine line between being cheesy and being great.
Yeah, I'm sure you gotta be pretty selective with the covers you add to your catalog.  But you do perform a very WOLF! sounding "Tighten Up" (legendary Motown Stax) or even the Doors' "Roadhouse Blues" instrumentally.
Yeah, and the way we began playing "Roadhouse Blues"...  someone in the crowd just said "play Roadhouse Blues," so we played it. It had never been discussed or anything and Taylor just launched into the drum beat and we just did it.
You do this "Tomahawk Chop" jam... how did that work it's way into sets? Are you a baseball or Florida State fan? It took a minute the first time I heard it for that to click, but that was one that immediately jumped out to me as one of my favorites in your catalog.
I'm a baseball fan, but I'm a Phillies fan, so it's certainly not coming from the Atlanta Braves or anything. I think it was...it's kind of hard for me to nail down exactly where as song came from because again, the band's never done a rehearsal.
We developed all the song ideas on stage. And it will usually come from something that somebody's watched. Like maybe a movie.  Someone will say "I was watching Bullitt or something earlier today", and then we'll play a car chase theme or something. Or what we think would be car chase music.
All of the guys in the band all love the band NRBQ. NRBQ became known for wearing Indian headdresses onstage from time to time. And I think that's where the idea for the Tomahawk Chant -- I don't even know if there's a name for that -- came from, our tribute to NRBQ rather than just playing an NRBQ song.
Can you give me some history of how you came to find or play with Taylor and Jon?
Well Taylor, Jon and I just kind of met however it is working New York City musicians meet. I was on a gig with a drummer in 2010 and the drummer backed out at the very last minute and Taylor ended up subbing, and that's how I met Taylor at Union Hall here in Brooklyn. And the same sort of thing with Jon.
It's all about timing…
Yeah, exactly. And as big as New York is, when you get in here in the musical sense, it's a small town once you been working, and you meet the right guys, you meet the guys you are supposed to meet somehow.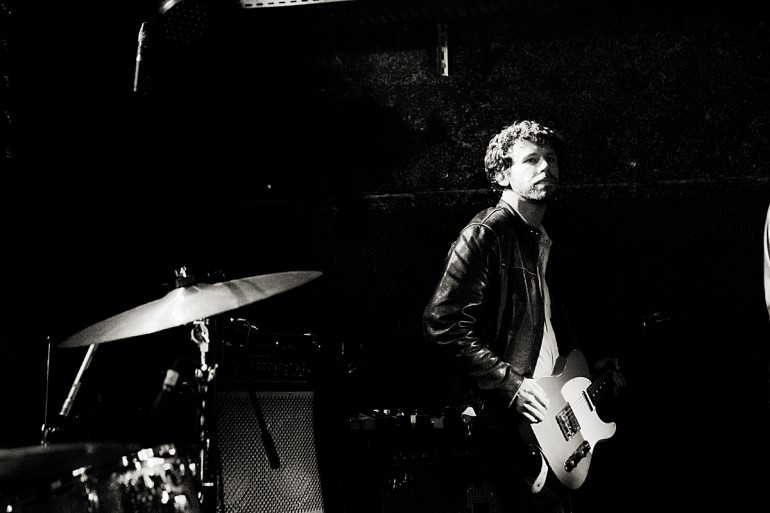 How about the legendary Erik Deutsch?
I go pretty far back with Erik, I knew Erik in the Wetlands era...in the late 90's. but I didn't really know him well until a few years ago.  He approached me about playing on his album and project he had called Outlaw Jazz that was released last year that I played on, that is a terrific CD and a killer band and he's just a world class player. Every time I get on stage with that guy, or anytime I can get on stage with Erik I look forward to it, because I'm always learning something about music.
You referenced this group as never having a rehearsal. So are you up there completely growing things live on stage in front of a live audience?
It's completely onstage. Someone, either Jon or myself will pick a key...and maybe we'll be playing one night, and there will be a little section of something I'll remember, and say, OK, that will be the seed of something.
Other times, we'll pick a certain type of groove and certain feel and play off of that, then the song will present a certain melody. Sometimes, just straight up -- like Cafe Hidalgo off the new record.  That tune just came out of going to see Los Lobos. I did a week-long run opening for them, and was just reminded that David Hidalgo, their guitar player, is just world class and should have a song named after him. It's very closely associated with the sort of music those guys play -- that band is and always has been a reminder that rock and roll is a lot of fun.
With this type of energy on this current thing, why has it taken you so long to seemingly settle down in a "musical marriage"? I mean you are always on these lineups of the superjams, all-star projects. And while RANA was your thing for a while, it's taken some time to find your next thing that has been solely associated as Scott's...
Me as a musician, I've went through a lot of different phases where I've sort of delved into certain types of things. I think it's taken me a while to find MY voice on the instrument. And I'm not sure...I don't feel as if I've done it yet, but I feel as if I'm getting closer. And WOLF! is a big step for me in finding a real identity as a leader of a thing. As the guitar voice, I want to have the lead in something.
Being a huge Afrobeat fan, I came across a really cool recording was your Brooklyn Bowl London Antibalas show with Dave Dreiwitz. You've talked about how you have all of these outlets for your schizophrenic tendencies, and some are very structured like with Trixie Whitley. I did an interview with Martin Perna where he referenced how guitar is seldomly an explored instrument within Antibalas or within Afrobeat. It sounds they gave you a little room to roam, but how do you approach Afrobeat or sitting back as a guitarist when vamping is very much the thing to do?
When they got in touch, I had been a huge Antibalas fan since the time I first heard them. I mean, I've always been a Fela fan and that whole lineage of music I think is incredible.
I've always loved the guitar players in those bands for their discipline, of being able to be a small part in a big machine. That opportunity was HUGE! I really got excited to exercise that sort of discipline, where in some cases you are playing the same part for 15 minutes. I mean they don't want you going for it at all.
Personally, and this getting fairly musical, but I have a feeling that having good rhythm as a musician is the most important thing you can focus on. I think as a guitar player, playing in a band like that, you have to have really great rhythm and sound. So for me, it was an opportunity to work on those things and play with a band that I was a huge fan of for three nights. And to be a part of the opening of Brooklyn Bowl London. At the time, I think that was the second Brooklyn Bowl.
I mean any opportunity you can play with some new guys, I feel is good. And especially when it can be such a unique and specific type of playing. I think for me as a musician, you get A LOT out of those experiences.
Well you have played with Joe Satriani (with Particle)...
Haha, that's right. If you had told the 17 year old Scott Metzger that he would get to play with Joe Satriani someday, it would have been the greatest news you could have given him.
Well the list is long...in a conversation I had with Marco (Benevento) he told me that Dave Dreiwitz (Ween, Bustle, JRAD) "...PLAYS the bass, and stays in the world of playing the bass.  It's like walking on solid ground, he's always gonna be right there for ya, not gonna be doing anything super fancy."  How similar are your thoughts to Marco's on the contribution of a bassist like Dave?
I would totally agree with everything Marco said. There's a big difference between a guitar player that plays bass or a BASS player. The bass player and the drums are the most important thing in a band. They are the foundation of everything. With Dave, you feel safe. You know the right bass notes are going to be there when they are supposed to be there. And that takes an enormous amount of experience and discipline and just musicality.
How about playing with Anders Osborne?
That's beyond! Anders is one of the best guitar players around. He's got the sound, he's got the feel, he's got the right notes. I met Anders when I did a run with the Stanton Moore Trio, playing guitar with them. And we lost touch for a little bit, everyone was doing their thing. And then about a year ago, a year and a half ago, he started reaching out to having me play guitar (with him), and I couldn't have been more psyched to hear from him. And he's another guy -- anytime I can share the stage with him, I learn something new about playing. He's an absolute world class guitar player.
There are all these unique and powerful personalities that you play with in projects and bands, where there is a predefined leader or it's someone's band, like playing with Anders, Stanton Moore, Phil Lesh or JRAD. What have you soaked up and taken to WOLF! as this now being your chance to lead and being your vision?
I think that there's too many to talk about, getting into the musical attributes or things I've picked up, which have been endless. I've just been super blessed to play with a ton of so many super talented people that reach out and ask me to play with them or be a part of their music. It's just such an enormous compliment.
I would say the biggest lesson I've learned is to stay true to yourself. Not worry about pleasing people or audiences. Never playing what you think people want to hear...staying true to your artistic vision no matter what and the path of whatever inspires you. Even when it may be in question or it may take some guts to do so.
Do you foresee it as being a fixture in your life for the foreseeable future?  And any plans to take it outside of the Northeast and hit some other regions with this outfit?
Yeah. 100%. I mean we'll keep doing it as long as it keeps being as fun as it is for us now. I see a WOLF! gig on the calendar and I get really excited. I see it and I'm like, I can't wait for that one, no matter what else is going on.
There's definitely plans to take it regional later this year, especially when the right opportunities arise. And as long as opportunities keep coming to us that feel right, we'll keep taking them.
More on Scott Metzger & WOLF! at Royal Potato Family.
audio via archive.org