A Barn Giveaway: A Pair Of Tickets To See Full Court Press 3 @ Abbey Pub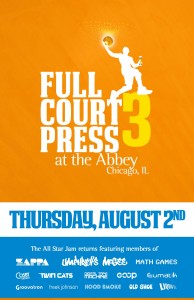 The element of surprise is at the heart of what makes All Star jams like the Abbey Pub's Full Court Press series so rewarding for fans.  Exact lineups and band configurations have been closely kept secrets for the past events -- which makes the "reveal" that much more exciting.
So, if you're the type who is into a little suspense... enter this contest and we'll surprise one lucky winner with free admission to the third edition of this burgeoning Chicago tradition at The Abbey Pub on Thursday, August 2nd.
Entry is super easy, and just takes two simple steps:
1.  LIKE The Barn on facebook or FOLLOW @thebarnpresents on Twitter
2. Do any or all of the following:
Respond to this facebook event as "Yes" and post a simple message to the event's wall tagging "The Barn"
Mention @thebarnpresents and @abbeypub in a tweet about Full Court Press 3
Send an email to info@tomorrowsverse.com with your name
Leave a comment on this page
You can be entered into the contest up to four times (one for responding to the facebook event, one for a twitter mention, one for an email and one for a comment).  Just make sure you are following us.
That's it.  You're entered.  One winner will be selected via random drawing of all qualified entrants at random.org on Tuesday, July 31st.  The Barn notify you immediately after.
Good luck!
PREVIEW: Full Court Press 3
REVIEW & AUDIO: Full Court Press 2