Review, Setlist & Video: Cornmeal with Jeff Austin, Van Ghost @ Vic Theater, Chicago, IL 11/23/12
Contributed by: Chris Murtaugh
It was a family affair at Chicago's Vic Theater on Black Friday. Following a turkey stuffed evening, Cornmeal returned to Chicago for their annual holiday show, a homecoming of sorts for the band and presumably many in attendance. With the departure of the Nowak brothers announced in late summer, I was interested to see how the guitar and drums of some new players would fit in to their stomping bluegrass sound.
Cornmeal's first set was announced as an "acoustic" set with Yonder Mountain's Jeff Austin. While the band typically does play acoustic instruments, I figured they'd ease off the of array of effects that are typically employed. Additionally, drummer Drew Littell sat down at the front of the stage on what appeared to be a wood box -- they would forgo the kit for this set as well.
They started into "Love Please Come Home", a bluegrass standard featured on the Old & in the Way album. The drummer played the wood box with the heels and fingertips of his hand, creating a low, rhythmic undercurrent. What started out as a seat must have turned into a drum on some old back porch in July.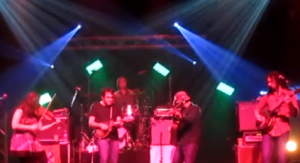 Austin made his presence known in the second song of the set, "One More". He referenced the holiday atmosphere: "You probably have been trapped in a house with all kinds of family... well welcome to this house, with this kind of family!" In the way that only Austin can do, he added grit and fire to the music with his incessant mandolin, and gripping voice. One more indeed!
Standouts were "Shady Grove" and the closer, "Raleigh and Spencer" both providing extended bluegrass romps, with Wavy Dave Burlingame plucking out some classic bluegrass runs that always seem to sound new. In this stripped down version of the band, he in particular stood out, showcasing his altogether unique approach to bluegrass banjo. His special talent is making an old dog do new tricks. After one last crescendo guided by fiddler Allie Kral, the set was over. This set in a sentence: wood box chugging Austin grit served with a healthy dose of banjo pickin' and fiddler howlin'.
Set two saw Littell take a seat behind the skins. Cornmeal is an interesting beast because they play bluegrass with a full drum set. With the fast boom-chop that bluegrass brings, it takes a snare master to hit the nail on the head and he delivered. About six minutes into the opener, we were reminded what electric Cornmeal means, when guitarist Pete Kartsounes used an envelope-like effect. The beat seemed to drop off and open up, letting Buringame really itch the scratch on the banjo. Some very impressive improvisation followed.
Throughout the second set Kral would step into these open spaces and bring the music more life. She is the type of player that takes it up a notch just when you think you're safe. Her energy was palpable the entire night. She also has a way of weaving back into the theme so easily that you forgot where she took you. Cornmeal is a fun band to watch in that you have the stoic Burlingame up on stage, who always seems to move just enough, and Kral who throughout the night was jumping up and down in unison with Austin -- seemingly spurring each other on. They delivered a high energy smorgasbord, where the main ingredients were bluegrass sensibility and a penchant to stray just enough to let us digest our turkey.
The night opened with a set by Chicago's Van Ghost, a new band for me. I was pleasantly surprised to see Jennifer Hartswick on stage, who I had known from her role in The Trey Anastasio Band, where she can really belt it out with her voice and trumpet. With Van Ghost, she helped turn in a solid set of strum-filled folk, by playing a support role, singing some sweet harmony over the top of Micheal Harrison Berg's expressive voice.
During some of the instrumental points of the song-centered set, the band seemed to really lock in. Adding some additional backup was Allie, who sat in the whole set. Kral's malleable fiddle lines seemed to add energy and depth to Berg's songbook. Hartswick took a vocal solo early in the first set, which drew an audible roar. Overall, Van Ghost played some solid folk with the added layer of Kral's sprawling lines and excellent harmonies.
Setlist

Cornmeal
November 23, 2012
Vic Theater - Chicago, IL

Acoustic Set
How Mountain Girls Can Love, It Takes Me Home, Love Please Come Home*, One More*, Shady Grove*, Raleigh & Spencer*

Electric Set
River Gap, Calling Me, That's That, Feet On The Ground, Coming Back Home, Sweet Carolina*, Rain Your Light*, Hasten Jason*, Rise Above*, Long Hard Road

Encore
I Know What I Know, White Freightliner

* with Jeff Austin (Yonder Mountain String Band) on mandolin
Video of "One More", "Shady Grove", "River Gap", "Calling Me Back", "Sweet Carolina" "Rain Your Light"