The Many Bands of Benevento: A Marco Playlist
Contributed by Gee Forjay (@312mrg)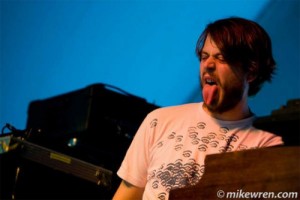 If you enjoy live music, you live for those moments when you've felt a certain unity. It's when that thing happens that everyone at the show has shown up for, crystallizing in time and space and in the middle of song, jam, note... whatever. This is what you pay for, you travel for, and when they are reached all you have to do is glance over the crowd and you know when you are in one of them. Everyone in THAT same space as you in THAT exact moment, at that same time enjoying idea and concept from the brainwaves of an artist, translated by their craft, and through a speaker to you. Live music. It's unfiltered. It's raw. Nothing compares. Some of the greatest moments are about discovery.  Those polarizing few seconds, 5 minutes into a song from a band you've never heard of before, where you come to the realization your head is about to explode with what you've just heard. You've suddenly found something new to follow.
Anyone who's experienced Marco Benevento and the arsenal of sound he delivers can attest to the lobotomy they've probably been served during countless lineups that he either leads or contributes -- following his career is like perpetual discovery. Let's count. (1) Benevento/Russo Duo, (2) Benevento/Russo Trio with Mike Gordon (3) Marco Benevento Trio, (4) Marco Benevento solo, (5) Bustle in your Hedgerow, (6) Garage a Trois, (7) GRAB - Gordon Russo Anastasio Benevento, (8) Surprise Me Mr. Davis. And that's not even counting numerous other sit ins and one night jam sessions.
The first time I saw Marco was after the 2005 Wicker Park Fest in Chicago during a late night aftershow at the cozy sweat box of the Subterranean.  I had heard the Duo via speakers or headphones, but never had I heard the audio shenanigans inside a small club once the music starts; reverberating off the walls, dripping from the ceiling. Serious energy. My introduction was a soundtrack of all Zeppelin songs courtesy of Bustle in Your Hedgerow, emanating from the keys and pedals of Marco, strings of bassist Dave Dreiwitz (Ween) and Scott Metzger (RANA, Particle and other), and the lightning bolt powered Joe Russo on sticks and skins. Nothing like setting the bar high.  I was down from the opening notes of "The Song Remains the Same".
We've assembled a Marco playlist that guides you down that path of discovery.  Touching on many (could you ever possibly capture all?) of the aspects that have made him such a valuable contributor to the live music eco-system that we love.
Stream
Download Entire Mix (.zip mp3)
Here's what you're listening to...
Trampled Underfoot – Bustle in your Hedgerow – 2005.07.31 – Subterranean, Chicago, IL - Show
Starting this list off the way I did with Marco: Zeppelin style. It doesn't take long to know when the keys are going to kick in or when we might here a blistering solo. Jaw dropping introduction if you haven't heard any Bustle yet.
Abduction Pose – The Duo – 2004.05.28 – Martyr's, Chicago, IL - Show
Mandatory headphone listening. The build in this song is a thing of beauty. Where did it come from and how did it get there?  BONUS: Check out this "Abduction Pose" with horns with Cheme Gastelum: Abduction Pose

Becky & The Beltless Buckler – The Duo w/Mike Gordon - Show
"Becky" is perhaps the most widely recognized Duo song, and for good reason. This one gets a Gordon infused low end, allowing the Duo to attack from all other angles. Meanwhile, "The Beltless Buckler" became a song I got real familiar with while wandering the streets of Glasgow, Scotland during a visit in 2005. This show was a soundtrack while there, and still remains etched in my memory with the sites I took in that day.  It competed for my attention, and won, on multiple occasions. The enigmatic Gabby La La makes an appearance on sitar.
Assault on Precinct 13 – Garage A Trois – 2011.05.21 - Brooklyn Bowl, Brooklyn, NY - Show
On the same night Oysterhead was born at Jazzfest 2000, another super group was formed as well. With less fanfare, Garage A Trois has stood the test of time and continued to tour, making a few lineup adjustments along the way. Their additions have influenced the direction and darkness of Garage A Trois. This one is one of those DARK jams.
Fearless> Benny and the Jets> Fearless – Marco Benevento Solo – 2010.12.30 – Café Du Nord, San Francisco, CA - Show
Behold! Simply stunning.
Best Reason To Buy The Sun & When A Woman - The Duo/Surprise Me Mr. Davis 2008.12.31 – BB King's, New York, NY – Show
I knew "Best Reason to Buy the Sun", and think this is a superb version. But one of the benefits of trying to cover Marco's history was a little nugget from the same show some I came across and never heard.  A true Marco-fest, The Duo and SMMD alternated songs on this New Year's Eve in NYC.  "When A Woman" immediately jumped out at me -- it has a completely contrasting style and Marco plays a much more supportive role than any other tune that I chose on this playlist. It has become a constant repeat the last few days. I think this is an amazing song, with some powerful jamming, and great lyrics.
Sus(s)kind Hotel – GRAB – 2006.07.18 – Toronto, ON - Show
No matter how you spell it, "Susskind Hotel" is a song that with plenty of blossoming potential, especially since it has made its way into the Phish catalog . While the composed section here is still a little choppy, being only the 3rd or 4th live appearance, I loved this song since hearing it on a late night Bonnaroo webcast which served as the first introduction to this collection of band members. It was the tip of iceberg of Gordon's new found confidence as a band leader and song writer that has blossomed since. This version was explored with a sinister and growling Trey solo as well some great complementary play from Marco.
Chickin' Lickin' – Stanton Moore – 2005.05.14 – Galaxy Theater, Santa Ana, CA - Show
Funk retains a huge appeal and attraction to me. It's also a genre you don't specifically associate Marco with. Let this change your mind as it jumps off the diving board around the 5:30 mark and goes for the depths quick.
The Real Morning Party – Marco Benevento Solo – 2009.08.09 – Music hall of Williamsburg, Brooklyn, NY - Show
Grab a sarsaparilla and have a seat in the saloon.
RISD > You Know I'm No Good – Marco Benevento - 2012.02.26 – Abbey Bar, Harrisburg, PA - Show
The extended spacy introduction in "RISD" caught my attention the first time I heard it. This is what I associate with Marco and the mix of genres, keyboards and influences in one of his songs or compositions. Once it starts rolling, subtle teases, keyboard, style and rhythmic changes make this a song demand to be seen in a live setting. Then Amy Winehouse's "You Know I'm No Good" gets taken for a ride off the tail end and Benevento destroys it with the more transitional ivories; one of my favorite Amy Winehouse songs, and Marco covers. When an artist you love to hear decides to snatch a song from your library and make it his own, there's an instant personal connection to it.
Four Sticks – Wil Bernard Projects – 2002-07-20 – Tobacco Road, New York, NY - Show
Closing out the playlist is this 27 minute journey. What better place to end than the way this playlist started? Another Zeppelin firestorm, this time Wil Bernard leads the charge. This one goes beyond any realm you think it could or might, and never lands. It sits there waiting for someone to swoop in to carry it on.
Marco has been an artist that sucked me out of the crowd and threw me into outer space the first moment I heard him. An artist that will walk off the stage and give you the sincere attention like you are the only person in the room moments after an evening of destroying synapses, I have appreciated the few brief conversations I have had with him. He can turn your head inside out and moments later hold a conversation that baffles me on how quickly he can return to this stratosphere. Check him out if you get the chance and give the playlist some love.