The Barn Interview: Strange Arrangement's Joe Hettinga
These days, my music obsession exposes me to hundreds of new bands a year.  There has always been a wealth of talent, but nowadays barriers to entry have been brought so low, I can now actively seek out, and enjoy, an extremely wide variety of high quality music with a few mouse clicks or finger swipes.  In 2011, the joy of music consumption has been tightly coupled with the process of discovery; but with so much choice, musical attention span remains brief.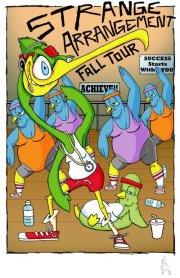 Every now and then, a band emerges that hearkens back to the days of old, where a more passionate, deeper relationship was cultivated between fan and artist over repeated listening.  Strange Arrangement, and their second release Polygraph, provided such an experience for me this year.  The songs on Polygraph, though clearly within the rock idiom, provide plenty of open space: repeating patterns, subtle modulations on themes, soaring builds and releases that tend to reveal themselves over time.  In the live setting, the band uses these elements as a platform for unconstrained jamming, bringing the listener to entirely new places.
At the heart of their appeal is jazz, each member is an accomplished player in the genre, and collectively they take their improv seriously.  They are unapologetically making music for those who are inspired by jamming, elevating the art form, while hoping their considerable pop sensibility will make the sonic experience more balanced and diverse.  That hybrid is exactly what hits my musical sweet spot.  The fact that these guys are from Chicago, and even grew up in the same town as The Barn's headquarters, is just the sort of happy coincidence that turned me from an admirer, to an aggressive advocate.
Behind the keys for Strange, Joe Hettinga can be a tenacious, driving force, always pushing the music forward.  Hell, he stuck with our phone interview even while it looked like a cop was tailing him (he wasn't).  In chatting with The Barn, he touched on topics that spanned performance, practice, songwriting, and technology.   His answers reveal the beating heart of a band at an exciting point in their career, a commercial and creative fertile period, where possibilities are as open as their music.
Chicagoans had the chance to catch Joe two consecutive weekends:  last Saturday, October 7th, with members of Umphrey's McGee and The Hue in Digital Tape Machine at The Park West and this weekend with  Strange Arrangement, as they make their highly anticipated return to Chicago proper at Martyrs on October 15th.  For those interested in a roadtrip, the band will take the stage for a special Halloween show at The Bell's Brewery in Kalamazoo on 10/29, and promises a celebration of the year 1976 complete with costumes and many musical surprises.
For a chance to win tickets to Strange's Martyr's gig, check out The Barn's contest; so easy to enter!
The Barn:  I stumbled upon Strange Arrangement not knowing you were from Chicago. Do you think the city has shaped you creatively at all?

Joe Hettinga: I personally have been shaped by all the great jazz here.  Jazz is such a strong genre in Chicago and there are so many great players.  It has definitely helped raise our level of musicianship.  Having a tangible jazz culture... being forced to play it growing up here. [Laughs]  I love it, so being forced wasn't a bad thing.  I actually ended up studying jazz very intensely for eight years and played it lots of places in Chicago.
But the city is big and diverse enough that all these other pockets are able to thrive:  electronic music and jambands both have scenes that would be as big as the entire music scene in a smaller town.
Another big inspiration is Wilco.  I think they capture real Midwestern sensibility in their songwriting.  We try to blend all of those elements with Strange Arrangement.
Are there expectations on the road about being from "the big city" while playing out in smaller or college towns?
Going into college towns, being from Chicago, I think  the only expectation is that we should be good.  I guess it makes sense that in a bigger, more competitive environment that only the best will thrive and be able to hit the road.
When are playing out on the road, do you find that audiences know your music, or do you sense newer folks getting their first taste?
There's about 15 places around the region that we go and people know our music pretty well.  I look out and people know the words, they're singing along.   And there's a lot of places we go, right now especially, where we are seeing steadily bigger crowds.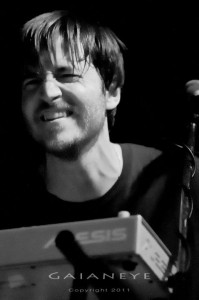 We also just made it out to the east coast.  We're going to the south and southeast this fall -- Florida, Tennessee, North Carolina, Kentucky -- places that people haven't seen us yet.  It always seems like there's a few people who have found us online and know a handful of songs.  That's really exciting and motivates us.
We're also going out to California in December, so we'll be playing in front of a lot of new faces then.  When we do that, it is really important that just try to involve the crowd.  We try to make a connection that will help if they don't know our music.
I find that a trap that a lot of improv leaning bands have at a similar stage in their career is that they don't feel comfortable taking risks until they've established themselves.  I think it's really rare that you see a band touring clubs that really takes their jams out.  You guys seem to buck the trend, I think you "go for it" quite a bit.
We do.  We just brought it up in rehearsal again today how we don't want to play it straight in our improv jams.  We like to try to do different stuff every time in whatever jam it is in whatever song.  We don't want to fall back on the same riffs and builds.  One of the ways we do that is by changing our set lists and working out new musical "sandwiches" that we haven't done before.  It forces you to figure out how to get in and out of things in a different way.
I consider Strange Arrangement a real ensemble style of jamming, without a dominating lead instrument.  How did you develop that?
We are absolutely trying to find different ways to develop that style.  We look at it like a challenge!  In so many bands, it's just a couple people comping and one person soloing.  That definitely gets old and boring for us.  We look for ways to complement each other that are different, never about the solo.   Hopefully, it ends up sounding like everybody is kind of soloing at the same time, putting in little statements and pulling back.  That way, we end up building up the sound as a group, instead of just one person and the result can be incredible.
We're still working on it.  We have specific band exercises.  One of them is just one person starting something, and everybody layering ideas on top to try to create a polyphonic rhythm of different sounds and phrases.  A lot of times, that's how we develop a section for a new song.  In fact, that's exactly how we developed one of our newest songs.  But that process  also transitions into the jams, too.  If we use that technique to write a song, we are prepared to come up with new variations of that live and on the spot for the show, essentially finding different ways of playing the jam.
Is that a new style of writing or is that how it has been from the beginning?
Our earliest songs were just ongs written by the guitarist or myself, before we started playing together as a group.  A lot of the tunes on our first record are that way.  We did have some some songs, "Side X Side"  from the first record is one, that had sections that were created that way, but the rest had been written independently.
This is the definitely newer style that we are continuing to develop.  On Polygraph, "The Route" was completely written like that.  It started much with a much simpler phrase and, a number of band written variations of that main riff, shaped the song into what it became on the record.
With respect to playing in Chicago, you've really "starved the market" so to speak, not playing here since the spring.  With all the momentum that you have carried through festival season, I'm thinking that expectations will be pretty high from local fans.  Are you guys treating it special or just like any other gig?
We're definitely treating it as a special gig.  It's the first one since April or May.  That's a really long time!  We're gonna try to pull out at least four songs we haven't played in Chicago that are new Strange songs.  We just might pull out a cover or two that we've never done.  And they'll be some jams that we've developed that have never been played in Chicago, too.
We definitely want to make it something special.
How do you select covers?
That's a really good question.  We take a lot of suggestions from people.  We don't always play requests, but we've gotten some good advice from our close friends.   If somebody we trust makes a suggestion, we'll sit down as a band and listen to it, figure out if that's something we want to do.
Then there's tunes from bands that one of us has liked or has a unique relationship with.  Everybody has their favorites.  Last year, I really wanted to do some Billy Joel, so we played a couple of his songs.  I like to pick the songs by pianists: Bruce Hornsby, Ben Folds.  [Guitarist] Jimmy [Conry] loves The Beatles, so we've played a couple of those songs.  [Bassist] Kevin [Barry] really loves Shuggie Otis so we've played a couple of those songs.  I think it has to do with being passionate about something and making your case so that we're all cool with playing it.
Sometimes you just want to find something that just hasn't already been done to death; one of the songs that we've just re-worked is Robert Plant's "In The Mood".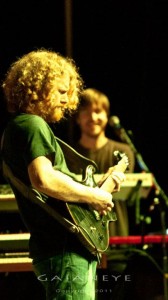 I want to ask a little about the configuration of the band.  As a four-piece, that's pretty atypical for a jamband.  Is that purposeful?
Interesting question...  A lot of bands do go with more people.  We'd be open to adding members, but the opportunity hasn't exactly presented itself.  It limits you to a certain extent to not have that extra guitar or percussionist though we do play with a percussionist from a band called Funktion every time we're in Michigan.
It adds a lot to the band, for sure.  But being a four piece allows us to keep our arrangements super tight.  Every time we write a song I hear more parts than what we can do, so now we've been employing some computer stuff to help us get the sound we want on some of the newer songs.
Is that part of your rig?
Yep.  It's a laptop running Ableton Live and it allows for a lot more synth and percussion sounds in the mix.
You are also a part of Digital Tape Machine, which has a distinctly different sound.  Is there anything that carries over in terms of approach?
I do most of the computer work for DTM, which is giving me so much experience and introducing me to new ways to employ Ableton.  It really is awesome software.  It opens up whole other possibilities for what Strange can do when we can't achieve some of the bigger sounds.
We [Strange Arrangement]  do an LCD Soundsystem cover.  We're working on a David Byrne song that has got so many layers, it'd be impossible to pull off with a four piece.  With Ableton you can have some fun and it makes some of that material more approachable.
But then again, we don't want to turn into a band that just plays with sequences.  We want to be open to improvise.  So I walk a fine line there.
http://www.youtube.com/watch?v=JQtL24OhkuU
You guys played at Shoe Fest, with a lot of Chicago bands that were a bit more organic.  You guys had a prime slot on a Saturday night.  What was your perception of that?
Well, we had a blast.  It was such a well run, put together festival.  We play a lot of these types of events and sometimes when you pull in you can tell it's disorganized.  That was certainly NOT the case.
But, when we were setting our gear, there was absolutely no one in from the stage.  We were wondering if maybe the word hadn't gotten out that we were playing.  Well, everyone was obviously out in the woods, because just when we played the first note, hundreds of people just showed up.  A great, fun crowd.
Any other festivals or venues that you're trying to target for the future?  Any goals or milestones?
There are so many.  I'd love to open for Umphrey's again – one of the highlights of our career was opening for them at the Canopy Club in Champaign.
I'd love to play Allgood, The Hangout.  We're playing Bear Creek Music Festival in November with a ton of  jazz, funk, and groove bands.  We want to keep working the bigger rooms in Chicago, Park West or Lincoln Hall would be a nice next step.
Anything else you want to tell readers about?
We're going to start practicing in a place where we can record multi-track to Pro-Tools at all times.  Then I'll be able to work on those tracks at home and do something different with production.  We are working on about 7 new songs that we're ready to start recording.  I hoping for Spring or Summer for a new Strange album.  Hey, we're on pace for an album a year!
We want to be able to play a different show every night for at least 3 nights in a row with no repeats.  Right now, we have around 30-35 original songs… We've just got to write a lot more!