Ten Reasons You Must Go See Furthur At Northerly Island This Summer
My favorite post-Grateful Dead project, Furthur, returns to Chicago on July 17th, playing at the Charter One Pavillion at Northerly Island.  There are still four months to go until this rolls around, but I'm super-excited about this prospect of this band/venue pairing and am offering 10 reasons why you should be, too.
1.  First and foremost: The View.  The other nine reasons are really just icing on the cake because this venue offers one of the most spectacular settings for a live music experience in the world.  In fact, I'll put it right up there in the conversation with Red Rocks and The Gorge for best outdoor venue ever.  The bonus here is that while those awesome natural settings are breathtaking during the day, once the sun goes down the impact is diminished.  At Northerly Island, views are equally impressive by day or at night, and when the show lets out, you're just a short walk or ride away from everything the city of Chicago has to offer.
Want proof?  Check out this picture.  Google did not yield a great panoramic view of the venue, so we'll have to make do with these amateur photos that I took with my phone in 2009 and then stitched together.

The venue is on an landfill that is situated in smack in the middle Lake Michigan, surrounded by marinas and connected to the shoreline by a pier; that's Soldier Field to the left, the greatest city skyline in the world on the right.  No photograph can do justice to it, as it is a truly 360 degree experience, with the lake (and cool lake breezes) to your back and the glory of the heart of Chicago just beyond the stage.  Few amphitheaters in the world offer such a unique vantage point.
There is a small parking lot adjacent the venue that can be used for an additional fee, but your ticket includes free parking in a Solider Field parking lot and a shuttle to the venue (though the walk is very pleasant and not at all cumbersome).  It is also easily accessible via public transportation.
Chicago has long been plagued by the absence of a mid-sized outdoor venue, diverting many of the best summer tours that were too small for the sheds away from the city or indoors (and causing our fall concert season to be incredible... but I digress).  Not only do we now have one, but its location gives concert goers to take in some of the best of what Chicago has to offer:  the lakefront, Grant Park, the museums, downtown, restaurants and nightlife.
2. We don't know if Furthur will be around for the long haul.  Without trying to start or reinforce rumors, I think it's justifiable to question whether this band is built for the long term.  Let's face it, all of Phil's post Grateful Dead projects have been transient.  Even the mighty Phil Lesh Quintet, which seemed to be a permanent ensemble early last decade, was eventually disbanded.  In 2012, we're looking at the re-emergence of Phil & Friends dates, the return of Ratdog (and another new Weir projects), and the opening of Terrapin Crossroads in Marin as a permanent base camp / music venue for all things Phil.  Lesh will be 72 years old this spring so it is hard not to view that establishment  as a way for him to continue performing music while staying off the road.
So while Furthur may not be calling it quits any time soon (or ever), predicting a ton more Chicago shows may be a bit presumptive.
3.  This is the furthest West the band will get on this tour.  While there are two fall dates scheduled for the Greek Theater in LA, the band plans to continue their carpet bombing of the East in the spring and summer.  Chicago is centrally located and a hub for many airlines.  For those up for a trip, we welcome our friends from all over the midwest and all points west.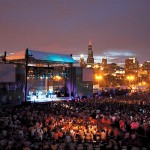 4.  Never miss a Tuesday show.  Is that how the saying goes?  In any case, these are the types of gigs that have "sleeper" written all over them.  Despite being a "school night", this will still be convenient to those who work in the loop or downtown in general.  The mid-week stop should keep curiosity seekers and causal fans to a minimum, and leave plenty of room for the faithful.  This should be a great crowd populated with the hard-cores.
5.  Proximity to Grateful Dead History.  Take another look at the photo above.  This place is literally in the shadows of Soldier Field, where the Grateful Dead played memorable shows from 1991 to 1995, including the final performance with Jerry.  Depending on who you are, that should definitely evoke a sense of history, nostalgia or reverence, if not a combination of all three.
6.  Summer's here and the time is right for dancing in the streets.  For the last few years, the band has worked from a touring template that has seen Chicago shows scheduled in spring or fall.  This will be the first taste we've had of summertime GD for several years and given how well suited this music is for warm weather and the outdoors, that's a wrong that we're relieved to have righted.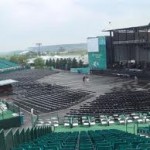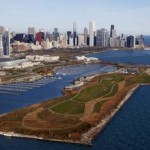 7.  A venue at Northerly Island is temporary. As great as this venue is, it may not be around very much longer.  Located on a piece of prime real estate, and only used sporadically, numerous proposals have been made for how to use this space permanently: from (*ahem*) an Olympic venue to a nature preserve.  The venue itself is a temporary structure, with bleachers, a temp stage and unique "mobile restroom facilities."  If ever you wanted to visit, you should probably go now before it is no longer an even an option.
8.  A great history at the venue.  In its short history, the venue has certainly seen its share of incredible shows.  Phil & Friends and Ratdog have both played memorable gigs here.  It also saw the only Chicagoland stop for the GRAB (Gordon / Russo / Anastasio / Benevento) tour in 2006 and hosted the epic Allman Brothers / Widespread Panic co-headlining two day event in 2009.  In recent years, it has also hosted performances by Umphrey's McGee, Tom Petty and Rush.  Let's face it, there's a a lot of good mojo here. Furthur should definitely be able to conjure some of that.
9.  This will be Furthur's 194th show.  While there's no magic to that number, I'm on record as believing that any unit that sticks together, and continues to gig, tends to get better and better over time.  This will be the 23rd show of the year and the 10th of 11 shows on summer tour, plenty of time to work out the kinks and start to delve deep into their repertoire (of songs and improvisational tricks), maybe even try a few new things.
10.  This venue is great for Deadheads.  Inside the gates, the security is (contrary to most places in Chicago) nice and mellow.  There is plenty of concourse space to mingle pre and post-show or between sets.  Additionally, the floor will be General Admission -- the first time I personally have experienced this at Northerly Island.  Got shut out or can't afford a ticket?  My guess is that you'll be able to hear the show pretty good from outside the venue ; no promises that you won't get hassled for loitering, though.
Tickets are on sale Friday, March 30 @ 10:00am CST.  See you there!