Setlist / Review | JD McPherson @ Lincoln Hall 3/12/15
Words / Photos: Alex Wood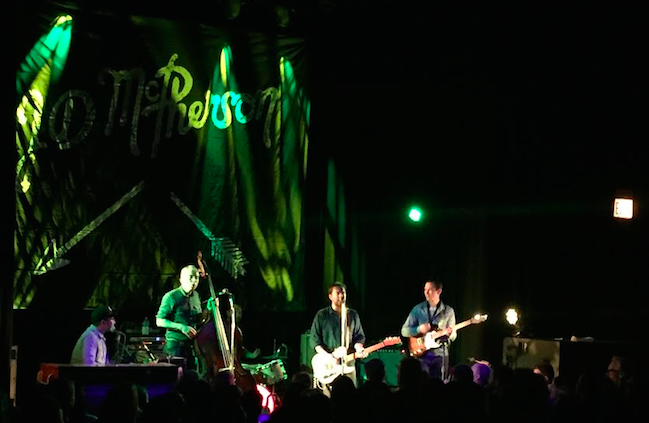 JD McPherson offered a high-energy set during his first night at Lincoln Hall, offering the majority of the songs from his studio albums and a handful of covers.
His retro sound is derivative of an era more than any specific artist, pulling inspiration primarily from the late 50s and early 60s. The band's ability to authentically reproduce such sounds with fresh creativity was instantly apparent.
Opener "I Wish You Would" was as much surf rock as rockabilly, with a Bo Diddley beat that begs for dancing. For "I Can't Complain," the second guitarist switched to saxophone, an essential addition for capturing the early R&B sound, McPherson handling guitar duties in a style directly reminiscent of early Chuck Berry.
"Fire Bug" was met with enthusiasm from the crowd, the packed audience dancing and jumping, matching the band's intensity.
The bassist played a huge role in the band's sound and energy, playing unapologetically loud and often taking long solos between songs.
For "You Must Have Met Little Caroline," the bassist had the audience clapping along before the band even started, the song eventually reaching an vigorous high-point reminiscent of a Jack White track.
"Precious" sounded like the perfect culmination of all of McPherson's influences, an innovative guitar line met with percussive maracas, the jam gentle and soft compared to much of the set.
McPherson's vocals have an impressive ability to fit the style of the song, from gorgeous and clean R&B melodies to a gritty, straightforward rock style that borders on punk rock.
"Let The Good Times Roll" was paired with "North Side Gal," both flaunting the band's accessible, catchy quality.
"Wolf Teeth" remained a highlight of the set, an aggressive bass line leading the song to a huge climax, every member playing as intensely as possible.
The encore seemed to display the band's many nostalgic sounds.
"Everybody's Talking Bout The All American" was delivered with an in-your-face garage and R&B vibe, while "Rome Wasn't Built In A Day" was a delicate ballad primarily featuring McPherson's vocals.
"It's All Over But The Shouting" seemed to land somewhere between those two with its laid-back groove, and "Scandalous" finished big, catchy and danceable.
JD McPherson's show captures the energy and intensity of an era long past. Though easily comparable to its influences, the band has found a home in the sound, performing with enough passion and inspiration to bring their fans back in time, wrapped up in the fun of good, old-fashioned rock 'n roll.
Setlist:
1. I Wish You Would
2. I Can't Complain
3. Fire Bug
4. Bossy
5. It Shook Me Up
6. Your Love (All That I'm Missing)
7. Abigail Blue
8. You Must Have Met Little Caroline
9. B.G.M.I.S.R.N.R.
10. Precious
11. Head Over Heels
12. Let The Good Times Roll
13. North Side Gal
14. Wolf Teeth
15. ???
Encore:
16. Everybody's Talking Bout The All American
17. Rome Wasn't Built In A Day
18. It's All Over But The Shouting
19. Scandalous