Rock 4 Autism Moves Locations, Reveals Schedule For 2014 Event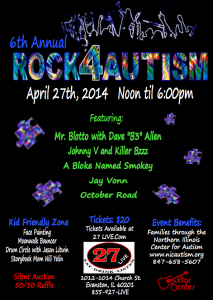 I'm always honored to feature news of this annual benefit here on the blog.  April is
Autism Awareness Month
, and our friends at Northern Illinois Center for Autism have worked hard the last several years to cap the month with a fundraiser built around great tunes and good works.
This year, the festivities move to a new location: 27 Live in Evanston.  The venue has been on our radar since a Thanksgiving eve gig that featured some interesting sit-ins, and we expect great things.
Mr. Blotto and Blotto family are usually well represented (last year featured a set by Blotto guitarist Mark Hague and his Helping Phriendly Orchestra project).  This year's benefit ups the ante a bit, with two full sets of Blotto featuring Dave "B3" Allen.  Johnny V and the Killer Bzzz, A Bloke Named Smokey, Jay Vonn and October Road round out the bill, which also features kid-friendly activities (moonwalk, face painting, storytelling) and a silent auction.  The video embedded below provides a fine preview of what's to come.
Advance tickets are available via ticketfly.  There is a $20 donation.  As a lover of music and the uncle of an extraordinary nephew with autism, I urge you to please consider supporting this extremely worthy cause.
Here's the complete lineup and schedule of events.
12:00-12:30 Jay Vonn
12:40- 1:15 October Road
1:30 to 2:20 A Bloke Named Smokey
2:35 to 3:20 Johnny V & the Killer Bees
3:35 to 4:45 Mr. Blotto Set 1
4:45 to 5:05 break
5:05 to 6:15 Mr. Blotto Set 2
About NICA:  Serving well over 1,250 people annually in Northern Illinois and Southern Wisconsin, NICA continues to grow and assist people with autism and their family members. People with autism spectrum and related disorders of all ages and functioning levels of ability are able to receive assistance from NICA. Its members require a variety of services and support, based on their developmental level.  NICA currently provides the following support services: 
guidance to families via mentoring, tutoring and autism technique training to help them understand "What is Autism" and "What to do"?
medical support via dietary counseling and biomedical intervention information
vocational and life skills coaching to our teens and adults with autism spectrum disorders
a variety of support group and social group opportunities to our families living with ASD.
integrative community based programs and speaker presentations
 a nonprofit collaboration to connect families with appropriate services to meet their goals, including therapy services (Speech, Occupational, Physical, Aqua) and Mental Health Counseling