Review: Stephen Malkmus & The Jicks - Wig Out At Jagbags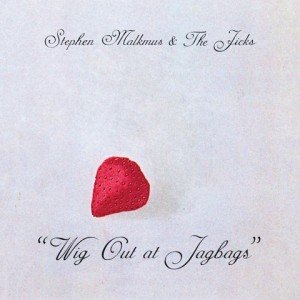 Wig Out At Jagbags may be the most Stephen Malkmus has sounded like Pavement since the band's initial demise.
Claiming influences like Weezer and Red Hot Chili Peppers, Malkmus obviously intended a light and fun record, and delivered just that.
The songs on Wig Out At Jagbags sound more developed than those of 2011's Mirror Traffic, amply stocked with hooks and loose jam sections. Essentially, this provides the best of both worlds, as far as Jicks albums go.
"The Janitor Revealed" exemplifies this technique, its Pavement-style vocals giving way to a solo section for Malkmus' flowing guitar, first building intensity then mellowing out, one riff becoming the next.
The musicianship is greater than Mirror Traffic yet reserved in comparison to Real Emotional Trash, songs generally sticking around the three-to-four-minute mark, but without compromising riffs and solo sections.
Vocally, Malkmus sticks to the quirky delivery developed on Pavement albums like Crooked Rain, Crooked Rain.
"Lariat" stands as a simple pop song, reliant almost entirely on this delivery.
"We lived on Tennyson and venison and the Grateful Dead/ It was my honey summer Torch of Mystics double bummer," Malkmus sings, dropping more references to music and literature than one could Google throughout the song's short run-time.
Yet the playful lyrics become the messy, distorted, intoxicating intro to "Houston Hades," a reminder that this isn't simply an album of quirky pop songs but a rock record, the music as or more important than the vocals at all times.
The Jicks explore new territory with a trombone solo and string accompany on "J Smoov." "Chartjunk" even uses the horns as an excuse to swing a little, the upbeat number offering some especially melodic soloing by Malkmus.
Fortunately, Malkmus' soloing remains a focal point of the remainder of the record.
Malkmus' guitar work on songs like "Cinnamon And Lesbians" and "Independence Street" boast the flare and intensity the writer is too rarely credited for, each solo bursting with unrestrained melodic force.
Wig Out At Jagbags sounds loose but concise, never taking itself too seriously yet never losing focus, perfecting the sound Malkmus and the Jicks have been working toward for years.
- Alex Wood