Review / Setlist / Stream / Download / Video: Mike Gordon @ Park West 3/8/14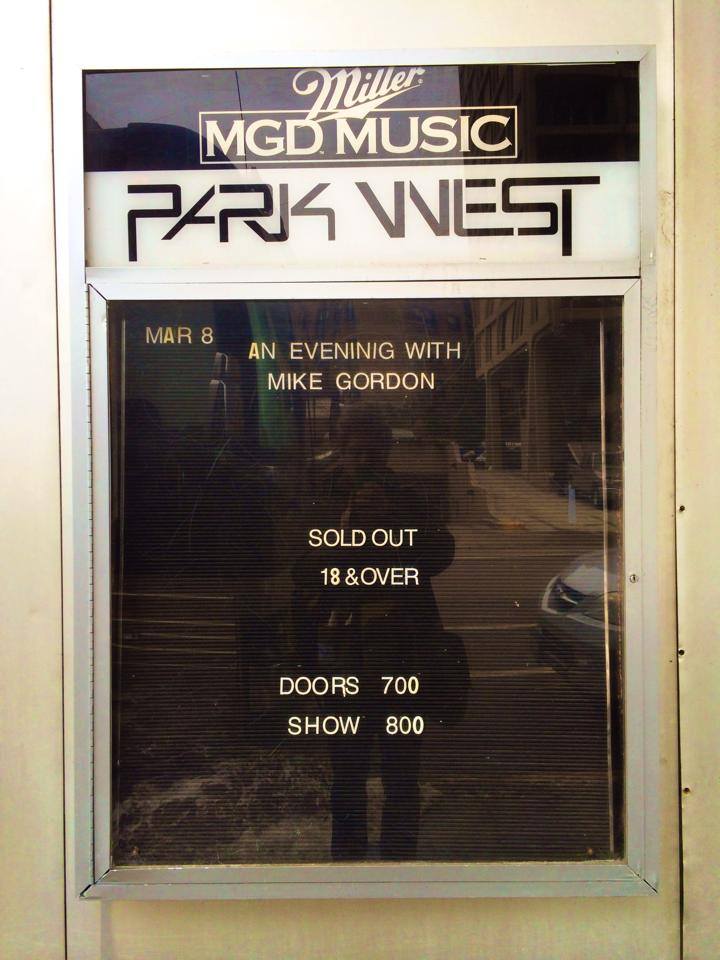 via Mike Gordon instagram
The first thing that occurred to me at the Park West on Saturday night, even before Mike Gordon took the stage, was the significant amount of star power the oddball bassist carried with him.  Sure, the atmosphere was toned down from the mania of your typical Phish show, but the buzz was very palpable, and slightly different considering the intimacy of the sold out venue.
Mike's personality just oozes out so distinctively.  Fans feel like they know him, and he makes every effort to stay connected, hanging at the merchandise table long after the last note was played for handshakes and autographs.
It certainly comes through in his bass playing -- and Gordon was not hesitant to use the low end to drive jams, which provided some of the shows biggest moments (finding transitional spaces in the "Face > Susskind Hotel > Face" sequence,  a long and spacy jam in "Ether", the rocking coda tacked on to "Horizon Line").
It comes out in his vocals --  non-traditional, and dripping with humility and humanity.
It comes out in the songs, the majority sourced from Overstep, an album that I initially brushed off, but is worth of reconsideration considering how songs like "Jumping" and "Surface" were executed in the live setting.
And it comes out in his overall look and the general environment he creates.  For those of us who watched his transformation from unkempt frump with sweatpants rolled up to just below the knee to debonair, scarf wearing, bouffant sporting gentleman, this tour can be viewed as another layer on Mike's ever more complex facade.  It's about pushing things one step further and he's definitely not short on ideas: from the light-up axes from Visionary Instruments that he "invented" to the weird devices attached to microphone stands which make duck quacking sounds when tapped.
In Phish, all this Mike charisma can be muted as it competes with outsized talent of his other band mates.  But in this group, Gordon has the strongest personality and bears the brunt of the musical vision, though I would not say he has total creative authority over the performance.  This is most clear in his relationship with guitarist Scott Murawski, who functions as a sidekick, punching up Mike's ideas with a not only a willingness to comply but also a total understanding of his world.  While not necessarily groundbreaking in tone or style, he does have the chops and a complementary set of musical ideas to make this jam fun.
Overall, I think Mike sees this group not as utility men employed to realize his vision, but as friends and collaborators given the freedom to lead the group into unexpected areas (keyboardist Tom Cleary even took lead vocals on "Crumbling Bones").  Yet Gordon's name remains on the marquee and ably fills the role of the straw that stirs the drink, inserting a little of everything he's accumulated over this course of his career.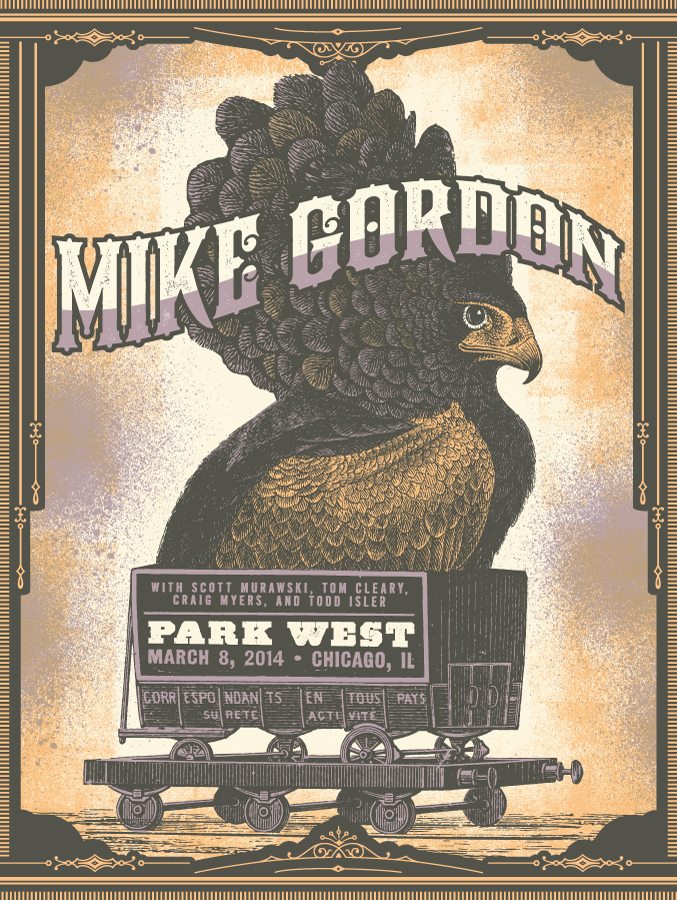 Chicago Poster via Mike Gordon facebook
Mike's long, engaging introduction for guest Sugar Blue at the end of his first set was certainly informed by the type of comedic improv that he experienced first hand during his encounter with Second City at last year's Phish Chicago run.  He was personable, funny and interesting.
What followed were three perfect choices for a mini set with the blues legend. First was "Say Something", a standout from Overstep and 2013 addition to the Phish rotation, which opened up plenty of space for the harmonica.  Next was the MGB debut of "Miss You" (a tune which Sugar Blue originally recorded with the Stones), which gave Mike an opportunity to employ the Bill Wyman disco bass that he has done so well on Phish's cover of "Emotional Rescue".  And finally, "Messing With the Kid", a true showcase for Sugar's harp and silky blues vocals, but also hearkened back to two Chicago area Phish shows from the '90s (8/8/97 and 10/3/99 where he also guested).
Despite the impeccable use of the guest artist, the show's peak may have come during a cover of Beck's "Black Tambourine".  Here, Mike's vocals were a slam dunk to match Beck's brooding melancholy, but it was the aggressiveness and ferocity with which the band approached the jam that provided the real highlight… veering off quickly and decisively into "what-song-is-this?" territory.
The set mostly devoid of tried-and-true Phish material, but "Funky Bitch" was a fine crowd pleasing encore.
This band is in the midst of a big, cross-country tour.  The venues (like the Park West) are generally upscale and fan-friendly.  Ticket prices are low.  The music is fresh, adventurous and fun (and there's lots of it).  With large swaths of calendar unoccupied with Phish shows, if this represents the "new normal" for off time… I'll take it.
Mike Gordon
Saturday, March 8th, 2014
Park West

Long Black Line, Surface, Face > Susskind Hotel > Face, Say Something, Miss You, Messin' With The Kid

Ether, 555, Black Tambourine, Loon, Yarmouth Road, Crumblin' Bones, Jumping, Horizon Line

Encore: Funky Bitch
The Stream
[box type="download"]Download Entire Show (mp3 .zip)[/box]