Review / Photos | Lettuce, Turbo Suit & Future Rock NYE @ The Riv
By: Carmel O'Farrell (@carmelocorn) | Photos: Ab Photographie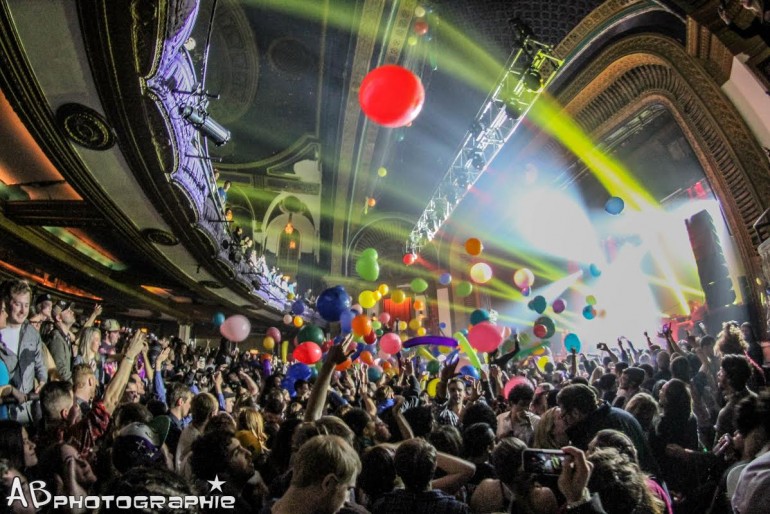 New Year's Eve is a special night for most live music fans. If we aren't traveling the country to join our favorite band on the road, we hunker down and enjoy the acts that come to us. Either way, we suit up, pop some bottles, and try to keep our composure until the infamous balloons drop and the new year commences.
This year I decided to join Lettuce, Future Rock, and Turbo Suit for a NYE throwdown at the Riviera Theatre in my hometown of Chicago.
Attendance at this show was somewhat bittersweet, for it was back at the Riv when the clock struck 2011 that I resolved to spend every NYE with my favorite band: Umphrey's McGee.
Of course, this was all before I discovered the beauty of Dominican Holidaze and the importance of a Paid Time Off nest egg. But time marched on and grown up responsibilities trumped travel at the turn of each year. Lucky for me, Chicago always brings the heat on NYE.
2015 saw a lot of change and growth in the world of music and it seems as though an unspoken revolution has finally occurred. While streaming services like Spotify have seemingly poked some musicians in the eye, they have given niche groups like Lettuce a sharing platform to reach every funk-loving ear with a Wi-fi connection.
Turbo Suit is the perfect example of how the new age of social media and continual access to music can pay off. 2015 was pivotal: a name change, new drummer, and monumental album drop that put this group on the forefront of live band electronic music. Their set on New Year's Eve was a culmination of all their hard work this past year. With snappy custom suits, a bottle of bubbly, and an arsenal of booty shaking music, they kicked the party off proper on December 31st.
The filler between Turbo Suit and the night's headliner, Lettuce, was Chicago's very own Future Rock. This electronic-influenced three piece outfit is lesser known outside the Midwest but if you've ever been to a festival in the Chicagoland area, there's a good chance you've seen Future Rock live. After all, it's not a show you'd soon forget.
This was the second New Year's Eve I've spent with Future Rock. Last year, I joined this trio for a last minute undersold gathering where my crew ended up getting the boot for raging too hard. I'm not going to lie, we were a bit over the top, but I've always dug Future Rock's live show. It's unapologetically fun -- under-thought, and over the top.
Throughout 2015 they've played a handful of music festivals like Hulaween and Summer Camp. They even brought back Daft Rock, a tribute to Daft Punk featuring the band's members. With the promise of new music to be released in 2016, Future Rock's set at the Riviera featured some new material, as well as classic old school favorites like "Ode to a Droid" and "Reaching New Heitz".
Once again, they executed their mission to compress the space-time continuum into a tightly packaged dance party. They also went BIG by mashing their well-oiled Daft Punk material into one massive tribute to one of their biggest influences. Needless to say, my crew once again threw down hard and, luckily, no one got kicked out.
Finally, it was time for the night's main event...
It's been a big year for Lettuce. On top of releasing their newest studio album, Crush, these funk masters have been hitting the road hard and you could tell it's paying off. While their setlists can come across as redundant at times, Lettuce is now at a point where each song splits open every time it's played. The beauty of their music, besides its infectious basslines, is how it allows ample time for exploration with minimal rhetoric to distract from the groove. With so much talent in one group, it's hard to predict where they'll go next.
Then there was the addition of Nigel Hall, which always kicks things up to 11. It's hard to say if this musician will become a permanent fixture in Lettuce, but since departing the Nth Power early in 2015, Hall has been joining Lettuce pretty regularly on both keys and vox. His presence at Lettuce's NYE show delivered the kind of energy you would hope for on such a special night. Furthermore, his ability to interact with each member of the band tightens their focus and challenges each member to keep pushing boundaries.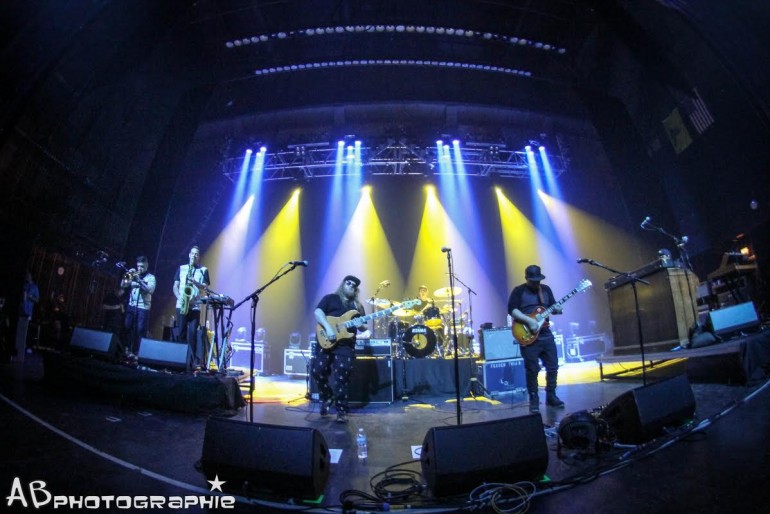 At one point during their New Year's Eve show, Nigel Hall squared up with Ryan Zoidis for a playful back and forth that exploded with energy. Lettuce oscillates between hitting high notes in unison and creating space for progressive solos, but their horn section is where they really pull ahead of the funk pack. Ryan Zoidis and Eric Bloom truly bring this instrumental band to other levels. They are integrated into the Lettuce sound like dressing on a salad: zesty, satisfying, and absolutely necessary.
Hall led the countdown into 2016 until the balloons finally dropped and we kissed 2015 goodbye. There was a true sense of release as Lettuce grooved to a NOLA style version of "Auld Lang Syne".
The raw energy of the Chicago crowd cannot be understated and by the time the night finally drew to an end, there wasn't a disappointed face to be found. I, for one, can't wait to see what 2016 brings for each of these acts. If 2015 was any indication, we about to see each of them flourish within their individual music niches.