Review & Photo Set: Jack Johnson & Edward Sharpe & The Magnetic Zeroes @ Northerly Island 5/31/14
Words & Photos: Ashley M. Downing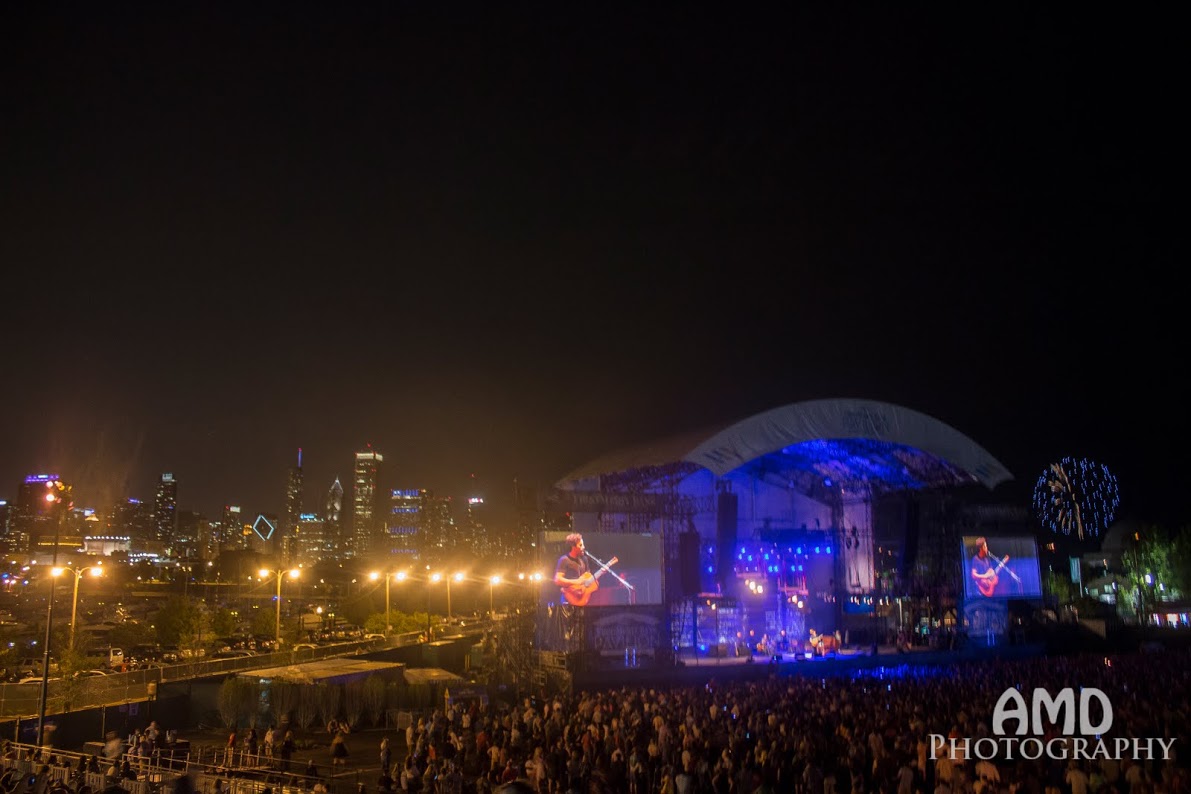 FirstMerrit Bank Pavillion at Northerly Island has quickly become my favorite large venue in Chicago. It reopened last summer after extensive renovations and it now ranks as one of the best spots in the country to see a live show.
It sits on the shore of Lake Michigan tucked away on an "island" behind Solider Field giving the crowd breathtaking views of the bustling city surrounding them, especially when facing the stage.
The venue kicked off its 2014 season on a gorgeous evening at the end of May hosting Jack Johnson and Edward Sharpe & the Magnetic Zeros for sold out crowd. The weather is an important aspect to any show at this venue since there is really nowhere close to seek shelter if (and when) a storm sets in, so I was beyond grateful for the perfect conditions.
Edward Sharpe & the Magnetic Zeros began their hour long performance around 7pm and played through sunset. It was beautiful watching the sun disappear behind the stage and the Chicago skyline throughout their highly energized performance. Frontman Alex Ebert's undeniable swagger and confidence while onstage and he owned every moment of the performance. He interacted with the crowd often, letting different people sing, play instruments and even request songs.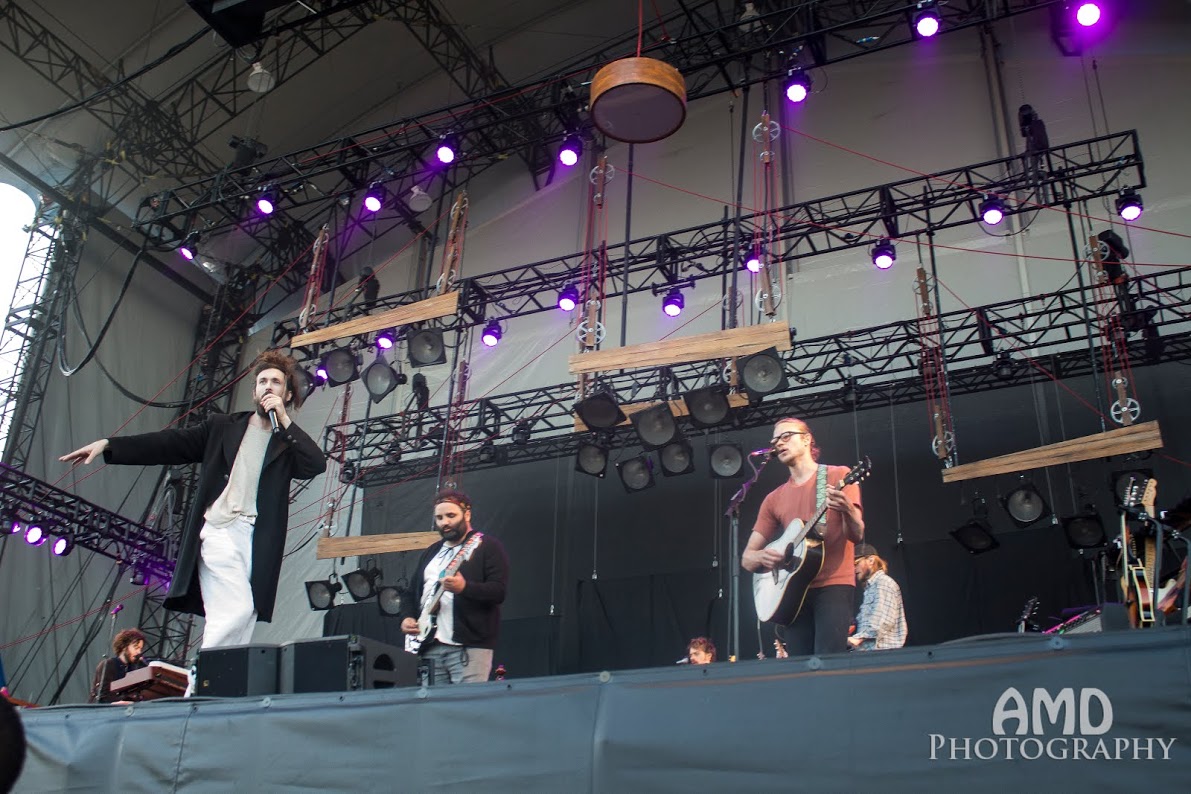 The Sharpes are known to let the show flow freely at each performance, so the crowd participation weighs heavily on what they play and what they do. It is refreshing to watch and listen to, especially since it is amplified by Ebert's confidence and ease onstage.
The band is tight, which is difficult for any band, but especially so with a large ensemble. This show was one of the first shows the group had performed without their female powerhouse bandmate Jade Castrinos, which honestly made the set feel a little empty. Her voice and presence has been such a staple with this group from the beginning. At this show, seeing them perform right after her departure, there was an undeniable feeling that something was missing.
Overall the set was very solid and you could tell that everyone in the crowd and in the band was having fun. The highlight of ES&TMZ performance came at the end of their set, when they really let loose and played funky renditions of "Janglin" and "Truth" to close out their show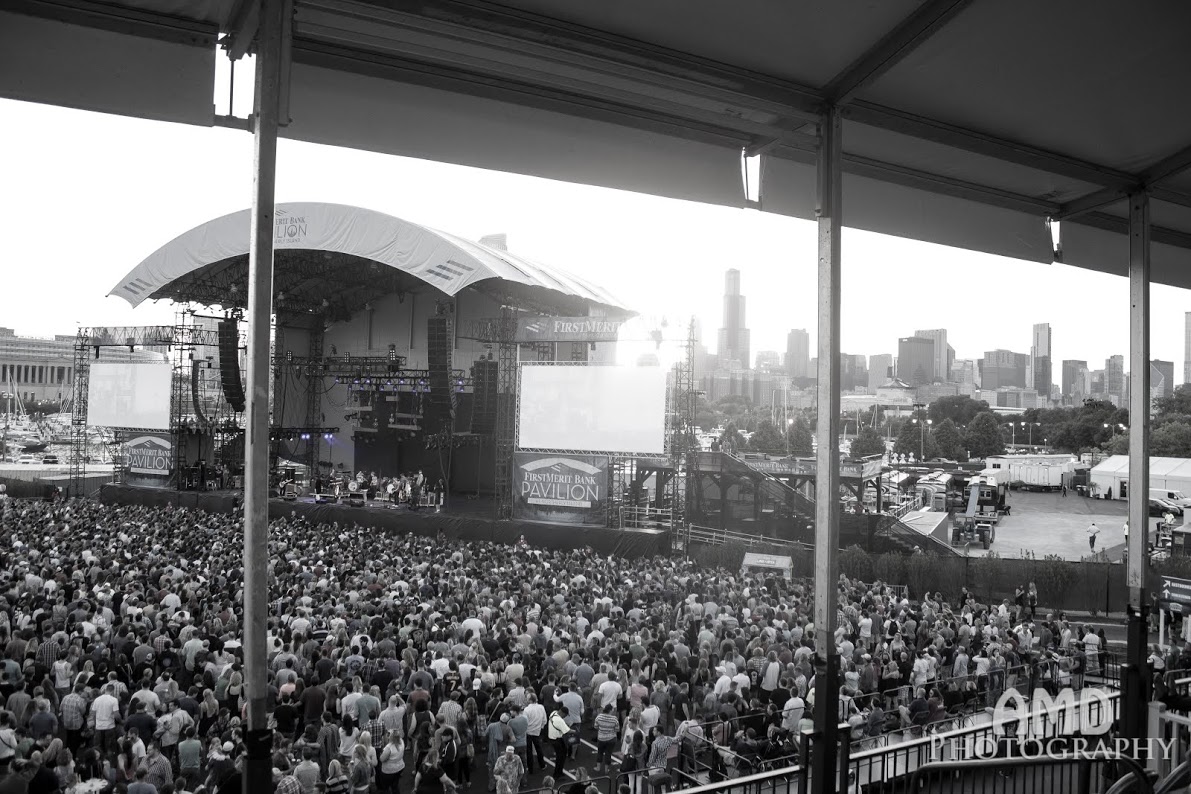 The massive venue was nearly filled to capacity by the time Jack Johnson took the stage. I've listened to Jack Johnson for years and I have had the opportunity to see him live a couple of times, but only at big music festivals. Even though Northerly Island is a very large venue, everything felt more intimate since it was truly his night to shine.
Once the set began, I was impressed not only by Johnson, but also from the outstanding backing band he had alongside him that included  Merlo Podlewski on guitar, Adam Topol on percussion and Zach Gill on organ & accordion.  Together, they gave Johnson's original music a fresh, multilayered sound.. Although he did play some tunes in his normal, stripped down acoustic fashion, this show was so much more than that.
The first two songs of Johnson's set were enjoyable covers that he performed along with the motley crew of Edward Sharpe.
From there, the show took some interesting turns as the band plowed through a setlist of over 20 original tunes, adding new life to each one. The entire set was performed and arranged in ways I would have never imagined. Improvisational jams and segues were added to each song as well as intricate instrumental arrangements that had never before been done in his tunes. Even with all of the contemporary adjustments to his well-known repertoire, the crowd was fully engaged and able to sing along like they wanted to. The entire set was diverse, well-rounded and so much more than I was anticipating.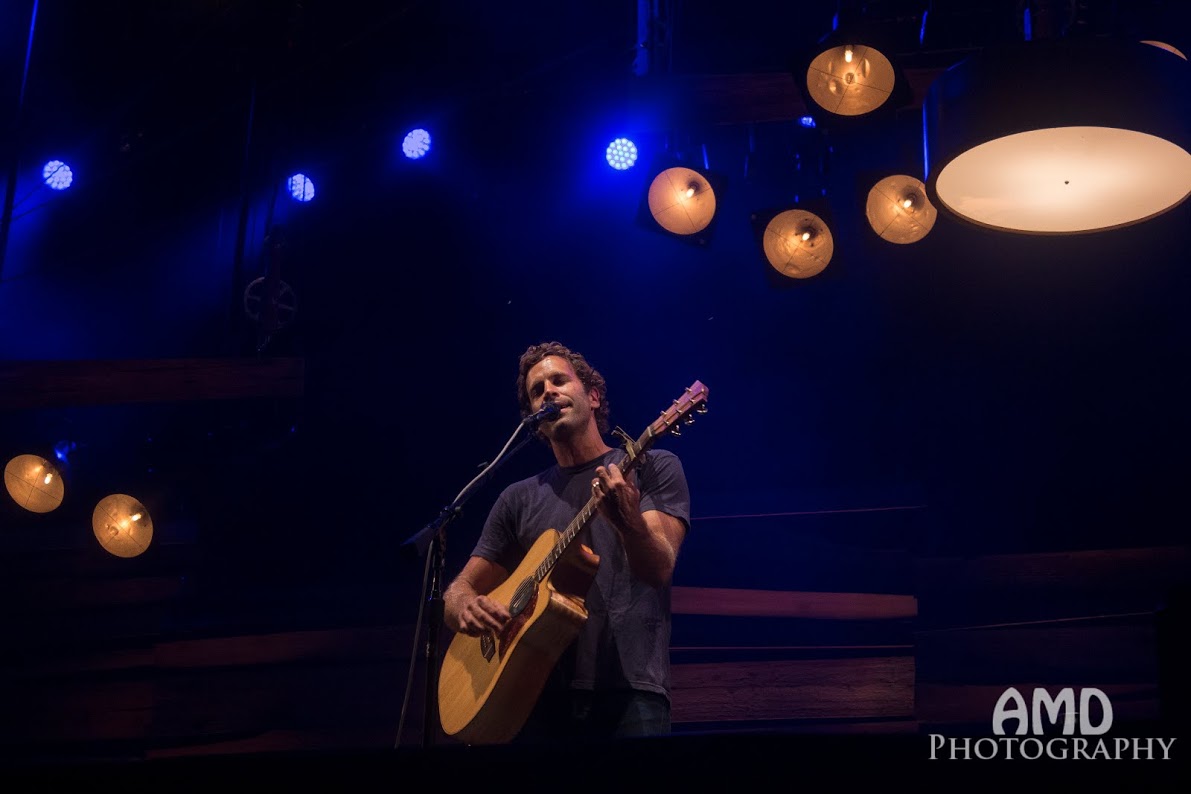 Jack Johnson came out for the encore alone, with his acoustic guitar and went on to play "Do You Remember" and "Angel" for his appreciative fans. It was easy to get lost in Johnson's voice, which remains as handsomely charming and polished as it ever was.
To finish the set, he brought the band out out yet again to play the beloved tune "Better Together," which was the perfect end to the performance. The show left me feeling fuzzy inside, glowing with enthusiasm for a musician who continues to grow and change along with his music.
Edward Sharpe & The Magnetic Zeros - Setlist: "40 Day Dream," "I Don't Wanna Pray," "Man on Fire," "When You're Young," "If I Were Free," "Motion Animal (Crash cover)," "Up From Below," "Janglin'," "Truth"
Jack Johnson - Setlist: "Washing Dishes," "Taylor," "Sitting, Waiting, Wishing," "Rocky Raccoon (Beatles cover w/ Edward Sharpe & the Magnetic Zeros)," "I Shall Be Released" (Bob Dylan/The Band cover w/ Edward Sharpe & the Magnetic Zeros), "Upside Down," "Inaudible Melodies," "Flake," "You and Your Heart," "Radiate," "If I Had Eyes," "Tomorrow Morning," "Bubble Toes," "Not Fade Away" (Buddy Holly cover), "Mudfootball," "Wasting Time," "Never Fade," "Breakdown," "I've Got You," "Tape Deck," "Bad Bad Leroy Brown (Jim Croce cover)," "Banana Pancakes," "Shot Reverse Shot," "Staple It Together," "At or With Me," "Good People"
Encore: "Do You Remember," "Angel," "Better Together"