Review & Media: Phase Of The Moon Festival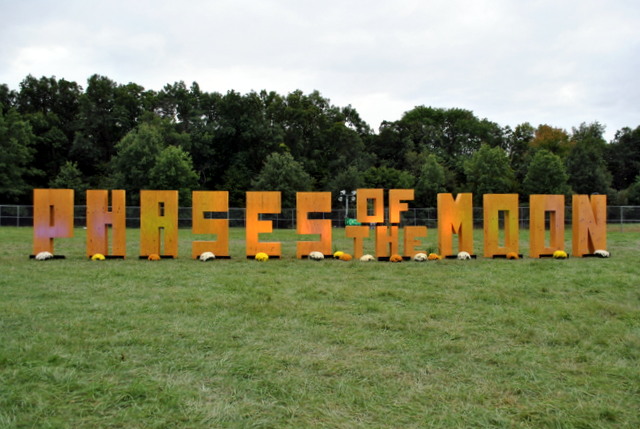 You can point to the first Bonnaroo as a potential Ground Zero for the music festival explosion that has gripped America in the dozen or so years since its inception.  While many festivals that have emerged in its wake -- both big and small -- have chosen to replicate its key elements, very few, not even Bonnaroo itself have stayed true to its original programming.  Few remember, or care, that Bonnaroo 2002 was essentially a jamband summit and that provided much of the buzz that vaulted it to one of the nation's premiere music festivals.
But it wasn't sustainable, at least not as the mega-festival that it was destined to be.  Jambands fell out of vogue.  EDM captured the attention of the nation's youth.  They were able to land high-wattage stars that had broad appeal.  Bonnaroo moved on.
And it wasn't alone, only a handful of major music festivals could claim to court the jam crowd.
Here in the Midwest, we've seen Summer Camp Music Festival keep it's major jam-centric perennial headliners, but supplement more and more with EDM and draws from the general festival scene.
In the Northeast, Gathering of The Vibes consistently offers a lineup packed with Grateful Dead related acts  Out West, High Sierra creates a unique vibe out of similar cloth, while propping up a roster of talent that is firmly entwined in its identity.  While Allgood provided the most consistently improv-friendly lineup of all, it put itself on hiatus for 2014.
Then, in 2013, mega-impresario Pete Shapiro introduced the Lockn' festival in Virginia.  Not only did it boast a dream team of jam heavy acts, interesting collaborations, and emphasis on quality over quantity, it didn't compete with other summer tentpole events, choosing a quiet, post Labor Day fall weekend.
Suddenly, two previous barriers were knocked down: the resurrection of the jamband fest and a major, camping style festival outside of the summer months.   Could it the concept be lifted and shift to another event?

Enter
Phases of the Moon
, an attempt -- deliberate or not -- to replicate the success of Lockn'.  Billed as '100% Organic Music', it offered a lineup that owed much to Bonnaroo's pioneering 2002 card, and although not quite as star-studded as Lockn's swing-for-the-fences bill, promised four days of essentially non-stop action for those inclined to explore blues, rock, soul, jazz and bluegrass from the perspective of a jam fan.
For us in the Midwest it was exciting... bordering on unbelievable.  Their marketing department came out swinging for a first year festival, building a strong identity around moon related themes, and incorporation of  visual arts.  They launched a strong social campaign -- people were talking, the strong lineup bolstering questionable downstate logistics.  They encouraged folks staying for the duration of the four (!) day festival, only making weekend and Sunday passes available late into the plan.
So how did it go?
Well, I think this is the point where I have to confess... I missed by what all accounts was the worst part of the festival -- having planned from the start to arrive Friday afternoon and stay off site.
Logistically, all first year festivals are faced with challenges.  When a site endures the rain that Danville's Kennekuk County Park did in the days prior to the first arrivals, they are magnified.
Weather and general conditions prevented traffic flow in and out of the park.  There was limited dry ground for setting up camps.  Access to the festival site slowed to a crawl on Thursday, causing delays for up to 12 (!)  hours.   Those on the tail end of the backup were asked to turn around and use alternate accommodations.
It had to be beyond frustrating.  Moreso, because if there's one thing that the organizers did drop the ball on, it was communicating to those who were affected by this.
But I'll say that was all.  From my eyes, this was a production team doing everything in their power to make the experience a great one for the festival-goer.  Although seeing a helicopter being used to dry damp camping fields may seem ridiculous -- I'll be damned if it didn't work.  Combine that with the (literally) tons of mulch and other drying agents used to stabilize the grounds. Getting in was a total non-issue for me on Friday.
I've been through the "rain experience" at several festivals, and this was a far cry from the typical "fuck you... we've already got your money", shoe-eating muck puddles and general third-world conditions typically enountered.  And I'm sure it came at a great monetrary cost.
In fact, the gap between social media reaction to actual festival experience couldn't have been greater-- with most folks tweeting or facebooking about the event from home declaring it a massive failure, while those on the ground, many of whom annoyingly removed from communicating with outside world due to spotty cell coverage, generally having the time of their lives, and allowing any resentment to simmer down under waves of incredible music and community.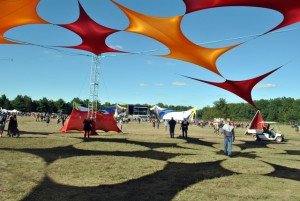 For a venue plopped in the middle of Midwest cornfields, the concert space was huge and impressive... it easily could have handled two or three times the capacity.  Everywhere was an interesting array of homespun, slightly psychedelic art installations and wandering performance art.  It seemed to create a prevailing consciousness -- of fun, wonder, of "other" -- the organizers were going to make this succeed despite whatever curve-balls thrown their way.  From the "no lines, no waiting" essentially everywhere you went, to a layout which encouraged exploring, movement about the grounds and and "taking it all in".  They were on a mission to not only put on a great event, but to continue to build their brand via the production..
This kind of commitment to identity-building and awareness creation, even extended to those who couldn't make the fest, with POTM partners tourgigs.com webcasting most of the key sets over the festival's extended weekend.  I was able to catch Galactic's funk throwdown on Thursday night from home as I read traffic horror stories on Twitter, and remarkably, Anders Osborne's set in the car on my way from Chicago to Danville on Friday.
AO's gritty New Orleans rock and funk, and candid stage banter ("this is a real shitshow... reminds me of home") was the perfect way to tee up my first in-person set of the weekend: JJ Grey & Mofro.  His set was the first in what turned out to be the trend -- a compact and satisfying taste of the artist which doesn't overstep its welcome.  It turns out to be an ideal way to catch some live JJ.  Daytime sets on the big stages were delightful, with sparse crowds, plenty of room to boogie or to get right up front and catch some of the action.
Later that evening, while Grace Potter & The Nocturnals commanded a more sizeable crowd, I was able to catch one of my personal all time favorites, Sam Bush, entertain at a smaller side stage situated near a gazebo and small pond.  Bush's magnetism and good humor seemed to literally lift the burden off of attendees who had experienced hardship on the way in.  Classic nods to Bob Marley ("One Love") and The Beatles ("I've Just Seen A Face") and seemed to exemplify what the festival was about.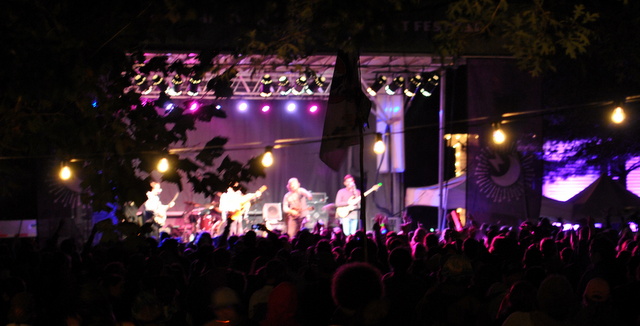 Longtime readers of the site may know my complicated relationship with String Cheese Incident.  For a few years in '99-'00 they were definitely my jam.  But soon after, the same forces that ultimately caused them to split up, made them less-and-less interesting to me.  They couldn't seem to get on the same page.  They slowly branched away from the bluegrass, jazz and world music hybrid that was their sweet spot and tried to be more adventurous and infused electronic elements.  Their latter day songwriting didn't hit the mark in the way they could when they had owned that sound.
I hadn't seen them in 9 years.  What was the use?  Post reunion, it hadn't seemed like they were even trying, playing a handful of gigs a year that screamed "cash grab" more than anything.
But in 2014, they released the very listenable Song In My Head.  They were hitting the road like they actually enjoyed being together.  Admittedly, their appearance at POTM, played a huge role in getting me out there.
a bit of what made them so exciting
to me back in the day.  Topping a Friday lineup with bands that had an affinity towards improv, but didn't quite break things wide open, String Cheese shined like a true jamband.  Their old songs were indeed nostalgic, but they were fueled with the driving, exploratory momentum that hooked me in the first place.  It could have been luck, but catching a show with "Rollover", "Restless Wind", and "Best Feeling", as opposed to many of the groan inducing songs of their early '00s songbook, was the exact right recipe.  And the key ingredient was Micheal Kang, who wielded his mando-tar like a boss throughout -- while the band carved out new territory, Kang pushed the palate to include peak after peak in jams that extended to the fifteen minute mark.
Their Lunar Landing Conspiracy set was icing on the cake.  Toned down from the "spiritual experiences" that Cheese have been known to offer at special events, SCI pieced together cool covers, interesting guests and a handful of performance artists and large scale puppeteers to generate a truly satisfying set.  "Midnight Moonlight" found them exactly where I wanted them to be, owning that awesome, jammy "Telluride" space with the boys from Leftover Salmon.  Michael Travis sounded eerily like Sting on "Walking On The Moon".  Their spacy take on "2001" to sandwich the majority of the set was perhaps even a tip of the hat to Phish.  They took us to the moon without having to resort to hippy-dippy space games.
How to top that on Saturday?  How about nine hours of music that never once seemed redundant or superfluous?
This brings me full circle to why I believe this festival was programmed so well.  Yes, it was a jamband festival.  But in the course of a looong day of bands, that sensibility allowed the crowd to browse bluegrass, funk, soul, and singer-songwriter, and (often) back all during the daytime hours.  I even managed to catch a couple of quality Phish covers from Texas' A Live One on the side stage.  And I didn't even catch any of the late night action.
The unifying quality, like JJ Grey's set on Friday, was these were offered in bite sized, concise chunks amidst and presented without any significant downtime.  It was easy to catch to majority of these sets from different vantage points.  Chilling out in a chair towards the back of the field for Jeff Austin. Cruising the festival grounds with Leftover Salmon blasting off a pair of Little Feat covers with their newest member (Feat's Bill Payne) leading the charge.  Jackie Greene's set was a splendid afternoon appetizer, equal parts of his top-notch songwriting ("So Hard To Find My Way") and residue from his Grateful Dead family association (an early set "Bertha" and a glorious sunset "Sugaree").  Karl Denson jacked it up during the twilight, greeting the darkness with hints of the nightclub act they are, the set peaking with a collaboration with Nicki Bluhm on "My Baby", a tune recorded as a duet on Tiny Universe's latest release New Ammo.
Then, there were the two A+ acts at the top of Saturday's bill.  Tedeschi Trucks Band has obtained rarefied air amongst the bands I follow closely.  I will readily recommend them to anybody I come across regardless of their stated musical taste -- accessible in a way that classic soul and R&B is almost universally beloved.  If you just like tight, well written songs, masterfully arranged, "Made Up Mind" came screaming out of the gates.  If you enjoy a charismatic front-woman, you'll love Susan's urgent vocals on "All That I Need" or her mature and heartfelt tribute to the road crew in the shadow of Brian Farmer's recent passing.  If you love ripping guitar solos -- Derek is the probably the most capable guitarist alive ("Bound For Glory"!).   This set pretty much says it all about them.  They will play a few tunes you know ("Keep On Growing", "Keep You Lamps Trimmed and Burning") and their originals will feel like you've known them all your life after just a few measures.  If you click only one link from this review, make it this one, the soundboard recording of this magnificent set.
And, of course, Widespread Panic.  They bring a gravitas to the proceedings that no other band could touch.  Fans genuflect before them and they deliver like pros.  They take charge of these festival slots, scarcely slowing it down for two and a half hours of crowd favorites.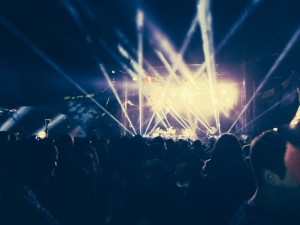 Whether dropping relative rarities ("Let It Rock", "Do What You Like") into the heart of a festival set or honing seamless transitions (the "Driving Song" sequence), their lengthy performances were peppered with a silly amount of improvisation.  Panic is the type of act that the undercard sets up perfectly.  After a series of sets designed around diversity and creating a vibrant, inclusive mood, theirs is a set that brings the audience's focus front and center.  A true headliner with the skills, catalog and rabid fanbase to justify it.  In a way, this whole festival was set up around Panic fans, and the main attraction secured their loyalty and helped put the whole thing into perspective.
The only disappointment, is that with a lineup filled with frequent collaborators (Denson, Trucks, Tedeschi, Herrmann, Haynes), JB and the boys invited no friends to join them on both Saturday and Sunday.
And as much brand control that POTM was engaged in throughout the event, nothing that happened on Sunday garnered them as much attention in the press than the asshole who rushed the stage during Panic's set, changing the narrative from fest-ending celebration to WTF.
So, let's revisit the question I posed at the top of this article.  Is Phases a key part of the solution to the festival puzzle?  Are they filling a necessary gap?  Is an autumn jamband festival in the Midwest an essential, viable addition to the music landscape.
Despite some hiccups, they bootstrapped themselves quite nicely, creating a unique experience that sets them apart.  Phases came about by clearly not throwing a bunch of stuff at the wall and seeing what sticks.  It was a well-thought out, cultivated and well-programmed event, executed by a fine production staff, and commitment to the fan experience.  If you're going to do something like this... you might as well do it right.  I give the team high marks here, with the only stumble coming in how they communicated their difficulties on Thursday.
I think the music stands for itself.  There was plenty to offer that reinforced the spirit of the fest, flowing neatly from the headliners on down to the undercard.  Again, the team targeted the right talent and probably got a lot of what they were after... rarely missing on the lineup and scheduling.  The only question is whether they can sustain this in future years while still offering something new and essential.  The 2014 class was certainly on the top rung of the scene --  I'm not sure a year two with (for instance) Umphrey's McGee or moe. in headlining slots would draw quite the same enthusiasm or provide the same capper to a full day of music.
One can look at the weather (steady rain and frigid temps in the early part of the festival) and accompanying crises and say that maybe the fall isn't the right time for this event.  Then again, the skies and temps the following two weekends in Illinois were picture perfect.  It's not just the fall, but nowadays any season poses threat of severe weather.  It's a crapshoot and, regrettably, something that goes hand-in-hand with planning for an outdoor, rural camping festival.
So here's wishing the festival the best of luck.  Rumor has it they have a five year agreement with the festival site.  Hoping they can appreciate everything they did in year one and build upon it in the years to come.
Video Links
‪Chris Robinson Brotherhood - Phases of the Moon Festival 9-11-4 Danville, IL HD tripod
‪Robert Randolph & the Family Band - full set Phases of the Moon Fest. 9-14-14 Danville, IL HD tripod
‪Grace Potter & the Nocturnals - full set Phases of the Moon Fest. 9-12-14 HD tripod
‪Anders Osborne - full set Phases of the Moon Fest. 9-12-14 SBD HD tripod
‪JJ Grey and Mofro - full set Phases of the Moon Fest. 9-12-14 Danville, IL SBD HD tripod
‪Jackie Greene - full set Phases of the Moon Fest. 9-12-14 SBD HD tripod
‪Railroad Earth - full set Phases of the Moon Fest. 9-14-14 Danville, IL SBD HD tripod
‪Widespread Panic - Phases of the Moon Fest. 9-14-14 Danville, IL SBD HD tripod
‪Gov't Mule - full set Phases of the Moon Fest. 9-14-14 Danville, IL SBD HD tripod
‪Donovan Frankenreiter - Phases of the Moon Fest. 9-14-14 Danville, IL SBD HD tripod
‪Widespread Panic - full set Phases of the Moon Fest. 9-13-14 Danville, IL SBD HD tripod
‪Tedeschi Trucks Band - full set Phases of the Moon Fest. 9-13-14 Danville, IL SBD HD tripod
‪Karl Denson's Tiny Universe - full set Phases of the Moon Fest. 9-13-14 Danville, IL SBD HD tripod
‪Jeff Austin and Friends - full set Phases of the Moon Fest. 9-13-14 Danville, IL SBD HD tripod
‪String Cheese Incident - full show Phases of the Moon Festival 9-12-14 Danville, IL SBD HD tripod
‪Leftover Salmon - 9/13/14 - Phases of the Moon Festival
‪String Cheese Incident - Lunar Landing Conspiracy - 9/12/14
Audio Links

Nicki Bluhm & The Gramblers 9/13/14
Kark Denson's Tiny Universe 9/12/14
Tedeschi Trucks Band 9/12/14 (SBD!)
Leftover Salmon 9/13/14
Jackie Green 9/13/14 (SBD)
Sam Bush Band 9/12/14
Railroad Eart 9/14/14