Setlist, Recap & Video: Tame Impala @ Metro, Chicago, IL 11/13/12
Thanks to @WeirScrewed for the reporting!
What's the story with Tame Impala? It's rare that we he the opportunity to (or have the desire to) cover a true "buzz" band at The Barn Presents. But, we've fallen hard for Tame Impala, and knew that the Chicago stop for this Western Australian band had to be on our agenda. That said, we were not alone. The crowd was bulging -- the floor was so crowded once you left you could barely get back in without trampling over people.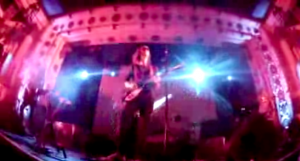 Why all the fuss? Well, they hit all the items on the 60's-70's Psychedelic Rock" checklist: Crunchy guitars? Check. Swirly keyboards? Check. Driving rhythm section? Check. Hypnotic light show? Check. All there, and even though you've heard it before in other places, most likely those places have never been a live show quite like this one. Most likely, it was when you first heard early Floyd, Cream, Deep Purple, or Black Sabbath on a cassette tape.
At one point late in the show I heard a lick and swore the 1970 version of Eric Clapton was going to rise above the stage and start playing "Sunshine of Your Love". They wear the sound on their sleeves -- Kevin Parker has a Rickenbacker 325 guitar (Lennon's black guitar with the white pick guard) and Nick Allbrook was playing a Hofner (McCartney's tiny violin shaped bass). Dominic Simper also played keys for a while which created the classic swirl effect.
How'd the Metro show go? The first plus was the huge, clear sound. The band ran through their set like professionals, with plenty of feedback and a mighty noise for such a tiny room.
Any tunes stand out? "Elephant", "Feels Like We Only Go Backwards", and "Apocalypse Dreams" really cut to the heart of what this band is all about. "Apocalypse Dreams" featured what seemed like some extended jamming, not a ton, but definitely had a levitation effect. Psychedelic full bloom, if you will.
The encore, "Half Full Glass Of Wine" was incredibly powerful and the crowd ate it up. Perhaps playing it earlier in the set could have opened things up. They had some modest segues throughout the night but I think their energy is focused on killing these same songs in the same way every night.
They replicated the sounds from the album quite well and it is a testament to that which is Kevin Parker. This music is his singular creation, but he has clearly empowered this band to help him craft his vision for different crowds every night. Ironically, the joy that the crowd gets from songs that are clearly about psychic pain must be what it was like to attend a Cure concert in their heyday -- strong front man whose vision of pain/despair is replicated by his band yet he can still bring crowds to their knees and give them tremendous joy.
Where do they go from here? The only downside was that the place was shitty packed, and it was hard to see the stage at all. For that, it was not easy to get immersed into the show.
If they don't come back to Chicago within the next 3-4 months at least once I question their handlers. Think Alabama Shakes in Chicago in the past year: Lincoln Hall > Reggie's (super cool high demand radio sponsored 'exclusive event') > Riv (headlining) > Chicago Theater (opening). This is the arc they need to follow/be mindful of. It will be hard to top what they've got going on Lonersim, but the formula is here for a bigger and better live shows. Let's hope we see some soon.
Tame Impala -- 11/13 Metro Setlist:
Be Above It
Intro
Solitude Is Bliss
Endors Toi
It Is Not Meant to Be
Music to Walk Home By
Elephant
Feels Like We Only Go Backwards
Lucidity
Alter Ego
Mind Mischief
Why Won't You Make Up Your Mind?
Desire Be Desire Go
Apocalypse Dreams
•••••••••••••••••••••••••••••
Half Full Glass of Wine