Recap / Video / Setlists | Drive-By Truckers @ Thalia Hall 11/13/15 and 11/14/15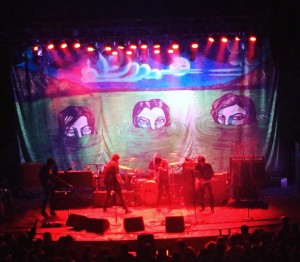 Photo From @ThaliaHallChicago
Drive-By Truckers performed two consecutive nights at Thalia Hall this weekend, playing massive sets. The band played 22 songs on Friday and 23 on Saturday, yet only repeated four tracks between the two nights.
For fans of any band, 41 distinct songs performed between two sets is about all you can ask for.
It almost needs to be mentioned that the terrorist attacks at the Bataclan music venue in Paris occurred mere hours before the band took stage on Friday, a fact that didn't seem lost on the band.
Closing their monstrous set with "Angels And Fueselage" and "Shut Up And Get On The Plane" feels deliberate, the two songs closers from Southern Rock Opera, both addressing the death of Lynyrd Skynyrd members in a 1977 plane crash. The band then broke into Jim Carroll Band's "People Who Died," a less-than-coincidental choice, given the scenario.
Otherwise, Friday's performance showed a broad diversity, pulling from eight of the band's ten studio albums and focusing primarily on older material from Southern Rock Opera and A Blessing And A Curse.
Saturday's set seems slightly more tame, yet no less epic.
Though still pulling largely from Southern Rock Opera, the band focused more on newer material from Brighter Than Creation's Dark and English Oceans.
The band covered Warren Zevon's "Play It All Night Long," a fittingly South-based song, and closed the main set with the always raucous "Hell No I Ain't Happy."
Saturday's encore combined five of the band's most energetic live tracks, beginning with the classic "Let There Be Rock" and matching it with the equally rocking "Shit Shots Count" and "Lookout Mountain." They then closed with the old and rowdy "Zip City" and the newer "Grand Canyon," the latter's introspective feel an appropriately deep ending to the ambitious two-night run.
Watch the band discuss Thalia Hall and play "Birthday Boy" and then read both set lists below.
Friday, November 13 Setlist:
Tornadoes
Get Downtown
Feb 14
Where The Devil Don't Stay
Sink Hole
First Air Of Autumn
Ramon Casiano
Gravity's Gone
Wednesday
Shit Shots Count
Steve McQueen
A Ghost To Most
Sandwiches For The Road
Women Without Whiskey
Dead, Drunk, And Naked
Guitar Man Upstairs
Puttin' People On The Moon
Encore:
Birthday Boy
Girls Who Smoke
Zip City
Angels And Fuselage
Shut Up And Get On The Plane
People Who Died (Jim Carroll Band Cover)
Saturday, November 14 Setlist:
72 (This Highway's Mean)
Ronnie And Neil
Made Up English Oceans
Darkened Flags On The Cusp Of Dawn
The Righteous Path
3 Dimes Down
Play It All Night Long (Warren Zevon cover)
Women Without Whiskey
The Living Bubba
A Ghost To Most
Goode's Field Road
Where The Devil Don't Stay
The Company I Keep
Love Like This
The Night G.G. Allin Came To Town
Marry Me
Hell No, I Ain't Happy
Encore:
Let There Be Rock
Shit Shots Count
Lookout Mountain
Zip City
Grand Canyon