Recap / Photos / Setlists / Video: Yonder Mountain String Band @ House Of Blues 10/25 & 10/26 2013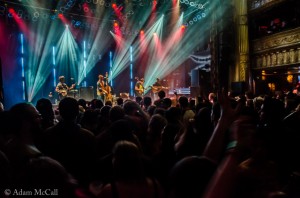 Photos: Adam McCall Photography
It's been almost fifteen years since I first saw Yonder Mountain String Band perform at their first ever Chicago area show, huddled around a single microphone at Abbey Pub for no more than about two dozen people.  Billing themselves at the time as "Colorado's Nakedest Bluegrass", this intriguing (yet meaningless) tagline, along with heaps of advance Internet praise, brought exciting news of a traditional ensemble, who played anything but traditionally, to tour stops far and wide.
The songs that they played that night immediately struck a chord.  Many of them would find a home on their first two albums, Town By Town and Elevation, each leaning heavily on bluegrass idioms but imbued with a youthful optimism and even impudence.  I was heavily vested in legendary newgrass heroes like Bela Fleck and Sam Bush at the time, but here was a group of and for my generation.  They obviously revered those guys, too, along with towering rock and jambands musicians, and packaged all those influences into an immediately embraceable songbook that I could just latch right on to.
But what struck me about catching Yonder again last weekend, is that they're not young anymore.  That's not a slap, mind you... we've all grown up . They've been so invested in the circuit and evolved in so many ways that they've actually become elder statesmen.  Of course, there are aspects of the music that still harness that youthful energy, especially as the band makes hay out of segues and its opportunities to extend boundaries of the songs they've recorded, no matter when they made it onto CD.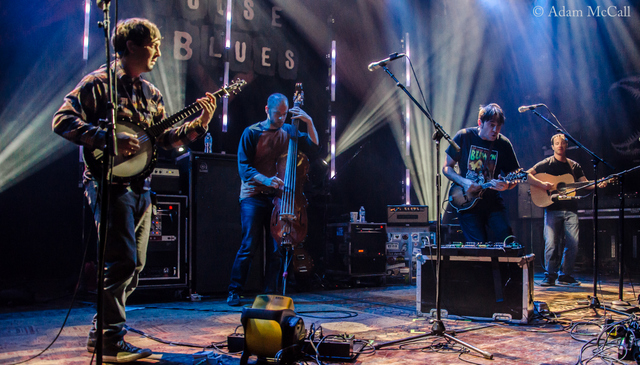 Only a handful of those early songs were in play on Friday, choosing instead showcase more recent output that actually contains a bit more depth and dynamic range.  The improvisational passages reflect this maturity as well: "Catch a Criminal" and a set opening "Sidewalk Stars" perhaps being the best examples.  Saturday featured a trio of old favorites in the heart of the second set ("Left Me In A Hole" > "Keep On Going", "Rambler's Anthem") -- Yonder's not abandoning their roots... only augmenting.
They also proved again that they probably also have the greatest rock sensibility of any of the newer jamgrass groups, especially given the group's lack of drummer.  Slipping in covers of Talking Heads and Frank Zappa amongst traditional and jug band bluegrass tunes, they are able to infuse new-wave rhythmns and prog-rock changes into the four stringed instruments.  And of course, nowhere was this more more clear than Friday's encore: the traditional "Shady Grove" capping a tender take on the Dead's "Here Comes Sunshine", embracing the jam band ethos that the band and its fans share.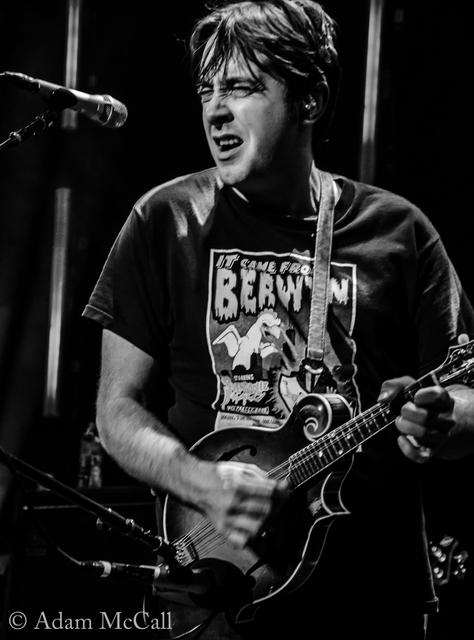 Chicago has always embraced them -- and likewise they tend to look out for us, often dubbing their jaunts through the city as "Kinfolk Celebrations".  Austin, as usual at these local stops, making it a point to acknowledge his mother in the crowd, who remains an area resident.  In fact, Yonder jumped on the acrostic setlist bandwagon at Saturday's show (employed recently by Phish and Furthur), using the first letters of the first seven songs in Saturday's second set to spell out K-I-N-F-O-L-K.
The Founding Fathers, a duo consisting of Chris Panolfi and Andy Falco, provided support.  Knowing only that Andy & Chris were members of Infamous Stringdusters, I thought that I had walked in on an unbilled additional opener on Friday.  This project employed loops and sequences via a MacBook to supplement electric guitar (and eventually acoustic and banjo) to create electronic soundscapes, not exactly what I'd expected.  But when these two joined Yonder for a pick party at the end of Friday's second set, it was back to the basics that both Yonder and the Stringdusters are known for, finding plenty of room for hot string solos in The Beatles' "Come Together" and a true Yonder classic "Traffic Jam".
Check out Adam's full set of great snapshots from Friday's show below!
Friday, October 25th, 2013
House Of Blues - Chicago, IL,
Set 1:
Illinois Rain > Kentucky Mandolin > Illinois Rain, Rain Still Falls, My Gal, Winds Of Wyoming, Fine Excuses, Another Day, Catch A Criminal, Ten > Girlfriend Is Better > Ten

Set 2:
Sidewalk Stars > Ain't Been Myself In Years, You're No Good, Straight Line, New Horizons > Funtime > New Horizons,One More, Southern Flavor, This Train Is Bound For Glory, All The Time, Come Together*, Traffic Jam*

Encore:
Here Comes Sunshine, Shady Grove

*Chris Pandolfi on banjo and Andy Falco on guitar

Saturday, October 26th, 2013
House Of Blues - Chicago, IL

Set 1:
If You're Ever In Oklahoma> Pow Wow The Indian Boy> If You're Ever In Oklahoma, Near Me, Blue Collar Blues, Irondale, Only A Northern Song, It Takes A Train To Cry, Ain't No Way Of Knowing, Just Like Old Times, Little Maggie> Mother's Only Son> Little Maggie

Set 2:
Keep On Going> Isolate> Night Out> Finally Saw The Light> Old Plank Road> Left Me In A Hole> Keep On Going, Rambler's Anthem, I'd Like Off, I Am The Slime, Peace Of Mind> Shake Me Up> Peace Of Mind

Encore:
Town, Raleigh & Spencer, Bloody Mary Morning