Preview & Ticket Giveaway | Del McCoury Band & Jeff Austin Band @ City Winery 1/17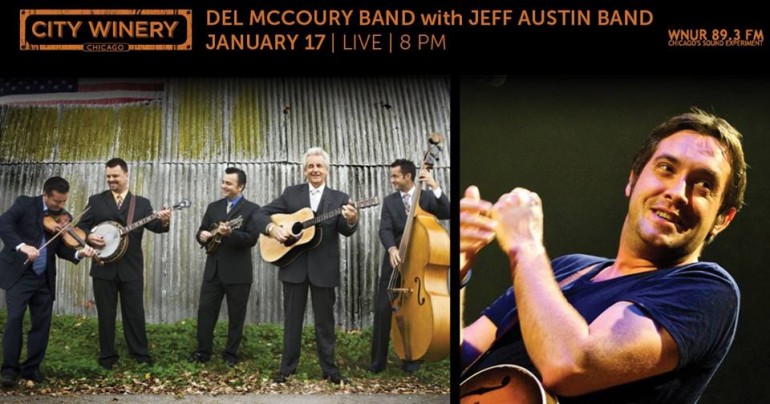 It seems like we can always look forward to a few Chicago visits per year by Del McCoury.  City Winery is quickly establishing itself as "home turf" for the bluegrass legends.
They've been keeping themselves busy -- and taking a page from the Billy Bragg and Wilco playbook in the process -- by putting the finishing touches on a Woody Guthrie album.  It features lyrics by Woody that have never been put to music set to tunes by Del.  Says Woody's daughter Nora, "if my Dad would have had a band, it would have been The Del McCoury Band".
Del plays two shows this Sunday night.  While the 5pm show is nearly sold out, there are a couple of extra incentives to get you out to the 8pm gig.
- The band will share the stage with the Jeff Austin Band
- The "late" show is not all that late on a Sunday.  Plenty of time to get you to work on Monday morning, or to your next outing if you have the MLK holiday off
- We're giving away some free tickets!
Entering our contest is simple.
1. Send us an email with the subject "Del & Jeff" to info @ tomorrowsverse.com — in the body tell us your full name and the name of a friend you'd like to take.
That's it. You're entered. We'll notify the winner on Saturday.  But if you want a few extra entries, let's get social…
2. Find the link to this page in our Facebook timeline. LIKE it, and tag the friend you'd like to take in the comments — that'll give you a boost. Be sure to LIKE The Barn on Facebook for it to count!
3. Find our tweet about this page in our Twitter timeline. RETWEET it and that will give you one more boost. Be sure to FOLLOW @thebarnpresents on Twitter.
4.  Check out this video of Jeff and Del from Delfest 5  Won't give you any extra entries but sure is cool. (Apologies for the portrait video).