Phase Two: More Lineup Additions for Phase Of The Moon
In early February, I published a piece introducing a new Illinois music festival and doing some speculation on some of the talent that was To Be Announced.
Now that the Phase Two lineup has been revealed, let's see how I did...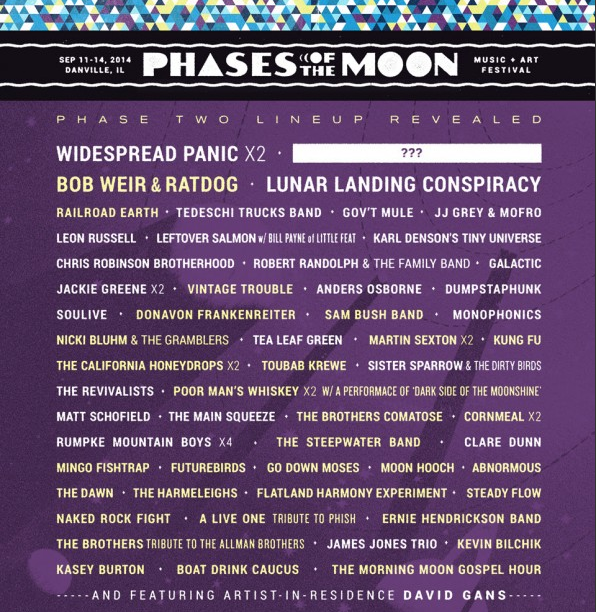 Actually, not bad…. but also room for improvement.
I suggested that two of Ratdog, String Cheese Incident, Allman Brothers Band or Trey Anastasio Band would fill two remaining headliner spots for the inaugural Phases Of The Moon Festival.
Looks like Ratdog wins and I'm still strongly expecting SCI (Michael Kang has been known to add fiddle to performances of Poor Man's Whiskey's Dark Side Of The Moonshine), so I'll officially withdraw my speculation for ABB or TAB (especially now that both Allmans and Phish tributes have materialized).
Looks like I also whiffed on Umphrey's McGee.  Oh well...but I did nail a handful of my Wildcards / Local Talent.  Railroad Earth earns the slot just beneath the headliners and Nicki Bluhm & The Gramblers also fall nicely in the middle of the card. Also very pleased to see Sam Bush Band and Kung Fu making some noise.  On the local side, Cornmeal gets two sets as predicted.  The surprise  -- although I've always suspected they'd make a great jam festival band -- is our friends in The Steepwater Band making an appearance.  That's nice programming.
So it looks like this is a pretty full card.  The only major question left to speculate on is the Lunar Landing Conspiracy.  I'm inclined to think that this project may feature Bob Weir… as a supergroup commanding headliner status needs a repertoire and Bobby hasn't shied away from strange collaborations in the past.  The Grateful Dead songbook may be as good as any for this purpose.
Towards the bottom of the bill are a number of bands that even a hardcore music freak like myself hasn't heard of.  Not unusual for a festival like this, but I suspect a lineup with a little more local star power may have benefitted this first year fest.
I'm a little skeptical, but let me be clear: this is a FIRST CLASS LINEUP.  However, lineups do not a festival make.
The combination of the middle-of-nowhere location, "during-the-school-year" time frame, jumbo ticket prices (even for "early bird" buyers), competition for concert dollars, lack of single day tickets or revelation of daily lineups all seem to somewhat damper what should be boundless excitement for this.
It's still very early -- and there's more to be revealed --  but I'm interested in knowing who is making plans for this already.