Going Off The Rails - An Interview with ALO's Zach Gill
Going Off the Rails - An Interview with ALO's Zach Gill
By @312mrg
I've had the pleasure of interviewing ALO keyboard, vocalist, ukulele and accordionist Zach Gill twice now prior to shows at Chicago's Double Door, including their upcoming 10/14 visit. In these conversations, I've learned that he's humble, thought provoking, and won't let a question or random tangent go unaddressed. He's been my favorite musician to interview for this blog, because his banter comes across as it would as if I were catching up over beers with a friend I hadn't seen in some time. Easy, approachable and accessible, just like the music of ALO. But just as the band's polished studio efforts, including "required-listening" releases Roses & Clover and Fly Between Falls, have a contained, coffeehouse feel, their songs, as conversations with Zach can, mushroom into ambience, but always seems to land nicely.
While their music is accessible, seeing ALO performances hasn't quite been for non-West Coasters. They stretch their legs and head eastward when they want, and as the case with the two longer tours they've done recently, when they've got some new material to evolve live. Zach caught up with us to talk Tangle of Time (Brushfire Records - 10/2), the growth of the band, and the influence and confidence that their side projects have brought to the collective. See this band, you won't be disappointed!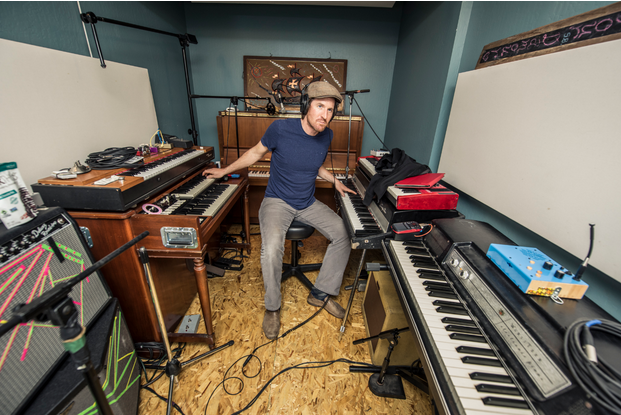 The Barn: I read the interview in the Independent in San Francisco -- I think where your daughter interviewed you-- which I thought was really cool, because it reinforced this perception I have about with how family oriented and tightly knit you guys are and what you sing about.  I really love that at this point of my life developing relationships with my own daughters. But you made this comment about how when you hear that your lyrics or music touch fans, that it's a special gift as a musician. I remember a stretch of time personally connecting with not just your studio work -- but your live and unreleased stuff -- that really gave me something to use as a mechanism of therapy.  You guys write and play some emotional music and have emotional themes. It soundtracked a stretch of my life...
Zach Gill: That is so nice to hear and thank you so much. You know it's funny, because it's melodies or songs that play such a huge part in so many people's lives, and sometimes it's like the song is the external hard drive, but inside the hard drive is this feeling or emotion that gets stored and each time you access that song, you access that feeling or emotion and it takes you back to that time. And maybe it's changed over time, but you can still feel it, and it takes the song to bring it out, otherwise you wouldn't even remember.
The Barn: Ha!  You have no idea how much sense that makes. So you are again touring and supporting Tangle of Time, but the last time we talked two  years ago, you told me, "what if we made whatever we made and didn't worry about that (poppy/hook) aspect of it at all?" How would you characterize the differences in these past two recording experiences, because this album sounds a little more in that pop realm, or a little more radio friendly? Would you consider it more in line with some of your previous ALO releases like Roses & Clover and Fly Between Falls?
ZG:  Yeah, I would say, it's definitely a continuation process from the last one (Sounds Like This). There's an aspect of it that's reactionary because the songs are so long, and you are dealing with cutting tracks because they just wouldn't physically fit on a CD.
So with this one the actual approach was similar but what was different was the time we had to make it. You know we started looking at the calendar, and everyone was so involved with these different things, and we saw there was only like two weeks that we could get together and do it.
And we made albums like that before, but was that what we want to do?  Do we want to wait for another window to open up where we could take more time?  But we decided just to jump in. And as a result of that kind of constraint, everyone came with their songs and we learned everyone's songs. And the jams happen where the jams happen, but after two weeks we thought, this could be just the beginning of the process and it felt good.
There was still stuff that didn't make the album, and even stuff from the archives of Sounds Like This that wasn't on that record. So it feels a little like Roses & Clover to me, because that was a similar process where everyone brought in songs.
The Sounds Like This album we went in with a very open, just get together, start recording and see what happens. So we had the slightly different approach. There's something really exciting about how everyone's really improved as a singer in the band over the last few years, and it was going to be really cool to make a record that displayed that.
At the end of the Man of the World sessions, we recorded this song "Suspended", I think it opens that album, it was sort of a breakthrough for us because it was the first time being in the studio and making something that could feel the way it would live. The whole process of recording that album -- it was a very comfortable space, where we were actually using the recording studio as an instrument. Even though the songs aren't jammed out, it's the closest we came to feeling like it would live. So we kind of carried that through to Sounds Like This, where we could relax and stretch out. So it's a bit of a hybrid and progression where with Tangle of Time, everything felt really natural. This is how we work.
Barn: So ToT is definitely more balanced from a contribution standpoint from Zach, Lebo, Steve and Brogan?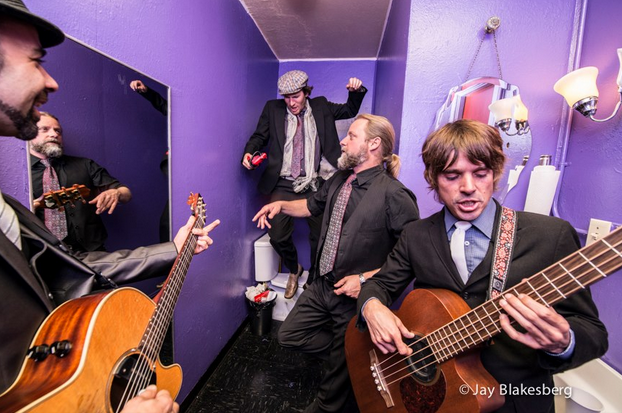 ZG: Yeah. Totally. I would say that was partially the intent. You know in a band, everyone has their position. First position Zach on keyboards singing lead vocals, Brogan's playing drums, Lebo's taking a solo, and Steve's holding it down. And that's how on Sounds like This things were pretty collaborative, but I don't even think there's any other vocal contribution.  I think I sang lead on almost every track just because we were kind of operating and filling into those positions. This one:  Steve's got a song, let's kind of support Steve as being the leader of the band for this moment.
And that was cool, because it yielded new results for us and fresh growth, which is what you always want.
Barn: So you had this two week period to actually come up and cultivate these songs or was it just to record?
ZG: Well that was the thing. We kept realizing there wasn't a lot of time in general and everyone had a lot of songs. Typically we'd get together in a garage and say, "here's a song I wrote, and try to record it on an iPhone."
And we'd say this song could kind of go in this direction, maybe you want to do this or that, but with this one, everyone sent their demos, which were pretty rough. Some were more worked out than others but we decided to forego the pre-production. The studio kind of became the pre-production. If we didn't like what we came up with, there was no pressure to put it out, but it ended up flowing pretty well.
A week into it we were like "we can definitely make an album this way." But the process started out pretty experimentally, where we just went into the studio one day and kicked it off. The hardest thing was deciding where to record, because we really dug the space we had used previously in San Francisco. So we found this space in Marin, it was a good price, so I loaded up my car with so much gear, I literally brought a U Haul filled with gear, but used none of it. I think I played baritone ukulele on every song for the basic tracks, and eventually added other stuff.  I didn't know what was going to go down and I didn't want to be without it!
Barn: Well, there is a stripped down feel and that signature studio feel you guys seem to have been able to craft, but then on the other hand songs like "The Ticket" and "Coast to Coast" have that alternate ALO live explosiveness and launchpad capability
ZG: Oh yeah, they definitely feel like they can launch off at any moment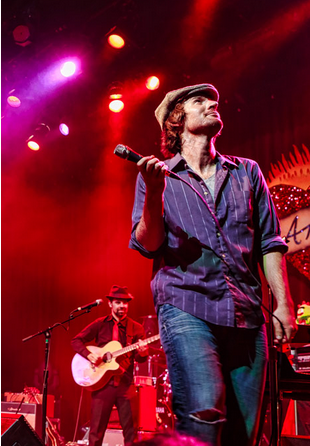 Barn: But you haven't had the ability to really tested the material live. From listening to some of your live shows like High Sierra in July and even a September show in Reno, I think I've only seen maybe one Tangle of Time song. So when you embark on a tour like this, what's the approach? Are you wanting to promo the album and really road test the new material or find a comfortable balance between ALO staples and blending in the new material?
ZG: We're excited about the new material. But this is the first record where there was such a focus. I mean in the past, there wasn't that much material. When we first started we never really worried about what songs were on the album because there weren't any albums.
Then as soon as Fly Between Falls came out, and we'd have a few people that knew early stuff, but most only knew this one record...you'd play those songs and they'd go over so well, things came skewed toward album tracks.
But as time has gone, setlists have really diversified, and I think we'll continue down that path because like, suddenly an old song will become a new song again. It feels like things can become more musically driven and inspired.
I mean we certainly want to promote album...but it's more about the body of work at this point. So of course there will be plenty of new songs.  I was thinking about sending out a Facebook thing and say, "what do people want to hear on this tour?"
I think we'll release this later in the year: it's a documentary my friend made about the band in 2002, and no one's ever seen it. It's pretty raw footage, but it's super cool. And I was amazed at the songs we were playing, there were a couple pictures of setlists, those were staple songs for the year, and I think the only one that made an album was the "Gardener".
But I was listening to these old songs, and I was like, I like this jam! They just didn't make it on that one album, so they kind of fell off the setlist. So I feel like there are all these possibilities, and then the new songs I'm excited to explore. Excited!
Barn: And that's a nice seed to have planted right before a tour where you're hitting audiences that haven't seen you in some time or before...
ZG: It's fun to take some chances, It's timely with this album, because you're always thinking of growing and growing, and getting bigger and bigger, and we gotta get out to the East Coast. And I still have all of those desires and feelings, but there's a lot more feeling of: OK, we don't make it out to the East Coast that much, so I really want it to be AWESOME for THAT person. I want people to come away with this...I want it to be a night to remember for someone that doesn't get to see us often.
Barn: Well, you guys have been together for 20 years. You have family commitments and time carved out for your own side projects.  It really seems that touring hasn't become a thing to do out of necessity, but when the time is  right. But you don't seem to have this pressure surrounding you guys that this is something you have to do, but that you want to record and you want to tour. So that finds a way to get soaked up in your performances, making them special occasions for the audience.
ZG: That's totally it! I like thinking of it that way.
Barn: Well the question out of that is how do you balance that laid back atmosphere and prevent becoming complacent?  How do you stay motivated and know when to push boundaries?
ZG: Well, I feel like you use your gut. It's like how do you know when to do anything. It's slightly intuitive. There's all the different things to worry about, the constraints. Like how many tickets you've sold, or how many albums we've sold, and you start to think, do we need to do more of this or do we need to do more of that.
And that's stuff is good because it makes sure you've done your homework...but I think for us, I feel like that is what the name means for us right now. It's not about being reckless. I mean there's certainly a place for that in an ALO show with experimentation, but you know it's the Animal Liberation Orchestra. Sometimes that animal is going to be run sterile, and sometimes that animal is going to be contained in a specially modified zone, but you're always trying to find this line between freedom and comfort.
It's wonderful playing in Europe with Jack (Johnson) and to play knowing exactly what song is coming up in the set next and know, not that we have fireworks, but that the scripted part where the fireworks are going to go off, you know when they are gonna hit... that's great. It's like musical theater, and I like that for sure at times. But ALO is in this sweet spot where finding those moments of veering off course and it's totally entertaining. You know the train's just jumped the tracks, let's see where we go….
Barn: And there is the live excitement and realization between band and audience that when that happens, everyone's in that car together without any idea of where it's going.
ZG: I mean I think a lot of that trajectory, a lot of help has come from our side projects, and bringing things back to the band. We didn't always expect it to. Like Lebo's been playing with Phil (Lesh), and while Phil likes to rehearse, but with Phil there so much in the moment stuff that happens, I think it's made Lebo feel like "OK, I don't need to know this song", and that's made us all be like, you can change all the parts but find our way back to that comfortable spot in a song when we go off course.
Barn: So I was really interested in knowing the effect those experiences playing with Phil had on Lebo, or even playing with Steve Kimock. I'd love to get your take on Lebo playing with those outfits vs. ALO, and what he's brought back to the band. And even beyond Lebo, Steve Adams playing with Nikki Bluhm and the Gramblers.  Are these endeavors just an outlet to get some musical mischief out of the way, or is there something more subconscious that you think has happened?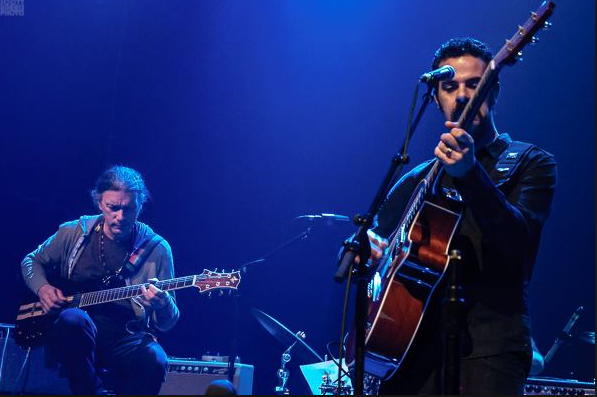 ZG: ABSOLUTELY...It's totally evolving ALO, I mean 100%! I mean I think it's a hundred different levels you don't even think about. Being in a band for so long, everyone has had their prescribed role. Again, as recently as Sounds Like This, we had our defined roles.
But's it's cool, like in the Kimock band, Lebo is the primary singer and NOT the primary soloist, that's Kimock. You know which is such a huge change for him, like never in his life has he been the lead singer and rhythm guitar player. And that's a huge thing right there.
And I had a similar thing when I was with Jack Johnson's band, and I'm the backup singer, and I'm the main soloist, and it's like WHOA. And I never take solos, I never do this, but it leads to confidence and me feeling like, okay, I can do this.
I feel like Steve is doing a similar thing. The Gramblers are really vocally heavy, tons of harmonies, and he's stepped right in there and they call him the eager backup singer now, which was not the case before, you know he was like the least likely to sing. It's funny, on the new album, most of the backup vocals are choirs of Steve. He came down to my house in Santa Barbara, and put some vocal harmonies down, and I'm recording this, and I'm like... "do another one, do another one," so there's layers of Steve's voice. There's a slow one at the end of Tangle of Time, "A Fire I Kept", with all these lush vocals of just Steve layered over and over again, and he was so eager to do it.
And I'll say this for myself, having done a solo record, and even for Dave (Brogan) who feels the same way -- who went out and did a solo record and fronted a band for a while.  He's really appreciated the bandmates. Right now, there is so much crazy ALO stuff happening. Brogan's somehow learned web design so he's making the new website, I've been meeting with this theater guy in Santa Barbara designing this reflective turkey tray material thing that's going to become our stage props and I'm super excited about it. And Steve's working on all the merch design and Lebo is even on tour with Kimock at the moment….
Barn: Lebo always has some really precise and articulate quotes when he talks about the band, and he said in reference to your side gigs, that while you all have these things you are all excited to do and take part in, and playing with these great other gigs is outstanding, it's still not this (ALO), and I love that because it really comes across as how much you guys love being together after all of these years…
ZG: It totally feels like a spiritual quest, for lack of a better way of saying it. I mean I feel grateful, of course I'm sad I'm gonna leave my kids and stuff, but everyone's supportive, you know it's one of the things I get to do in life. It's gonna be a solid three weeks of shows, I'm excited to be together, have fun. It's like music camp: work on your songs, covers, get your new songs in the set. Hopefully we'll even start working on brand new music. I feel like everytime we get together in the studio, and do something new, it's like... more of this please!
This is the second in a three part series, spotlighting ALO, Animal Liberation Orchestra, for The Barn Presents. Keep an eye out for our review of their 10/14 Double Door show with New Orleans punk pop band Yojimbo.