Alex's Top 150 Albums Of 2014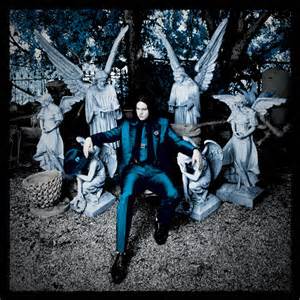 Frequent contributor Alex Wood has assembled his list of the top 150 albums of the year.
1. Jack White- Lazaretto
Lazaretto is an instant classic, an album that successfully combines the sounds of Jack White's past work and influences to create something wholly his own. A record free of crazy effects and using no compression in the production process, each song consists of layers of instruments sounding the way they actually sound. White's riffs rival any of his best work with the Stripes or Raconteurs while the lyrics balance playfulness with attitude, creative imagery with straightforward concepts. This record belongs in any rock fan's collection and is as much 'classic rock' as most of the classics.
2. Parquet Courts- Sunbathing Animal
The endlessly prolific Parquet Courts struck gold this year with Sunbathing Animal. The album finds the band straying further from their punk roots, stretching out comfortably into wandering jams that somehow meander with precision, always building and growing while circling back to prior musical themes and lyrical sections. The record is packed with energy, drawing easy comparisons to early Velvet Underground or the earliest years of the post-punk scene with its clever lyrics and sharp, angular riffs. Sunbathing Animal is evidence of the New York four-piece's maturation, accomplished solely through solid songwriting.
3. Prince & 3RDEYEGIRL- Plectrumelectrum
Prince returned with a vengeance in 2014, releasing two acclaimed full-lengths simultaneously. Plectrumelectrum featured a new band, 3RDEYEGIRL, consisting of three female musicians from three different countries, and surprisingly wound up being amongst the hardest rocking records of the year. The album is rooted in the funkiness and sexuality fans expect from Prince, but with a focus on heavy guitar riffs and solos. The record feels like collaboration between all members, with guitar duties split between Prince and Donna Grantis and vocals contributed by all members. Plectrumelectrum is amongst Prince's most straightforward rock records to date and, above all else, a reminder of the musician's ability to shred on a guitar.
4. Kishi Bashi- Lighght
Japanese violinist and songwriter Kishi Bashi produced a stunning and creative collection of songs with 2014's Lighght. The songs are constantly moving, their textures created by the versatility of the violin work while held in place by warm acoustic guitar and a tight rhythm section. Songs jump from sad violin strokes to upbeat dance numbers in a matter of seconds as members fade in and out of the mix. Kishi Bashi's vocal delivery is unparalleled, comfortably covering a massive range while delivering gorgeous melodies and distinctive lyrics. Production is dense but clean, allowing the listener to hear each layer of the complex music. Though an impossible album to define by genre, the songs form a truly cohesive whole, becoming one of the year's catchiest and most unique records.
5. St. Paul & The Broken Bones- Half The City
After two EPs, soul outfit St. Paul & The Broken Bones perfected their sound with 2014's Half The City. The record is as nostalgic as it is refreshing, a nod to blatant influences that goes far beyond imitation. Paul Janeway's vocals have the emotional intensity of Otis Redding's, and the six-piece backing band knows exactly how to execute the classic soul sound to emphasize the powerful vocal delivery. Every instrument enters and exits songs as needed, with a horn section adding an extra punch and a dirty organ providing a necessary, nostalgic touch. The rhythm section keeps energy high, even in slower ballads, paying close attention to dynamics and soloists. Full of talent and passion, St. Paul & The Broken Bones are a breath of fresh air in the often-stale soul revival scene.
6. Prince- Art Official Age
Prince's second 2014 release stands in stark contrast to Plectrumelectrum. Art Official Age is classic Prince, with funky dance beats full of synthesizers, vocal effects and drum machines. The songs insert Prince's sexy, smooth vocal hooks into a funk-meets-EDM musical backdrop. The record rarely slows down or falters, yet breaks new ground constantly. From spoken word sections to rap verses to guitar solos to electric keyboard ballads to horn lines, the album finds Prince exploring all possibilities with a successful result that sounds like the record Prince has been trying to make for decades.
7. Medeski, Scofield, Martin & Wood- Juice
It's possible that Medeski, Scofield, Martin & Wood are the best jam band around today. The jazz trio's already stellar musicianship only improves with the addition of guitarist John Scofield. The four listen closely to one another while performing yet constantly discover new directions to take each groove. Juice sounds more laid-back than 2006's Out Louder, infusing Afro-Latin rhythms into the group's blend of jazz, fusion, and rock, with each composition sounding effortless despite the complex musical proficiency. In the end, Juice is an easy yet rewarding listen, and a hard record to dislike.
8. Chet Faker- Built On Glass
Australian electronic musician Nick Murphy, AKA Chet Faker, first gained fame from a sleek cover of Blackstreet's "No Diggity." Far from a one-hit-wonder, Chet Faker's debut full-length builds on his distinctive sound, with laid-back keyboards and layers of vocals moving songs slowly forward over clean electronic drumbeats. As layers are added and subtracted, songs grow to emotional climaxes and diminish to spacious electronic passages, constantly keeping the compositions moving. The tracks are anchored by Murphy's earnest, heartfelt vocal delivery, thick with harmonies and incessantly soulful, making his songs about love and loss feel genuine and making Built On Glass a truly moving listen.
9. Thom Yorke- Tomorrow's Modern Boxes
Radiohead's Thom Yorke released Tomorrow's Modern Boxes on a random Sunday night through BitTorrent, eliminating any middleman from the process of selling his music. The record is an eerie, spacious electronic endeavor that shows Yorke's love of the European electronic scene. Relying primarily on keyboards and synthesizers drenched in trippy effects, the album is as much about Nigel Godrich's flawless production as it is Yorke's songs. Glitchy noises and vocal effects flutter through the background of songs constantly, making the simple compositions sound restless and alive. A unique release amongst countless electronic albums this year, Tomorrow's Modern Boxes is completely new territory for Thom Yorke and substantiation for the singer's relevance in the contemporary scene.
10. Beck- Morning Phase
Morning Phase is considered a companion piece to 2002's Sea Change, and comparisons between the two are almost too easy. The new album, Beck's first in six years, finds the musician at his most serious, lyrically, contemplating relationships and heartbreak, with beautiful musical arrangements to match. Songs are dense, with layers of strings, piano, acoustic guitar and background vocals combining to create a passionate backdrop that passes its aching tendencies on to the listener. The record's sadness is matched by its beauty, and the perfect production emphasizes every piece of the musical puzzle, making every song sound purposeful and calculated, as though Beck reflected on the songs daily for the past six years. Morning Phase is a gorgeous record as complex as anything Beck has done, and serves as a welcome return for the musical mastermind.
1. Jack White- Lazaretto
2. Parquet Courts- Sunbathing Animal
3. Prince & 3RDEYEGIRL- Plectrumelectrum
4. Kishi Bashi- Lighght
5. St. Paul & The Broken Bones- Half The City
6. Prince- Art Official Age
7. Medeski, Scofield, Martin & Wood- Juice
8. Chet Faker- Built On Glass
9. Thom Yorke- Tomorrow's Modern Boxes
10. Beck- Morning Phase
11. Ryan Adams- Ryan Adams
12. The Men- Tomorrow's Hits
13. St. Vincent- St. Vincent
14. Stephen Malkmus & The Jicks- Wig Out At Jagbags
15. Edward David Anderson- Lies & Wishes
16. Sylvan Esso- Sylvan Esso
17. Duo De Twang- Four Foot Shack
18. TV On The Radio- Quartz
19. Future Islands- Singles
20. Ty Segall- Manupulator
21. Robert Plant & The Sensational Space Shifters- Lullaby and… The Ceaseless Roar
22. The Black Keys- Turn Blue
23. Conor Oberst- Upside Down Mountain
24. Nickel Creek- A Dotted Line
25. Broken Bells- After The Disco
26. Spoon- They Want My Soul
27. Owen Pallett- In Conflict
28. Aphex Twin- Syro
29. tUnE yArDs- Nikki Nack
30. Todd Terje- It's Album Time
31. Sun Kil Moon- Benji
32. Sturgill Simpson- Metamodern Sounds In Country Music
33. Run The Jewels- Run The Jewels 2
34. Matt Wilson Quartet + John Medeski- Gathering Call
35. Woods- With Light & With Love
36. Radio Moscow- Magical Dirt
37. The New Pornographers- Brill Bruisers
38. Foxygen- …And Star Power
39. Chad VanGaalen- Shrink Dust
40. Sharon Jones & The Dap-Kings- Give The People What They Want
41. Greensky Bluegrass- If Sorrows Swim
42. Ex-Hex- Rips
43. Jenny Lewis- The Voyager
44. D'Angelo And The Vanguard- Black Messiah
45. Nick Waterhouse- Holly
46. Iceage- Plowing Into The Field Of Love
47. King Tuff- Black Moon Spell
48. Tweedy- Sukierae
49. Hurray For The Riff Raff- Small Town Heroes
50. Flying Lotus- You're Dead!
51. First Aid Kit- Stay Gold
52. People Under The Stairs- 12 Step Program
53. FKA Twigs- LP1
54. Mac DeMarco- Salad Days
55. The War On Drugs- Lost In The Dream
56. Freeman- Freeman
57. Band Of Skulls- Himalayan
58. The New Basement Tapes- Lost On The River
59. Alt-J- This Is All Yours
60. Ought- More Than Any Other Day
61. Strand Of Oaks- Heal
62. Old 97's- Most Messed Up
63. Black Lips- Underneath The Rainbow
64. Christopher Owens- A New Testament
65. Reigning Sound- Shattered
66. Justin Townes Earle- Single Mothers
67. The Growlers- Chinese Fountain
68. Damien Rice- My Favourite Faded Fantasy
69. Cloud Nothings- Here And Nowhere Else
70. Deerhoof- La Isla Bonita
71. Thee Oh Sees- Drop
72. Johnny Marr- Playland
73. Caribou- One Love
74. Lydia Loveless- Somewhere Else
75. Courtney Barnett- The Double EP: A Sea Of Split Peas
76. White Lung- Deep Fantasy
77. Parquet Courts- Content Nausea
78. Marco Benevento- Swift
79. Real Estate- Atlas
80. Temples- Sun Structures
81. TOPS- Picture You Staring
82. David Bazan and Passenger String Quartet- Volume 1
83. together PANGEA- Badillac
84. Flaming Lips & Fwends- With A Little Help From My Fwends
85. Hard Working Americans- Hard Working Americans
86. Bruce Springsteen- High Hopes
87. Andrew Bird- Things Are Really Great Here, Sort Of…
88. The Rentals- Lost In Alphaville
89. Allah-Las- Worship The Sun
90. Phantogram- Voices
91. Rob Cantor- Not A Trampoline
92. Bonnie 'Prince' Billy- Singer's Grave A Sea Of Tongues
93. Tom Petty & The Heartbreakers- Hypnotic Eye
94. Luke Winslow-King- Everlasting Arms
95. Mogwai- Rave Tapes
96. The Hold Steady- Teeth Dreams
97. OFF!- Wasted Years
98. Bob Mould- Beauty & Rain
99. U2- Songs Of Innocence
100. Total Control- Typical System
101. Shellac- Dude Incredible
102. Drive-By Truckers- English Oceans
103. J Mascis- Tied To A Star
104. Freddie Gibbs & Madlib- Piñata
105. Lykke Li- I Never Learn
106. Julian Casablancas + The Voidz- Tyranny
107. Brian eno & Karl Hyde- Someday World
108. She & Him- Classics
109. Thurston Moore- The Best Day
110. The Bad Plus- Inevitable Western
111. Steve Gunn- Way Out Weather
112. The Roots- …And Then You Shoot Your Cousin
113. Damon Albarn- Everyday Robots
114. Alvvays- Alvvays
115. A Sunny Day In Glasgow- Sea When Absent
116. The Preatures- Blue Planet Eyes
117. Sharon Van Etten- Are We There
118. Avey Tare's Slasher Flicks- Enter The Slash House
119. Fucked Up- Glass Boys
120. Neil Young- Storytone
121. Smashing Pumpkins- Monuments To An Elegy
122. Linda Perhacs- The Soul Of All Natural Things
123. Shabazz Palaces- Lese Majesty
124. The Notwist- Close To The Glass
125. Bill Frisell- Guitar In The Space Age
126. NehruvianDOOM- NehruvianDOOM
127. Morgan Delt- Morgan Delt
128. Mr. Twin Sister- Mr .Twin Sister
129. The Coral- The Curse Of Love
130. Quilt- Held In Splendor
131. The Infamous Stringdusters- Let It Go
132. Zammuto- Anchor
133. Elbow- The Take Off And Landing Of Everything
134. Bela Fleck & Abagail Washburn- Bela Fleck & Abagail Washburn
135. EMA- The Future's Void
136. Morrissey- World Peace Is None Of Your Business
137. Kevin Drew- Darlings
138. Delta Spirit- Into The Wide
139. Jessica Lea Mayfield- Make My Head Sing
140. Coldplay- Ghost Stories
141. Circulatory System- Mosaics Within Mosaics
142. Perfect Pussy- Say Yes To Love
143. The Pains Of Being Pure At Heart- Days Of Abandon
144. Robyn Hitchcock- The Man Upstairs
145. Thee Silver Mt. Zion Memorial Orchestra- Fuck Off Get Free We Pour Light On Everything
146. Marissa Nadler- July
147. Leonard Cohen- Popular Problems
148. Hospitality- Trouble
149- Pink Floyd- The Endless River
150. Foo Fighters- Sonic Highways