The Barn's 2012 Year In Review
Are you annoyed when you see "Year In Review" type articles start popping up around the end of November?  If so, I hope you're not offended by a late-January 2012 summary...
The Barn is offering a few different attempts at 2012 recap. The first is my list of the best musical things of the year - a combo of artists, events and concepts that I'll remember most this year.  We also have a Baker's Dozen of the year's best albums and a review of our post popular posts of the year.
Steve's Best Musical Things of 2012
10. Anders Osborne - I feel I'm pretty well connected to my corner of the music world, so it's a bit of a shocker when I realized I had a complete blind spot when it came to Anders Osborne.  But discovering such a blind spot can be glorious, as it was in 2012, giving me the opportunity to dive into to his albums, live shows and countless collaborations and guest appearances.  Anders has been something I've not been able to let go off all year long.
9. Music Streaming Services - They just keep getting better, and 2012 saw them become an ever increasing platform for my musical discovery and consumption.  This year saw breakthroughs in mobile apps, particularly for tablets, in all of the most popular services.  The catalogs for Spotfiy and MOG are so deep, that I routinely find niche artists and small label / no label records as a matter of course.  It's almost gotten to the point where I'm more surprised when whatever I'm searching for isn't available on the streaming service than it is.  For a technology poised to transform the industry, the leading companies made all the right moves towards that goal in 2012.  Now let's get Led Zeppelin, The Beatles, Floyd, AC/DC on to the platform soon, you guys.
8. Wood Tour - Widespread Panic seemed to want a hiatus and not want one all at the same time.  Looking for any excuse to keep the party gong at the beginning of 2012, they hit upon the idea of their first ever all acoustic tour.  Spanning multi-night stands in a few select cities, the band used the short tour to try out new covers, new arrangements, dig out a few old classics and put out an impeccably recorded document of the event.  I think it's a detour that stands shoulder-to-shoulder with the band's best output.  The hiatus didn't even last the year, as they returned a mere ten months later -- but a critical time period which gave Jimmy Herring a chance to spread his wings in a solo project that shows just how good he is.
7. Tame Impala - The aforementioned streaming services have brought all kinds of music to these ears in 2012, so it takes an awfully special record to go into semi-permanent rotation at Barn HQ.  There were a few contenders, but Tame Imapala's Lonerism seemed to capture our imagination in ways that others did not.  It wears its greatness on its sleeve.  The buzz of discovery seemed to ripple through everyone I spoke with and lit up social media.  At a time when undivided attention is harder to garner than ever, Tame's retro noise and pop sensibility had everybody's ears.  Check out the video for "Mind Mischief" (debuted in 2013, but that's a luxury we can afford with a late list).
6. No Time Limit On  YouTube - The video service lifted its 10 minute limit in 2012 opening the door for all sorts of wonderful musical experiences.  Given the convergence of YouTube on platforms like tablets and televisions, and easy ability to embed vids for blog content, this was a welcome change on many fronts.  We were able to upload an entire set of White Denim from the fall and a good chunk of Trey show.  Intrepid videographers like mkdevo are able to put up high quality, uncut songs and jams within hours of the performance.  Hidden Track features a Full Show Friday feature on their blog and their discoveries / selections have been nothing short of mind-blowing.  Best of all, seems like our favorite bands have decided to turn a blind eye to official videos uploaded to the site -- so your as likely to find View From The Vault (nearly 4 hours of pro-shot Dead) and rips of official Phish webcasts as shaky cell phone videos these days.  Win.
5. Neil Young & Crazy Horse @ United Center - I'm not ashamed -- the best concert I saw this year was fronted by a sixty-six year old man.  In the middle of a AARP fueled fall for me (Springsteen, Byrne), Neil put his vitality, creativity and pure creative spirit on display during a lengthy Crazy Horse tour.  Coming in a year which featured a boffo auto-biography, and an out-of-nowhere campfire covers album, I was shaken by just how much Neil has to say in the live setting.  New and old songs both shined.
4. Terrapin Crossroads - Those of us in flyover country are just going to have to get used to it, but thanks to this new Phil Lesh owned restaurant music venue in Marin County, we may be seeing less of our heroes in 2013.  On the plus side, this has opened the door for a ton of new music, configurations and experimentation from Mr. Lesh.  2012 saw the return of the most potent Phil & Friends lineup ever, the Q (multiple times!), Scofield and Medeski joining forces as Leshian friends, complete albums being covered, strange and wonderful lineups of all sorts.   Thankfully, we did get a nice Furthur show in a fine Chicago venue this summer, but a visit to TC remains high on my list regardless.
3. Concert Webcasts - Slowly, inexorably, we're moving towards the day when every single concert of interest is available via the couch tour.  This year, nearly every major festival was streamable, either for free on YouTube, or via a pay service like iClips.  Phish got on-board for several high profile summer runs in addition to their New Years shows. which brought the action to iOS and Android devices as well.  Umphrey's introduced StageIt platform as an emergency measure for their Halloween gig, and brought it back for their NYE run.  Meanwhile smaller bands like Moonalice or Ryan Montbleau Band strived to webcast every single performance..  For the rest, amateurs covered ground where the pros did not.  I feel like the gaps will be trimmed even more in 2013 -- and I'm looking forward to it.
2. Acoustic Music Rises - Call us old farts, but we're one of the only music blogs amongst our peers that hasn't embraced EDM in someway. While mania seems to have peaked in that regard, the best I can say is that acoustic music seems to have found a spot in mainstream culture to somehow balance out its presence.  Mumford & Sons and Avett Brothers were burning up charts.  Trampled by Turtles and Punch Brothers represent the hipster contignet.  And there is room under the jamband umbrella for several acoustic first musicians (up-and-comers Greensky Bluegrass, Head For The Hills make a nice complement for Yonder Mountain and the resurgent Leftover Salmon).  Pickin' always wins.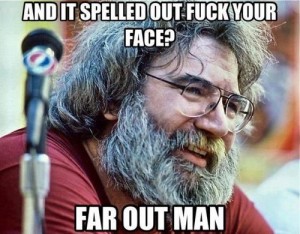 1. The Fuck Your Face Show - The above entries notwithstanding, we live and die by the Phish around here.  Mostly because its fun.  Sometimes because its nostalgic.  But we had long given up on the band delivering any shows that match some of the peak moments of their glory years.  Then 8/31/12 happened.  Coming as it were, near the end of a very strong leg two, Phish delivered a show that could be considered a classic along with the best of any era -- combining gimmickry, wise choices and some flat out brilliant playing in very unexpected places into a total package.  It was their best show of the year -- and my highlight of 2012.  It was even webcast, slaying the weirdest discussion topic of the year ("webcasts negatively affect the band's performance") in the process.  Thanks, Phish.
READ ON for 13 of the best albums of the year...