Review / Photos / Stream / Download | String Cheese Incident @ Aragon Ballroom 1/30/15 & 1/31/15
Photos: Rickie Kostiner (from 1/31/15 show)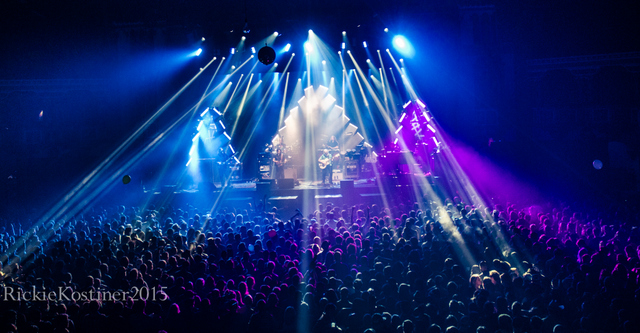 This is the story of losing touch and reconnecting. About making poor choices but also being true to yourself. About nostalgia and living in the moment.
And yes, it's also a review of String Cheese Incident's Friday night show at Aragon Ballroom in Chicago.
String Cheese Incident is a band that practically defies you to like them. In fact, after being a huge advocate of the band for several years, I had essentially shut them out of my consciousness for over a decade.
They seemed to arise fully formed at the tail end of the nineties, when scenes surrounding Phish and even Panic seemed to have divulged into full-fledged mania. They were easy to see, played the small rooms, and offered a heaping helping of the unknown.
They presented as a band capable of producing a show, even entire runs, that deftly fused genres, contained ambitious jamming and offered an overflowing catalog of intriguing material.
But it was only a few years before the wheels came off the cart for me. The very things that helped elevate them seemed eventually to doom them.
The band democracy that created such a unlikely fusion (the cosmic samba/country of "Texas" by all means shouldn't even exist, but somehow it works), seemed to push its members apart... and the songwriting suffered.
Their early success pushed them into venues that weren't ideal for their sound. And they continually tried to force a feeling on the audience (I'm sad to report the dreaded "Group Hoot" made an appearance pre-second set on Friday) instead of letting it occur naturally.
The number of performances per year plummeted. The band's vision became cloudy. It wasn't hard to shut them out.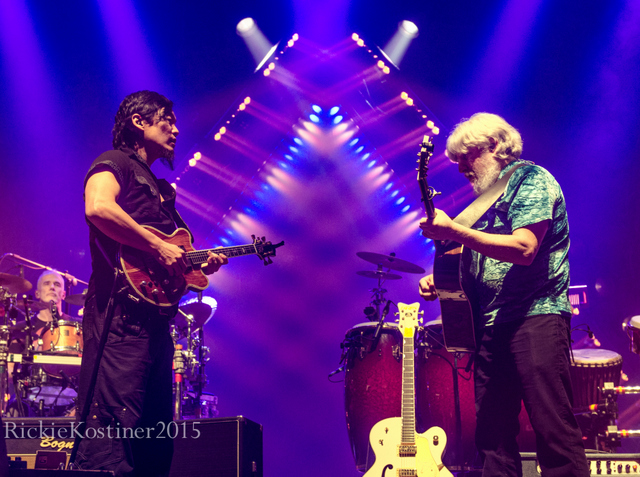 So, hearing "Round The Wheel" in the first set last Friday... it signified a return to something. It's nearly impossible not to lose yourself within it's 16 minutes of morphing, slinky afrobeat grooves. Perhaps this band didn't go anywhere, I did.
In 2015, we still have a bit of common ground. Sure, it's about reliving something -- but those moments feel great in the present. Michael Kang's fiddle solo in "Restless Wind" burst forth with a tone and clarity that is singular and timeless.  "Rivertrance", a song which debuted right here in Chicago 15 years ago, comes across as a journey which spans those years.
At the start of "Just One Story", a friend leaned over and whispered, "this sounds like a new song which is trying to sound like an old song". Neither of us knew that the song was actually about ten years old... nor did we know how much new, exciting ground would be contained within it. Another huge 15 minutes of weird, proggy, kinda bluegrass, kinda something else -- it was the centerpiece of the gig, and something I'd never heard before.
Maybe this wasn't just about nostalgia after all.
Hell, I probably wasn't familiar with half the material -- and there's something cool about that for this band I thought I knew. They haven't stopped trying, growing. Perhaps the pace has slowed, but if they can reconnect with my peak years with them, while simultaneously visiting the special places for fans that came on board anytime over their 20 year history, that's not bad.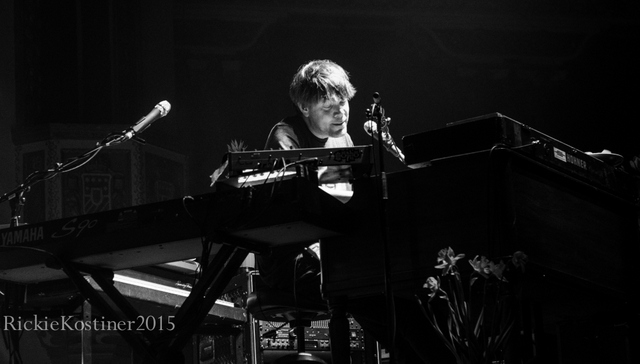 The setlist wasn't without it's dull spots ("Struggling Angel", "Sweet Spot"), but in most cases the improvisation made the save. These days, it appears the band knows where their bread is buttered. Unlike other jambands, they don't make the Incident so much a showcase for songs -- they just go out and stretch nearly everything to its limit. When you're the String Cheese Incident you don't make excuses for jamming, you just go out and do it.
Interestingly, until the encore, the setlist contained no covers (except a head-scratching few turns through the coda of the Doors' "L.A. Woman"). They closed the show with a hat tip to Chicago Blues in "Got My Mojo Working" and to Grateful Dead / folk traditions with "I Know You Rider".
Whatever they are, they are nothing if not themselves. Moving past differences and giving 100%. Yes, that can be nostalgic, but it can also be damn fun.
1/30/15
Set One
Let' Go Outside, Far From Home > LA Woman > Round The Wheel, Struggling Angel, Beautiful > Restless Wind > Piece Of Mind
Set Two
Colorado Bluebird Sky, Rivertrance, Sweet Spot, Just One Story, Don't Say, Search, Texas
Encore
Got My Mojo Working > I Know You Rider
[box type="download"]Download 1/30/15 (mp3 .zip) via archive.org[/box]
1/31/15
Set One
Song In My Head, Don't It Make You Wanna Dance > Dudley's Kitchen, Can't Wait Another Day, Until the Music's Over, Wake Up > It Is What It Is, Valley of the Jig
Set Two
Desert Dawn > Synchronicity > Desert Dawn, Sometimes a River, 45th of November, Bumpin' Reel, Looking Glass > Howard
Encore
Sittin' On Top of the World, Rosie
[box type="download"]Download 1/31/15 (mp3 .zip) via archive.org[/box]